Midwest Floods Update: Regulators Offer Assistance to Institutions
Institutions Turn to Business Continuity Plans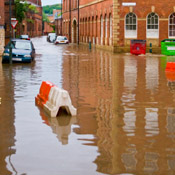 The water is beginning to slowly recede from last week's record rain in the Midwest, and the Federal Emergency Management Agency says more than 11 million persons will be affected by the flooding and tornadoes. One Iowa city, Cedar Rapids, was hit with what is being called a "once-in-3000-year flood. The wide ranging devastation across these states serves as a grim reminder for other financial institutions to be prepared with their disaster response and business continuity plans, say industry experts.

At least one community bank was forced to temporarily close three branches, and one federal credit union initiated its continuity plan and moved to its back up site in Iowa after heavy rains flooded parts of the Midwest, including Missouri, Wisconsin, Illinois, Minnesota, Kansas, Nebraska and South Dakota. Tornadoes and other severe weather accompanied the rains in many areas.

The natural disaster is such that the Office of the Comptroller of the Currency (OCC) issued a proclamation allowing national bank offices affected by the severe weather and flooding in the Midwest to close at their discretion. The National Credit Union Administration (NCUA) also activated its disaster assistance program in Indiana and Iowa. The Federal Deposit Insurance Corporation (FDIC) announced on June 17 a series of steps intended to provide regulatory relief to financial institutions and to facilitate recovery in areas of Iowa, Nebraska, Indiana and Wisconsin. (See FDIC Regulatory Relief: Indiana, Iowa and Nebraska, Wisconsin)

Financial institutions have been affected in the worst-hit areas, including Cedar Rapids, Iowa, where the rising Cedar River forced residents to flee their homes and businesses.

According to a Cedar Rapids fire department spokesperson, the Cedar River was expected to crest last Friday at about 31.8 feet. In a 1993 flood, considered the worst in recent history, the river reached 19.27 feet. The

The rising flood waters forced the Guaranty Bank (www.guaranty-bank.com), a family-owned bank with nine locations, to close three branches, including one in the downtown area of Cedar Rapids on Thursday and Friday. Statements on the bank's website directed customers to visit the bank's other locations, which would remain open with regular business hours.

The financial institutions in Iowa have had a hard month of June weather, says Ben Hildebrandt, spokesperson for the Iowa Bankers Association. Starting out over Memorial Day, two banks were destroyed in an F5 tornado that hit Parkersburg, IA and "truly devastated half the town," he says. The association has been "trying to help bankers the best we can. There is a great deal of devastation in the 86 counties declared disaster areas. A number of banks have been damaged in the floods," he notes. Hildebrandt has been on the phone helping banks with everything from security issues to even answering one bank's questions regarding document retention. "The bank had documents that were damaged in last week's floods, and they didn't expect it," he says.

Iowa Governor Chet Culver says of the more than 36,000 persons evacuated due to Iowa floods, 24,000 were in the Cedar River area. FEMA is still trying to estimate losses to property and agriculture that may run into the billions of dollars.

In the OCC statement, Jennifer Kelly, Senior Deputy Comptroller for Mid-Size/Community Bank Supervision, said she expects "that only those bank offices directly affected by the severe weather will close. Those offices should make every effort to reopen as quickly as possible to address the banking needs of their customers."

The NCUA announced Friday afternoon it had activated its disaster assistance in response to the storms and flooding in Indiana and Iowa. (See NCUA Disaster Assistance announcement)

One Iowa federal credit union in Cedar Rapids, First Federal Credit Union, (www.firstfedcu.com) was affected by the flooding and is temporarily working from an alternate site under their continuity plan, says Cherie Umbel, spokesperson in the NCUA's Public and Congressional Affairs department. Umbel did not have any information available on state chartered credit unions that may be affected because of the flooding in Indiana and Iowa.

The Indiana Bankers Association says it has not received any reports of any of member banks being affected by the flooding or having to close branches. Laura Wilson, Vice President of Communications for the association notes that the association is in close contact with its members and thus far "we are not aware of any banks closing due to heavy rains or flood conditions." Not proof that it hasn't happened, she adds, but says their member banks "are well-versed for disaster and business continuity response."

The FDIC did not receive any reports from banks that were forced to close completely in the Midwest during the floods, says FDIC spokesperson David Barr. "There are some branches that are impacted, but they are moving operations to other branches," Barr says. If all of a bank's branches are affected, then the bank would move to backup facilities.

The banks that are operational in the Iowa area, Barr says, may have reduced operating hours or have moved operations to branches unaffected by the flood waters. Many times when there is a disaster, a bank branch may be forced to close temporarily because of loss of electricity or area road closures.

For more information on business continuity/disaster recovery in the face of natural, man-made and pandemic disasters, visit these resources: Business Continuity & Disaster Recovery .