Obama Cyber Coordinator on Global InfoSec
Coordinating Response to International Cybercrime a Challenge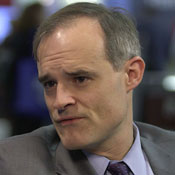 White House Cybersecurity Coordinator Michael Daniel says the toughest international cybersecurity challenge facing the Obama administration is getting cooperation in coordinating responses to online crime.
See Also: OT-CERT: Enabling SMBs to Address Cybersecurity Risks
"There are a lot of times when you really would like to be able to take collective action in cyberspace, to deal with a transnational criminal organization or to deal with a botnet," Daniel says in a video interview with Information Security Media Group. "And that's very difficult to coordinate across different jurisdictions. Every government organizes its cybersecurity a little bit differently and sort of making that latch-up happen in a way to move at net speed is very, very difficult."
In an interview on the international facets of cybersecurity recorded during the RSA Conference 2014 in San Francisco, the special assistant to the president also discusses:
Challenges in dealing with the Chinese on IT security;
Establishing international norms of behavior in cyberspace; and
How the National Security Agency disclosure on secretly collecting data of individuals not suspected of wrongdoing and of government leaders has caused a distraction and created a challenge for the United States in discussion with allies on resolving cybersecurity matters (see Obama Hints of Changes in Surveillance Program).
Daniel came out of near obscurity - he was serving as intelligence branch chief in the White House Office of Management and Budget - when President Obama tapped him in May 2012 to secede Howard Schmidt as special assistant to the president and cybersecurity coordinator (see Who is Michael Daniel?).
Additional Summit Insight:
Hear from more industry influencers, earn CPE credits, and network with leaders of technology at our global events. Learn more at our Fraud & Breach Prevention Events site.