McAfee Considers Purchase of NortonLifeLock: Report
Former Symantec Consumer Business Unit Continues to Attract Interest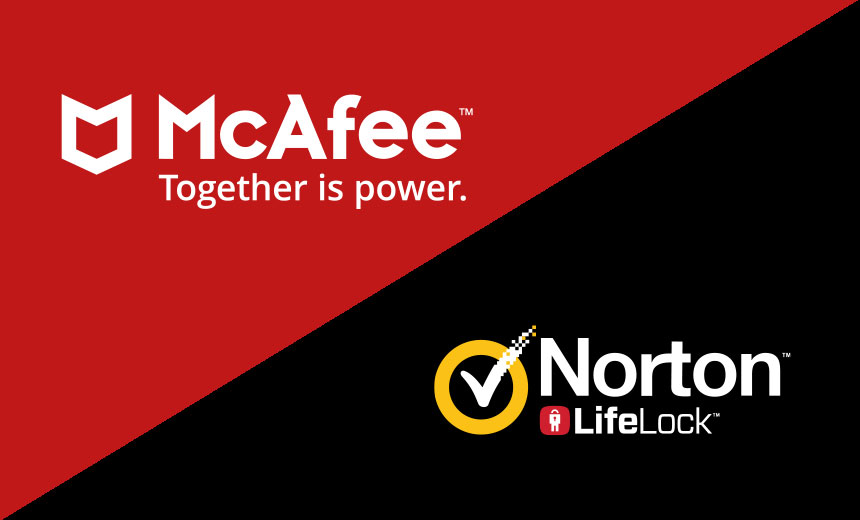 McAfee's ownership team is exploring a deal to acquire NortonLifeLock, the renamed, publicly traded firm that was formerly the consumer and small business security division of Symantec, according to the Wall Street Journal, which cites "people familiar with the matter."
See Also: Live Webinar | Navigating the Difficulties of Patching OT
One option being considered is to combine the two companies' consumer and small business divisions, according to the news report. NortonLifeLock, which is now headquartered in Tempe, Arizona, is worth an estimated $16 billion, the Journal reports.
NortonLifeLock, which offers an array of well-known security products such as Norton anti-virus software and its LifeLock product line, was renamed following Broadcom's $10.7 billion purchase of Symantec's enterprise division in August (see: Broadcom Reaches $10.7B Deal to Buy Symantec Enterprise).
McAfee, which is owned by private-equity firms TPG and Thoma Bravo and chipmaker Intel, is not the only party eyeing a possible acquisition of NortonLifeLock, according to the Journal. The security company was also approached by private-equity firms Permira and Advent International Corp, whose earlier bids were turned down by NortonLifeLock before the Broadcom acquisition.
Both Permira and Advent have previously expressed interest in acquiring the former consumer division of Symantec, and Broadcom had expressed interest in buying all of Symantec before settling on the deal to acquire the enterprise division in August, according to the Journal.
Most likely, any agreement for the acquisition of NortonLifeLock would not be finalized until after the first quarter of 2020 because several board members of NortonLifeLock, including chairman Daniel Schulman, are planning to leave the board after the company's annual meeting, which is slated for Dec. 19, the Journal reports.
McAfee and NortonLifeLock did not immediately reply to Information Security Media Group's request for comment.
Going Public?
Earlier this year, reports surfaced that McAfee planned an initial public offering that would have raised $1 billion in capital and valued the company at $5 billion (see: Cybersecurity Firm McAfee Preps for Public Market Return).
But McAfee's owners have been rethinking that strategy, the Journal reports. They are now weighing a possible outright sale of the company or splitting it into two parts - enterprise and consumer - and then selling those assets off to different buyers, according to the Journal.
Lots of M&A Activity
The security market is undergoing a flurry of merger and acquisition deals involving older and more established brands.
In November, for instance, Bloomberg reported that Dell Technologies is considering the possible sale of its RSA security division, hoping such a deal could be worth $1 billion (see: Dell Considering Selling RSA: Report).
And Thoma Bravo announced in October that it would buy Sophos for $3.9 billion (see: Thoma Bravo to Buy Sophos for $3.9 Billion).