Blockchain & Cryptocurrency , Fraud Management & Cybercrime , Next-Generation Technologies & Secure Development
John McAfee Indicted on Federal Tax Evasion Charges
Also Faces Civil Charges Tied to Promoting Initial Virtual Coin Offerings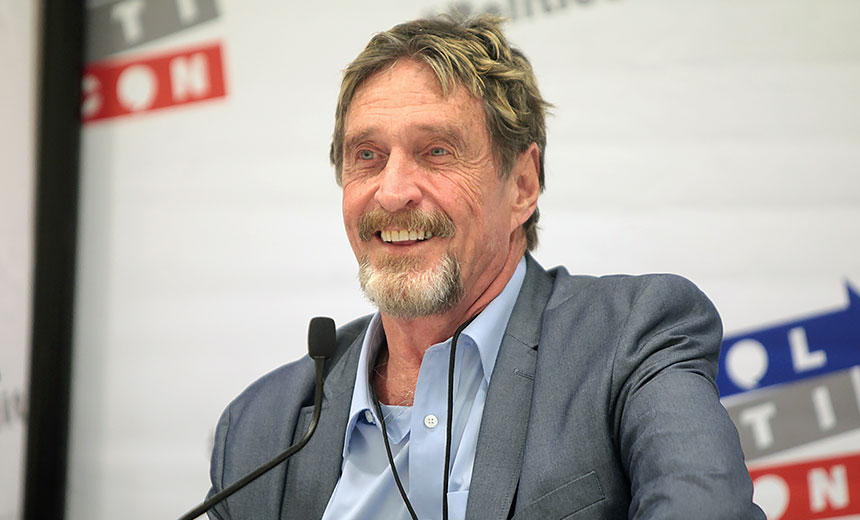 John McAfee, the founder of the cybersecurity firm that bears his name who also is a serial entrepreneur and former presidential candidate, has been charged with federal income tax evasion, according to the U.S. Justice Department.
Plus, the U.S. Securities and Exchange Commission has filed civil charges alleging that McAfee promoted several initial virtual coin offerings without disclosing he was paid to do so.
See Also: JavaScript and Blockchain: Technologies You Can't Ignore
The tax evasion indictment, issued on June 15, was unsealed after McAfee was arrested in Spain on Monday, where he is awaiting extradition to the U.S.
McAfee is charged with five counts of tax evasion and five counts of willful failure to file tax returns. He faces a maximum sentence of five years in prison for each count of tax evasion and one year for each count of willfully failing to file a tax return, the Justice Department says.
"John McAfee earned millions in income from promoting cryptocurrencies, consulting work, speaking engagements and selling the rights to his life story for a documentary," the Justice Department says. But from 2014 to 2018, he failed to file federal income tax returns, prosecutors allege.
McAfee allegedly dodged his tax responsibilities by having his income and fees deposited into bank and cryptocurrency exchange accounts held in another person's name, prosecutors say. Additionally, he purchased property and assets, including a car and boat which were titled in another person to hide his income, they say.
McAfee's wife, Janice McAfee, noted on Twitter Tuesday that her husband is working on his defense with a legal team.
My statement on John's detainment. pic.twitter.com/VU0WpUGp6R

— Janice McAfee (@theemrsmcafee) October 6, 2020
SEC Civil Complaint
The SEC civil complaint alleges McAfee presented himself as an impartial and independent voice while promoting investments in initial coin offerings to his Twitter followers without disclosing he had been paid $23 million for his promotional activity.
McAfee's bodyguard, Jimmy Watson, Jr., was also named in the complaint for his role in the alleged scheme, according to the SEC.
McAfee and Watson face civil charges of violating anti-fraud provisions of the federal securities laws. McAfee is also accused of violating the anti-touting provisions, and Watson is accused of aiding and abetting McAfee's violations.
"When certain investors asked whether he was paid to promote the ICOs, McAfee allegedly denied receiving any compensation from the issuers. The complaint alleges that McAfee made other false and misleading statements, such as claiming that he had personally invested in some of the ICOs and that he was advising certain issuers," the SEC says.
Watson allegedly negotiated the promotion deals with the ICO issuers, helped McAfee cash out the digital asset payments for the promotions, and, in one case, had his then-spouse tweet interest in the ICO, the SEC says. Watson received $316,000 for his role, according to the complaint.
"Potential investors in digital asset securities are entitled to know if promoters were compensated by the issuers of those securities. McAfee, assisted by Watson, allegedly leveraged his fame to deceptively tout numerous digital asset securities to his followers without informing investors of his role as a paid promoter," says Kristina Littman, the SEC's cyber unit chief.
The SEC is seeking permanent injunctive relief against McAfee and asks the court to require that he return any allegedly ill-gotten gains and pay civil penalties. The SEC also seeks to bar McAfee from serving as a public company officer or director.
The John McAfee Saga
McAfee founded his eponymously named cybersecurity firm in 1987 and resigned from the company in 1994, selling his stake in the company.
In 2012, McAfee fled from Belize claiming law enforcement in the South American nation were attempting to frame him for murder. At the time, local police considered him a "person of interest," following the death of his neighbor - a Florida businessman, according to Wired. He was then arrested in Guatemala for illegally entering the county and deported to the U.S. He was never charged.
In 2015, McAfee told his Facebook followers he was involved in a shootout with Tennessee State Troopers while being arrested for driving under the influence and a gun offense, a statement he soon recanted.
McAfee entered the 2016 presidential race as the head of the newly created "Cyber Party." (See: Guess Who's Running for President? John McAfee). He continued his foray into American politics in 2018 by announcing his intention to enter the 2020 presidential race. But in March, he dropped that goal to instead focus on obtaining the vice presidential nomination from the Libertarian Party, he said in a tweet.