Jack Welch to BAI: 'Don't Neglect Employees'
Ex-GE CEO Says Bank Staffs Key to Emerging from Crisis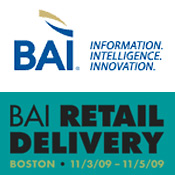 With all the talk about new products, new services and new relationships with customers, Jack Welch says there's one key group you can't neglect: Your employees.

"They're scared," said Welch, the former GE leader who addressed the BAI Retail Delivery Conference & Expo via Satellite on Thursday. "Instead of being seen as the friendly neighborhood banker, in many cases they might be seen as the son of a gun who started this whole mess."

Welch spoke to the group about banking's future and what leaders need to do to emerge strong from hard times. His main message: Involve your employees in your new strategies. "Paint a picture for them of what your institution will go through and what it will look like on the other side."

Interviewed by Bill Taylor, co-founder of Fast Company, Welch said the key to success going forward is tied to two words: Differentiation and stickiness. Banking institutions need to differentiate themselves from one another, and they need to ensure that their customer experiences encourage ongoing business.

Asked whether a large institution can be as close to customers and employees as can a community bank, Welch said "I want to be big, but then run the company like it's the corner grocery store."

Taylor prodded Welch to discuss what leaders should not do. His advice:

Don't hide in the office;

Don't lack a message to your employees and customers;

Don't lack confidence;

"And do make sure everyone knows where you're going," Welch said, "and most important for employees, make sure they know what's in it for them."

Welch also entertained questions from the audience. Asked what specific businesses excite him today, he pointed to Wal-Mart, which has positioned itself as helping families save money. "You can learn more [about business] in Bentonville, Arkansas these days than you can in Silicon Valley."

Asked what's different in business today than 20 years ago, he pointed to government regulation. "Particularly in banking," Welch said. "The government will be in you knickers now for a long time. But this will pass."