Governance & Risk Management , Privacy
Vint Cerf's Outlook for the Internet He Helped Create
He Expects More Mechanisms to Enhance Security, Privacy, Safety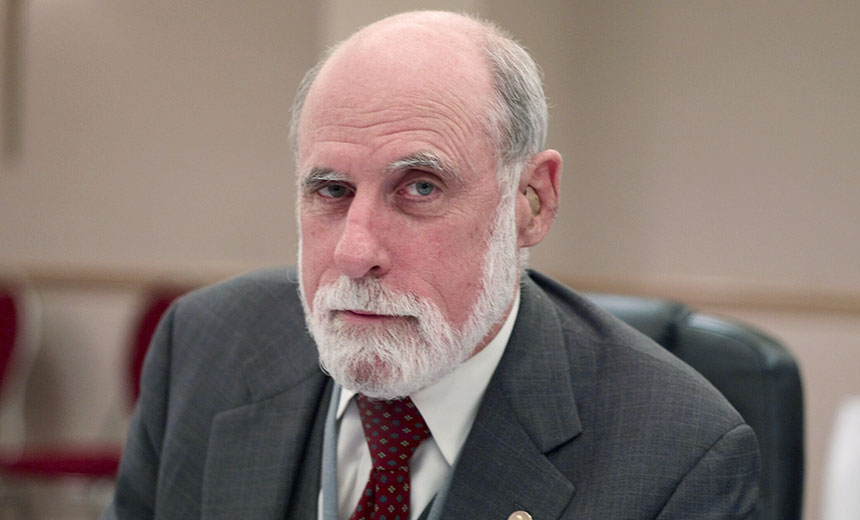 Internet pioneer Vint Cerf sees a secure future for the network of networks he helped create four decades ago as the co-developer of TCP/IP, the protocol that facilitates internet communications.
"We're much more conscious of the need to make the system more secure than it has been," Cerf, Google's chief internet evangelist, says in an interview with Information Security Media Group. "And there's a lot going on in the Internet Engineering Task Force [an international community of network designers, operators, vendors and researchers] to achieve that objective. And I anticipate in the course of the next decade or so that we will actually see a lot more mechanisms in place in order to enhance security and privacy and safety."
But if internet security isn't improved, Cerf says, "people will decide it's not an environment they find worthy of trust, in which case they'll look for something else. Maybe, something will replace the internet that's more secure than it is today."
And, what would that be?
"I have no clue," Cerf answers.
In the interview conducted after he delivered the Aug. 30 keynote address at a symposium on exploring the dimensions of trustworthiness at the National Institute of Standards and Technology headquarters outside Washington, Cerf discusses:
Balancing security with ease of use in creating new technology;
How vulnerabilities and threats that lurk over the internet influence its development; and
The concept of creating separate internets to enhance security, safety and reliability.
Cerf has been vice president and chief internet evangelist at Google since October 2005. He's responsible for identifying enabling technologies to support the development of advanced, internet-based products and services. Previously, Cerf served at MCI, the Corporation for National Research Initiatives, the Defense Department's advance research agency known as DARPA and as a member of the Stanford University faculty. He and his colleague at DARPA, Robert Kahn, received the National Medal of Technology from President Bill Clinton in 1997 for founding and developing the internet.