Cybercrime , Cyberwarfare / Nation-State Attacks , ISMG Security Report
US Finally Sanctions Russians for Hacking
Plus: Hot Cybersecurity Trends, Including Active Defense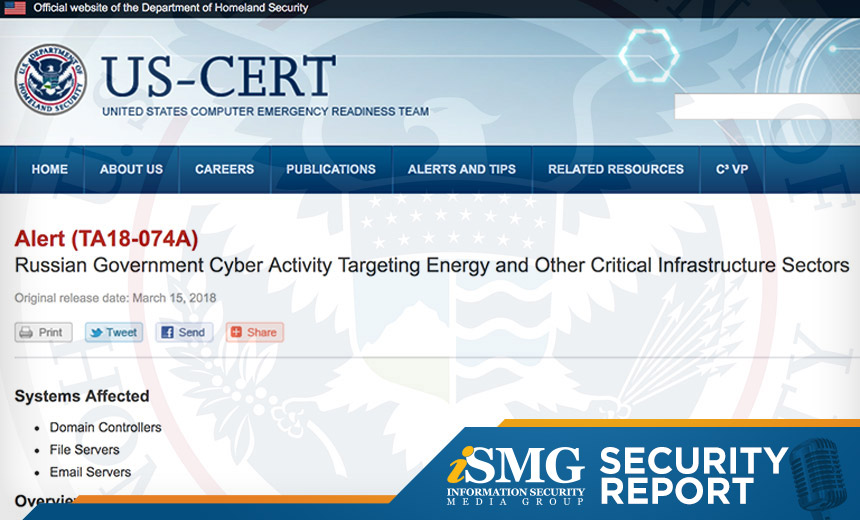 Leading the latest edition of the ISMG Security Report: The Trump administration sanctions Russian organizations and individuals over U.S. election interference, NotPetya and energy sector hacks. Also featured: A deep dive into the use of so-called active defense.
In this report, you'll hear (click on player beneath image to listen):
Russian hacking sanctions: The Trump administration announce that it has imposed sanctions on five Russian entities and 19 Russian individuals for "for interference with the 2016 U.S. elections," malicious cyberattacks - namely the NotPetya outbreak - as well as attack campaigns against and probes of U.S. critical infrastructure organizations.
Hot healthcare sector cybersecurity trends: Marianne Kolbasuk McGee, executive editor of HealthcareInfoSecurity, share cybersecurity takeaways from this month's major healthcare conference, HIMSS18, in Las Vegas, including a ransomware war story from the U.S. Department of Health and Human Services (see HIMSS18: Cybersecurity Takeaways).
Active defense: Tom Field, ISMG's senior vice president of editorial, explain why more organizations are now employing so-called "active defense" approaches, including deception technology. Plus, a rundown of some other hot technologies and trends, including privileged access management, threat hunting and the EU's General Data Protection Regulation.
The ISMG Security Report appears on this and other ISMG websites on Fridays. Don't miss the March 2 and March 9 editions, which respectively analyze the White House's response to Russia's attempts to meddle in U.S. elections and a warning from a top general that the U.S. government's response to Russia is not unified.
The next ISMG Security Report will be posted on Friday, March 23.
Theme music for the ISMG Security Report is by Ithaca Audio under a Creative Commons license.