Encryption & Key Management , Next-Generation Technologies & Secure Development , Security Operations
Rivals Avoid Taking Stand on Backdoor
Judging Presidential Contenders on their Encryption Policy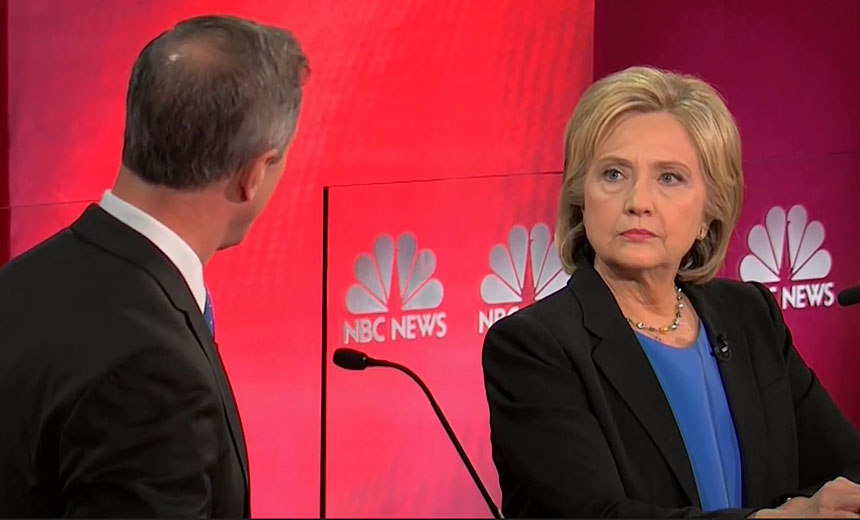 The Democratic presidential debate earlier this week demonstrates that the candidates don't have a strong handle on the continuing dispute among some in the government such as FBI Director James Comey and cryptography experts on whether technology companies should provide law enforcement with a backdoor to decrypt secret messages.
"The encryption issue, especially, is very technical," cybersecurity author and cryptography expert Bruce Schneier says in an interview with Information Security Media Group. "The things that the politicians want, in some cases, they can't have, and wanting it more doesn't make it more likely that they can have it."
Should we expect the candidates to have a strong understanding of a critical security and privacy issue that is highly technical? No, we don't need a president who is a technologist. But the next commander in chief should be someone who can tap the brightest minds to advise them on technical and scientific matters that are critical to our nation's well-being.
In this audio blog (click on player beneath photo to listen), you'll hear:
The three Democratic candidates - former Maryland Gov. Martin O'Malley, Vermont Sen. Bernie Sanders and former Secretary of State Hillary Clinton - sidestep a question at the Sunday night debate in Charlotte, N.C., on whether they support the government requiring tech companies to provide a backdoor to law enforcement and intelligence agencies that allows them to circumvent encryption setting of devices;
Apple Computer CEO Tim Cook explain why Silicon Valley won't cooperate with the government to provide the encryption keys to decrypt secret messages; and
Schneier address how candidates should be vetted on their approach to critical technical and scientific issues, including encryption.
"I don't think the candidates understand the encryption issue, but really a lot of the issues they're faced with are highly technical, and my guess is that they don't understand a lot of them," Schneier says. "The question really is: What is their intuition, what is their philosophy, what kind of advisers are they going to have?"