Insights on Visa's EMV Efforts
Chip Cards One Component of Broader Security Strategy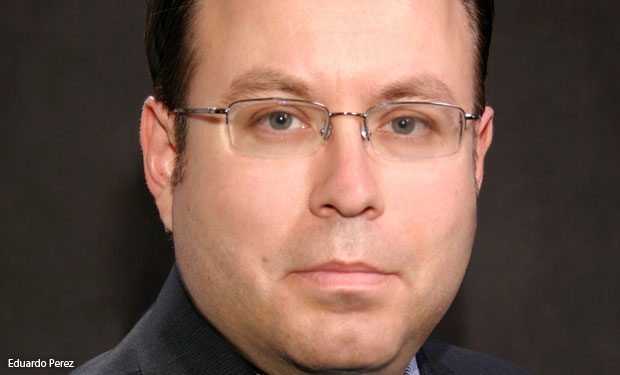 While the president's new "BuySecure" initiative is putting a spotlight on U.S. card fraud, Visa's Eduardo Perez says U.S. card issuers and merchants have already spent the last year speeding their migration to more secure EMV chip technology (see What's President's Influence on EMV?).
Perez, Visa's senior vice president of risk services for North America, who was a featured presenter at Information Security Media Group's Fraud Summit New York, says a number of initiatives are now under way to address security gaps that have made the U.S. payments infrastructure vulnerable to attack.
"We continue to focus on three key areas," he says during this interview with ISMG. "The first is the EMV chip; the second is tokenization of the primary account number; and then, finally, the third is the use of encryption at the point of sale."
The White House initiative to start issuing chip cards for all federal programs, including SmartPay and Direct Express, and upgrade all point-of-sale terminals located in federal government locations to accept chip payments, is a positive move, Perez says. But banking institutions and merchants, he contends, have already laid plans for migration strategies that aim to meet the October 2015 liability shift date for EMV.
As of October 2015, the card brands have said merchants that don't accept EMV-compliant chip cards will be liable for counterfeit card fraud that results on magnetic-stripe transactions at physical points that EMV could have prevented. The card brands, however, have not set a mandate for EMV adoption for merchants or card issuers, Perez adds.
"As a payment network, Visa has not mandated a use of single technologies," he says. "We typically do not set mandates for a specific technology. That's because acquirers and merchants have other technologies they can use to address card fraud."
Although EMV will have a positive impact on card fraud prevention, other technologies, such as tokenization are needed, especially for card-not-present transactions, Perez stresses.
During this interview conducted at the ISMG Fraud Summit New York, Perez also discusses:
Visa's predictive analytic intelligence and the role it has played in reducing global credit and debit fraud;
Visa's new EMV education program for consumers and merchants, which kicks off in early 2015; and
Why layers of security are essential to keeping card transactions secure.
Perez has been with Visa since 2002 and currently leads the card brand's North America Risk Services group. He manages a team that focuses on guiding U.S. and Canadian issuers and acquirers in optimizing their risk performance to maximize the growth of their payment programs. He has extensive experience in payment system risk and has previously led other key risk management groups and initiatives within Visa, including global payment system security, global credit settlement risk and anti-money laundering programs, as well as the development of Visa's authentication strategy and U.S. EMV chip roadmap.