Governance & Risk Management , Information Sharing , Training & Security Leadership
Getting Regulators and Regulated to Collaborate on Cybersecurity
Commerce Secretary Penny Pritzker Sees a New Relationship for Traditional Adversaries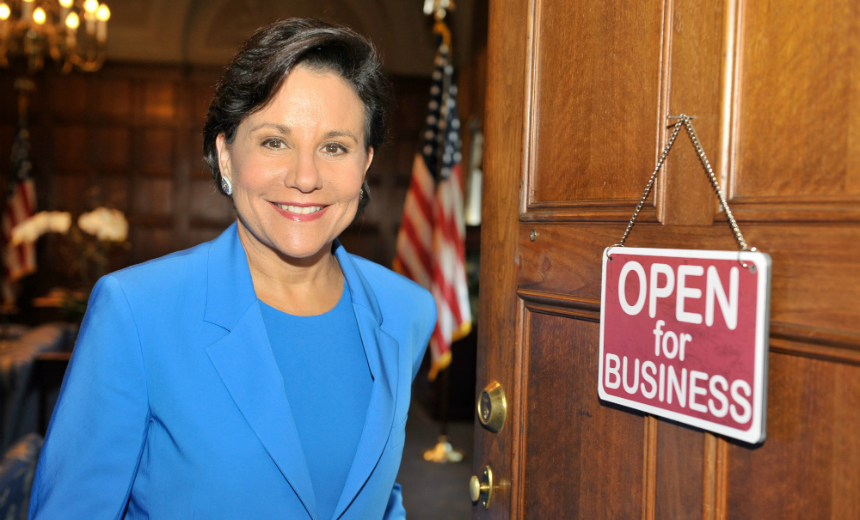 With passage of the Cybersecurity Information Sharing Act in 2015, Congress authorized the Department of Homeland Security to develop a system in which the federal government and businesses can share cyber threat information (see Obama Signs Cyber Threat Information Sharing Bill ).
Commerce Secretary Penny Pritzker thinks DHS shouldn't have a monopoly on government and businesses sharing cyber threat information. In a recent speech at the U.S. Chamber of Commerce, Pritzker suggests that regulatory agencies should implement cyber threat information sharing programs with the businesses they regulate, not only to enhance their IT security, but to build a collaborative environment between the two, often adversarial sides.
"Pick any cyber breach - Target, Sony, Yahoo; when under attack, these companies do not think about how government can help them," Pritzker said in a speech delivered last week at the U.S. Chamber of Commerce Cybersecurity Summit. "What they see are the downsides of engagement - potential liability, the risk of punitive action and the investigations that may result from even basic interactions. ... We cannot blame executives for worrying that what starts today as an honest conversation about a cyberattack could end tomorrow in a punish-the-victim regulatory enforcement action."
In this audio report (click on player above to listen), you'll hear:
Pritzker explain the reasoning behind getting regulators and regulated companies to collaborate on cybersecurity information sharing;
Experts express concerns about how too close of a relationship between the two sides could jeopardize the protections regulations provide the public; and
Lawyers representing businesses before regulatory agencies address why such cooperation could enhance cybersecurity among regulated companies.
Pritzker became Commerce secretary on June 26, 2013, and had 27 years of private sector entrepreneurial experience before joining the Obama administration. Previously, Pritzker founded and served as advisory board chairman of Skills for America's Future, a national initiative that works directly with employers to develop training mechanisms to prepare workers with in-demand skills.