Encryption & Key Management , Enterprise Mobility Management / BYOD , Next-Generation Technologies & Secure Development
The Crypto Debate: Apple vs. the FBI
Experts Weigh in on Both Sides of the 'Backdoor' Battle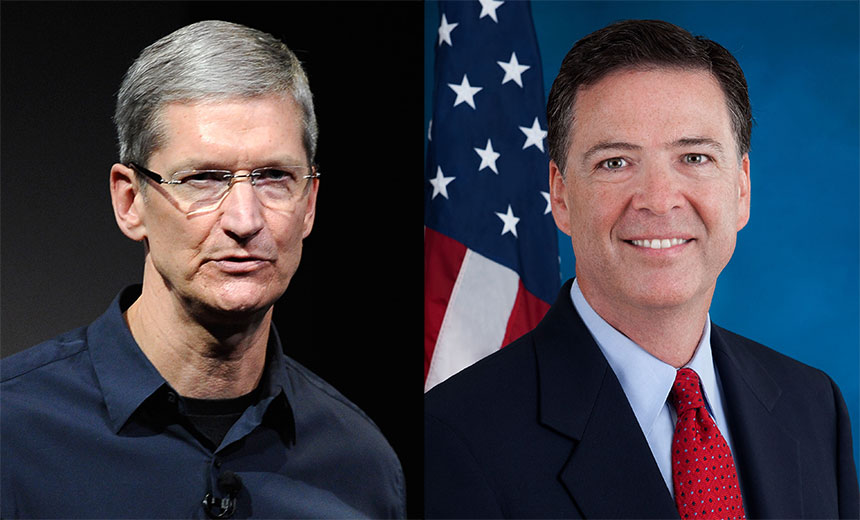 It's the perfect time to debate whether the government should compel Apple to help the FBI circumvent protections blocking access to the San Bernardino shooter's iPhone 5C.
"There's not a situation here where there is life and limb at stake," says EastWest Institute Global Vice President Bruce McConnell, a former top cybersecurity policymaker at the U.S. Department of Homeland Security, in this audio report (click player beneath image to listen).
Authorities recovered the iPhone following the December 2015 shootout in the California city that killed gunman Rizwan Farook and his accomplice and wife Tashfeen Malik hours after they attacked his work colleagues, leaving 14 dead and 22 wounded.
The iPhone 5C has a security feature ensuring that, after 10 unsuccessful login attempts, the data on the device is wiped out. The FBI feared that if it kept using brute-force to guess at the password, they'd lose any evidence the mobile device holds. They turned to Apple for help, but after talks broke down, the FBI sought the court order (see Apple-FBI Draw Lines in Crypto Battle).
U.S. Magistrate Judge Sheri Pym ordered Apple to assist the FBI by updating the iPhone to disable security features designed to wipe its memory, slow passcode entry, or block brute-force attacks. Apple Chief Executive Tim Cook says he'll fight the "dangerous" court order.
Experts' Voices
In this audio report, you'll hear:
Cook and FBI Director James Comey offer stark and diametrically opposing views on the basic merits of the case;
Republican presidential candidate and Florida Sen. Marco Rubio discuss the nuances of the debate in which privacy protections bump up against national security needs;
Cryptographer and author Bruce Schneier explain the precedent that would be established should Apple lose its case; and
Purdue University Computer Science Professor Eugene Spafford discuss why America's imperfect justice system benefits when it errs on the side of the innocent even if "some bad guys slip through."
"We're going to have to improve our mechanisms for finding the bad guys without endangering the good guys," Spafford says.