Card Fraud: Why Consumers Don't Get It
Misconceptions about Fraud Show Need for More Education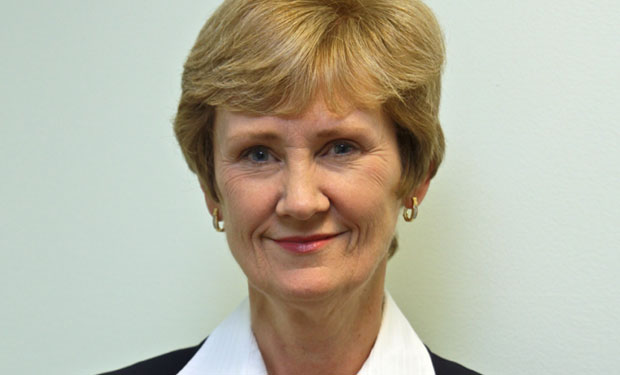 New research shows consumers believe online purchases are more secure than those made at bricks-and-mortar retailers. Researcher Shirley Inscoe of Aite explains why misconceptions about card fraud should be worrisome to banks.
Consumers' security perceptions could be tied to recent retail point-of-sale breaches, such as those that impacted Target Corp. and Neiman Marcus.
"I was very surprised to see the high percentage of consumers who do not trust that merchants use adequate security systems in their stores to protect their data," says Inscoe, a senior analyst and financial fraud expert at Aite. "At the same time, there were some concerns about shopping online, but actually there was less confidence that in-store merchants used adequate security than online [retailers]."
Consumers' relative lack of concern about e-commerce security should be concerning to banking institutions because e-commerce merchants, by their own admission, are suffering from increasing losses linked to fraud, Inscoe says during this interview with Information Security Media Group. But consumers are unaware of this trend.
Misconceptions about the security of online retailers could actually put consumers at greater risk, Inscoe says. That's why card issuers should be more focused on educating their customers about card-present and card-not-present fraud trends.
"I talk to issuers all the time and I talk to e-commerce merchants, and both are telling me that they are seeing a huge spike in card-not-present fraud. ... Some feel there is just a huge uptick in fraud rings using all of this data they have stored, prior to the [U.S.] EMV rollout; but whatever the reason is, I'm hearing that there is a huge spike here in the U.S."
Global Survey
Aite conducted a series of surveys during the first quarter of this year. Responses from more than 6,000 consumers in 20 countries were collected for the purpose of two reports about consumer perceptions about fraud.
Aite's research shows payments fraud is relatively flat globally, based on a comparison of 2012 and 2014 survey results about the percentage of consumers who have experienced card fraud in the past five years.
Current Total Card Fraud Rates
by Country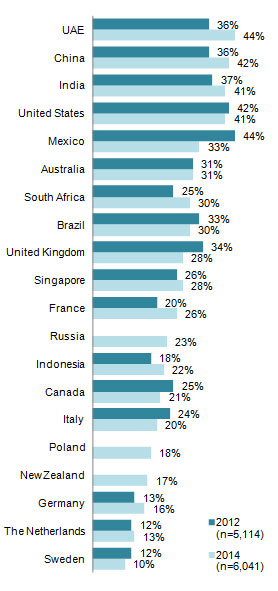 Aite Group, ACI Worldwide studies of consumers in 20 countries,
Q1 2014 and in 17 countries, Q3 2012
The survey results also show that consumers who had cards reissued because of fraudulent or suspected fraudulent activity say they used their cards, on average, 43 percent less once they were reissued.
"It's a very interesting scenario," Inscoe says. "The financial institution is reissuing the card because there has been a data breach, and yet, here again, the consumer education is lacking. The consumer, when they receive these cards, they apparently don't have the confidence in that card. ... That's not what the financial institution wants to see."
During this interview, Inscoe also discusses:
How consumer spending behavior influences fraud;
Why banks and credit unions should involve customers in fraud prevention; and
Evidence that suggests card-not-present fraud is on an upswing.
At Aite, Inscoe specializes in financial services fraud trends and banking technology. She is the former director of payments strategy and strategic support manager of enterprise loss management for Wachovia Bank and previously served as corporate compliance manager for First Union Corp. She also is the co-author of "Insidious: How Trusted Employees Steal Millions - and Why It's So Hard for Banks to Stop Them."