Card Not Present Fraud , Fraud Management & Cybercrime , Legislation & Litigation
Analysis: Walmart's EMV Lawsuit Against Visa
Merchant Advisory Group's Garner Says Suit Questions Business Practices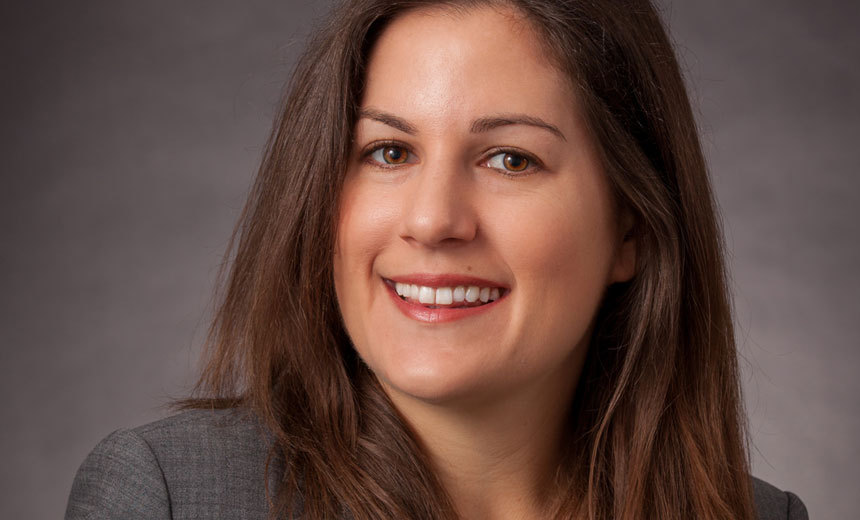 Walmart's lawsuit against Visa, which claims the card brand is unfairly preventing retailers from requiring that customers enter PINs when they conduct EMV debit transactions at their points of sale, poses important questions about fair business practices, says Liz Garner of the Merchant Advisory Group, which represents large retailers.
In an interview at Information Security Media Group's recent Fraud and Breach Prevention Summit in Washington, Garner explains why the Walmart suit could impact how EMV in the U.S. is deployed. "Walmart wants to have the choice to implement the best business practice that makes sense for their business and their customers," she says.
Walmart's suit alleges that Visa won't allow the big box retailer to refuse customer requests for signature-based EMV debit transactions, which Walmart claims are far less secure than PIN debit. Limiting Walmart's control over how it conducts POS transactions in its stores is an unfair business practice, Garner argues, and ultimately puts Walmart at greater risk of fraud.
"This is really a move by Walmart to show that the PIN adds value to the customer and adds security to the transaction," she says. "Other merchants have been trying to get their customers to essentially enter their PINs at the point of sale as well. Walmart is not the only one; they just happen to be the one involved in litigation now with Visa."
Impact on Chargebacks
PIN entry helps protect merchants from fraud-related chargebacks, which have skyrocketed since the EMV fraud liability shift took effect in October 2015, Garner adds. "Chargebacks are really non-existent when it comes to PIN-debit transactions on EMV and mag-stripe," she says. "So there is an added benefit there, especially when you hear about the millions of dollars that are shifting over to merchants in chargeback liability post the Oct. 1 EMV shift (see EMV: Chargebacks Hitting Merchants of All Sizes).
During this interview (see audio link below photo), Garner also discusses:
Why routing competition for debit transactions, which is required by law under the Durbin Amendment to the Dodd-Frank Wall Street Reform and Consumer Protection Act, is limited in the current EMV environment;
Why EMVCo., which oversees the EMV standard and its specifications, should be reviewed by the government; and
Why Visa and MasterCard's efforts to support EMV PIN transactions in other parts of the world have not been mirrored in the U.S.
Gartner is vice president at the Merchant Advisory Group, which represents 85 of the country's leading retailers. Previously, she served as director of commerce and entrepreneurship at the National Restaurant Association, representing the restaurant industry before Congress and regulatory agencies about issues impacting restaurant and food service profitability and entrepreneurship. Garner's areas of expertise include retail and mobile payments, data security, privacy, emerging technologies, taxes and finance.