Business Continuity Management / Disaster Recovery , Endpoint Security , Fraud Management & Cybercrime
Analysis: Russian Misinformation Campaign
Plus, Tips on Disaster Recovery, Internet of Things Security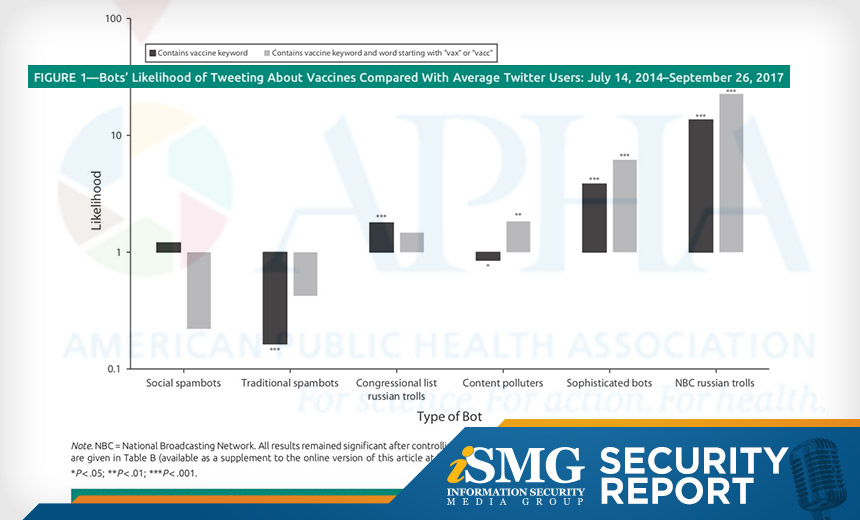 Leading the latest edition of the ISMG Security Report: How Russian bots and trolls are spreading misinformation on vaccines via social media - and the public health impact of the campaign.
In this report, you'll hear (click on player beneath image to listen):
ISMG Executive Editor Mat Schwartz discuss the Russian misinformation campaign;
Tonguc Yaman, CIO at SOMOS, a New York community care network, describe what Bellevue Hospital in New York, where he formerly served as deputy CIO, learned about disaster recovery from its experience with a hurricane, and how others can apply those lessons;
Al Pascual, senior vice president of research at Javelin Strategy and Research, discuss a new report on securing the internet of things.
The ISMG Security Report appears on this and other ISMG websites on Fridays. Don't miss the Aug. 17 and Aug. 24 editions, which respectively discuss securing the industrial internet of things and why it's too late to secure the 2018 mid-term elections.
Theme music for the ISMG Security Report is by Ithaca Audio under a Creative Commons license.