Infosec Joblessness Remains Steady, at 0%
Number of IT Security Analysts Soars by 16% in Past Quarter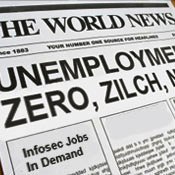 Employment among information security analysts in the United States soared this past quarter by 16 percent, with none of the professionals in this line of work reporting that he or she was out of a job.

Among the 12 computer-related job classifications tracked by the Department of Labor's Bureau of Labor Statistics, information security analysts, along with computer and information research scientists, were the ones to report no unemployment during the first two quarters of 2011. Computer network architects had a minute 0.5 percent jobless rate in the second quarter, compared with none in the first quarter.

The number of people who consider themselves IT security analysts rose to 43,000 during the April-to-June period, up from the 37,000 from the previous three months, according to unpublished data provided to Information Security Media Group by BLS. BLS implemented new occupation categories at the beginning of the year, so no earlier data exists to make historic comparisons (see Feds, for First Time, Unveil Job Data for an IT Security Occupation).

Because of the small sample size for many occupation categories, such as information security analysts, BLS cautions that the figures for many individual job categories are not statistically reliable. Though neither gospel nor precise, the unpublished data historically reflect general workforce conditions.

BLS defines information security analysts as those who plan, implement, upgrade or monitor security measures for the protection of computer networks and information. Information security analysts may ensure appropriate security controls are in place that will safeguard digital files and vital electronic infrastructure as well as respond to computer security breaches and viruses.

Alan Paller, research director at the SANS Institute, which provides IT security training, says he's not surprised the information security analysts occupation category outperforms other computer-related jobs, especially in the federal arena. "The unemployment is rising quickly among people who have paper skills as federal system integrators lay off the people who do not have hands-on technical security skills," Paller says. "Writing and talking about security was important in the last decade. Today, the skills in demand are the hands-on ones needed to construct strong defenses and find the malicious actors who get through."

Eugene Spafford, executive director of Purdue University's Center for Education and Research in Information Assurance and Security, says full employment among IT security analysts will undoubtedly draw more people with minimal or no experience who'll claim expertise in the field. "There are more people taking a couple short courses and passing themselves off as expert," he says. "That can't be good in the long run."

Spafford says he has seen some increase in enrollment in undergraduate and graduate IT security studies, with students typically needing six years of college to gain the right know-how. "There is quite a lag, as well as an expense, for someone currently looking for a job to get a degree to get there," he says.

To put the lack of unemployment among information security analysts in perspective, an ISMG analysis of BLS data placed the overall IT unemployment rate for the first half of 2011 at 4.2 percent. That's much better than the overall jobless rate that has hovered around 9 percent this year and stood at 9.2 percent in June.

Besides information security analysts, computer and information research scientists and computer network architects, the other computer-related occupations tracked by BLS include computer and information systems managers; computer systems analysts; computer programmer; software developer, applications and systems software; web developers; computer support specialists; database administrators; network and computer systems administrators; and all other computer occupations.