Information Assurance: 10 Tips for Choosing the Right Online Education
It's More than About Cost; It's About Value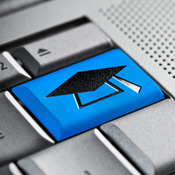 The Information Security Today Career Trends Survey identifies three distinct education trends re: information assurance:
Information security professionals seek advanced degrees;
Organizations are footing at least part of the bill for training;
Online education is an increasingly common and effective option.
So, with literally hundreds of schools offering a host of online information assurance programs and curriculum - including undergraduate, graduate and a variety of certificate programs -- how do selective students make a smart choice about the program that's right for them? Following are tips offered by information assurance students to help choose the right online option.
1. Know What you Want: "What is the future that I want for myself?" is a question every individual aspiring to be educated should be asking, says Leslie Corbo, a cybersecurity analyst with a global defense contractor. She recently completed an online undergraduate degree in computer forensics and information assurance from Utica College and now is contemplating a master's program in cybersecurity. She is in her mid-40s, and her goal is to remain current with technological development and become part of an emerging profession. "This clarity of my future helped me short-list schools and brought me closer to where I want to be."
2. Find an NSA-Approved College: Individuals should always look for an established educational institution that has been accredited by the National Security Agency (NSA) and the Department of Homeland Security (DHS) as a National Center of Academic Excellence in Information Assurance Education (CAEIAE). These schools are identified to conform to certain national standards of acceptable programs in information assurance and are recognized throughout the country. "It is very critical to select a university based on its credentials," says Philip Foley, a senior security analyst with Verizon Cybertrust Security. He completed an online bachelor's of science degree in information technology at the University of Phoenix in 2005 and currently is pursuing an online graduate program in information assurance from Norwich University.
3. Look for Scholarship Opportunities: To fill the gap and the growing demand for cybersecurity professionals, the federal government has initiated various scholarship programs and funds for students pursuing information assurance education -- including the Defense Department's Information Assurance Scholarship Program (IASP) and the Scholarship for Service Program funded by the National Science Foundation. Students who win these scholarships need to study at a NSA-accredited university. The scholarships generally cover tuition, books, room and board expenses for a stipulated time period, and in return graduates promise to work at a federal agency for a minimum of two years. "Individuals considering an online program must definitely short-list schools based on the NSA approval stamp, as the benefits are huge," says Foley.
4. Scrutinize the Program: Prospective students need to research the curriculum to ensure it's meeting their requirements and includes learning of latest tools and technology. The course description often is a good indicator to know what is covered, says Corbo. Also, individuals should look into the teaching methodologies and see how learning is facilitated through discussions, level of interaction required in classes and the actual workload -- including reading, writing of papers, submitting assignments, etc. Based on her experience, an ideal workload for online programs is when students have-
A required amount of log-in time for the week to upload papers, initiate discussions, perform lab assignments, post questions;
Significant amount of reading assigned each week, requiring the student to understand concepts and do active research on topics for assignments and papers due;
A weekly assignment or paper to be submitted;
A test usually scheduled once every couple of weeks;
An active level of interaction in the class by faculty encouraging discussions on real-world work scenarios and solutions to key security issues;
Team projects to work on every couple of weeks.
5. Communicate with Faculty: Always research the credentials of faculty members at the university being considered, says Corbo. Almost all universities list their faculty members on their website. Individuals should go through the list and look at the practical experience and published papers of the faculty involved. "Select programs that are taught by hands-on faculty members that are or have remained practitioners in their field to learn and get insight into the real world," says Corbo. Also, she encourages prospective students to establish communication with relevant faculty members to get a better feel of the program and degree of personalized service.
At Utica, she sent frequent emails to her professors about doubts she had in her course work or questions that needed further clarification, and almost immediately she got a response followed by a phone call from the faculty in charge to address all her concerns. "Don't be shy to ask about the faculty's average response time to student queries." Also, she advices prospective students to select instructors that have "been there, done that," as compared to pure academic scholars. "Not only do these real practitioners know what it takes to create career opportunities in your field of interest, but also how you will be able to apply your industry-current education once you make your move," she says.
6. See What Students Say about the Program: Look at what other publications, forums and associations say about the university's program, achievement of its faculty members, history of success and other details It is always a good idea to connect with former or current students to get a feel of what their experience has been, says Foley. "Always ask them hard questions and try to take out the negative and bad things about the program, so that you can make an informed decision."
While researching a school for his master's program, Foley basically got down to two universities. His decision was final once he heard from students representing both educational institutions, asking them questions including:
Are instructors willing to work with individuals that are working adults?
Can students work on their own schedule?
Do instructors encourage independent thinking and discussions on real world issues and solutions?
Are courses designed specifically for an online environment?
7. Request as Much Information as Possible: Tap into career counselors at these schools to address all your questions. Ensure that the school has a tutorial for its online program which helps prospective students in learning how the classes are set up. Which areas are there for uploading papers, posting lectures, communicating with the professors? How is information organized? "It is invaluable to go through the tutorial before selecting a program to be fully prepared," says Corbo.
8. Look at the Infrastructure for Online Teaching: "Get details on the actual engine the school will use for teaching online," says Foley. Will it work on a wireless, mobile card? What kind of hardware does it need to function? How are the classes presented? How is their online laboratory set up? Do they have access to an updated, online library? What is their system capacity? Do they provide technical support 24 hours a day, seven days a week?
"I would look for some thing that is very interactive with the student," says Foley. He mentions that University of Phoenix uses an interactive classroom with different areas for guided discussions, reading assignments and library, while Norwich University uses 'Angel Learning,' which a student can access and get to all the required reading, email and classroom posting sites. He likes both online formats and so far is satisfied with the quality of infrastructure used by both schools.
9. Tuition: Check the cost per credit hour and compare it to other colleges being considered. What are the fees involved for in- and out-of-state expenses? Also, does the online college offer refunds in the event students are unable to commit to a course? What kind of financial aid do they offer? How flexible is the college in receiving payments? All are important factors that prospective students need to consider in selecting a school.
10. Employer's Perspective: "It is very essential to know what your employer thinks of your degree from a particular online school," says Corbo. Individuals should keep their current employers involved in the selection process to understand their preferences and value from an online education, especially if they are paying the tuition reimbursement either partly or fully. "Ask the school for information about current employers represented," she says. Usually a solid representation of companies indicates that the school is well respected, and making an employer aware of this can help in getting tuition reimbursed. "It is worth taking the time to sit with your supervisor to understand what their expectations are, investing in you," Corbo says.