Impact of Texas Wildfires
Regulators Stress Importance of Business Continuity Plans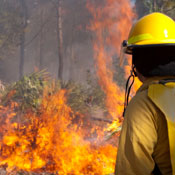 The Texas wildfires, which over the past seven days have consumed more than 9,205 acres, are a wake-up call for banking institutions to review their business continuity and disaster recovery plans.

According to the Federal Deposit Insurance Corp., institutions in Bastrop County, Texas, were affected by wildfires that first hit Aug. 30. In a statement released Sept. 12, the FDIC encouraged banks to work with borrowers to extend repayment terms and loans. [Please see FDIC: Guidance to Institutions In Areas of Texas Affected by Wildfires].

So far, the FDIC hasn't received any notifications regarding bank closures related to the fires.

David Small, spokesperson for the National Credit Union Administration, says that the NCUA is encouraging credit unions in affected areas of Texas to exercise prudent efforts to make credit available and to adjust or alter terms on existing member loans.

The NCUA's priorities during disaster conditions:
Ensure the safety of credit union staff;
Keep facilities and operations available to members;
Provide material and technical assistance, as needed, to affected credit unions.
"NCUA examiners will survey all credit unions and reschedule routine examinations where necessary," Small says. "The agency's examiners will also remain in close contact with credit unions to offer advice and assistance. It is important for credit unions to report their status to NCUA in times such as this."
Small says the NCUA has announced no credit union closings as a result of the wildfires. According to Small, A+ Federal Credit Union, based in the Austin, Texas area, has taken action steps in response to the fires. The credit union, which has 500 to 600 members in the Bastrop area, adjusted its hours during the week of the fires and introduced three products to assist their members, including 0 percent - $1,000 signature loans.
Dan Frasier, director for corporate activities at the Texas Department of Banking, says no state-chartered banks have closed thus far.
'Vital Part of Recovery'
In June, the Texas Department of Banking issued an emergency preparedness statement, before the fires: "With the latest weather season upon us, it is a good time to review your financial institution's emergency contact information registered with the Department. This will provide the Department with alternate avenues to contact your institution during times of distress. ... Every institution needs to reassess how well prepared they are for a disaster that could affect their organization's operations."

But Texas regulators say financial institutions still face disaster challenges, such as:
Communications outages, including telephones and cell phones;
Limited access and transportation into restricted areas;
Lack of electrical power and limited fuel for generators, rendering computer systems inoperable;
Damage or destruction of facilities;
Interrupted postal service;
Displacement of staff.
The Texas Department of Banking maintains a list of emergency resources for financial institutions.
Doug Johnson, vice president of risk management policy for the American Bankers Association, says banks continually prepare and run drills for disasters such as a Texas wildfires. There's also an element of community that comes into play. "It's important to the bank to make sure the public sector knows what a vital part of the recovery process the bank is," he says.
During disasters, banks share facilities and accept interbank deposits, Johnson says. The Federal Reserve Board also works closely with banks and armored car services to ensure the cash needs are met in affected communities.