Governance & Risk Management , Privacy
IG Reopens Probe into Secret Service Agents Spying on Chaffetz Files
Attempt to Embarrass Politician Seen as Way to Limit His Effectiveness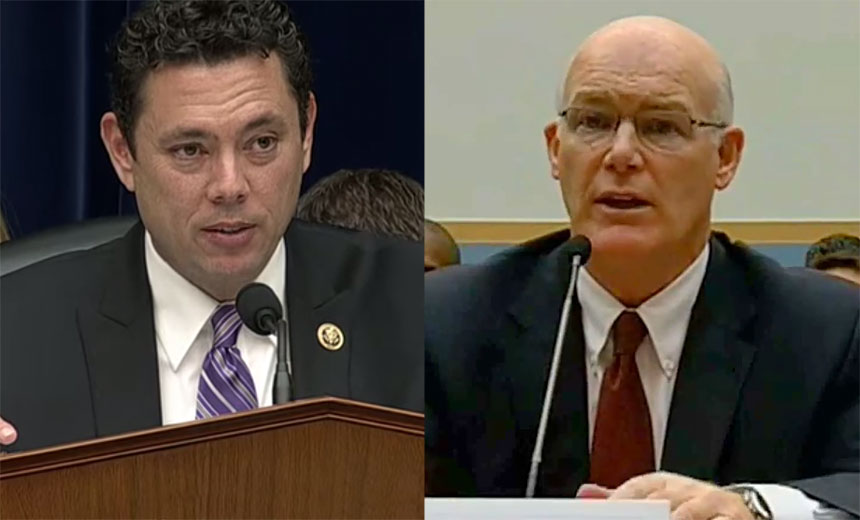 The Department of Homeland Security's inspector general is reopening an investigation into allegations that dozens of Secret Service personnel improperly accessed Rep. Jason Chaffetz' unsuccessful application to be a Secret Service agent that he filed in 2003, five years before he was elected to Congress.
See Also: LIVE Webinar | Stop, Drop (a Table) & Roll: An SQL Highlight Discussion
Chaffetz chairs the House Oversight and Government Reform Committee, which monitors the operations of the Secret Service and has conducted a number of hearings this year on alleged misconduct by Secret Service employees. The Utah Republican announced over the weekend that he would run for House Speaker, a position being relinquished by John Boehner, R-Ohio.
The Office of Inspector General, in a statement issued Oct. 5, said it is reopening the probe because Secret Service Director Joseph Clancy has a different "recollection of the events in question" than what he told the IG when interviewed on July 17.
Original Report's Findings
On Sept. 25, the IG issued a partially redacted report that said 45 Secret Service agents accessed Chaffetz' sensitive information, though only four of them had an "arguable legitimate need to access the data." The first unauthorized query of Chaffetz' name in the Secret Service database, made by a senior Secret Service agent, occurred 18 minutes after Chaffetz convened a March 24 hearing on the Secret Service concerning allegations that two agency supervisors breached a crime scene and may have been drunk.
Clancy was unaware of the unauthorized access until shortly before the media published accounts of it, according to the IG report.
However, in a statement to the Washington Post on Oct. 1, Clancy said that after the inspector general's report was released, he recalled becoming aware on March 25 of a "speculative rumor" that Chaffetz had applied to the service and had been rejected. Clancy said he considered it at the time to be "not credible" and "not indicative" of any inappropriate action by employees.
"It was not until later that I became aware that this rumor had developed as agency employees had used an agency database to gain access to this information," Clancy said in the statement. "I feel it is extremely important to be as accurate as possible regarding my knowledge of this matter, and I have personally spoken to Chairman Chaffetz to advise him of the additional information that I provided to the inspector general."
In April, The Daily Beast disclosed that Chaffetz applied, and then was rejected, for a job as a Secret Service agent in the early 2000s. Chaffetz received a generic rejection letter informing him there were more qualified applicants, according to that news report.
Being Intimidated
Chaffetz, in a Sept. 30 statement, said the unauthorized access and distribution of his personal information "was a tactic designed to intimidate and embarrass me and frankly, it is intimidating. It's scary to think about all the possible dangers in having your personal information exposed."
The disclosure of the information could have been an attempt to humiliate Chaffetz. "Embarrassing facts can hurt a politician heavily, such as losing an election, or less heavily, such as reducing their effectiveness somewhat," says Peter Swire, a professor of law and ethics at Georgia Tech's College of Business and former White House chief privacy counselor.
The special agent who made the first inquiry, whose name was redacted from the IG report, told investigators he was "struck by Chairman Chaffetz' outward animus" towards Clancy during the testimony, and questioned whether there were other factors underlying the way Chaffetz treated Clancy, such as congressman having been rejected as an applicant.
But Chaffetz said the disclosure won't frighten him off. "The work of the committee, however, will continue," he said. "I remain undeterred in conducting proper and rigorous oversight."
DHS IG John Roth said disclosing Chaffetz' information to others without an official purpose violates the Privacy Act and policies of the Secret Service and DHS, where the agency is situated. The Privacy Act deems the leaking of privacy information a misdemeanor that carries a fine of not more than $5,000. Secret Service rules of behavior list penalties for unauthorized access that include a letter of reprimand, loss pay of up to 14 days and possible criminal prosecutorial action.
Widespread Disclosures
Roth said he could not determine how many of the 45 Secret Service agents disclosed Chaffetz' information to others, but concluded the disclosure was widespread.
The IG office identified 18 supervisors - including the acting chief of staff and the deputy director - who knew or should have known that Chaffetz' personal information was being accessed. Yet, with a single exception, there was no evidence that any of the managers informed their superiors or tried to stop the unauthorized access, the IG said.
"This episode reflects extremely poor judgment and a lack of care on the part of a number of Secret Service employees," Roth said. "Given the sensitivity of the information with which these agents are entrusted, particularly with regard to their protective function, this episode is deeply disturbing. Secret Service leadership must ensure that behavior like this will not be tolerated."
Privacy expert Swire says the Secret Service could have taken steps to prevent such insider breaches, including limiting access to employment applications to individuals with the need to know and the logging of employees' activities on their computers and the agency's IT system. "Periodic audits will catch and prove improper behavior if peeping happens," he says.