How U.S. Says Producer Aided Anonymous in Hack
FBI: Ex-Producer Encouraged Hacktivist to Disrupt Tribune Site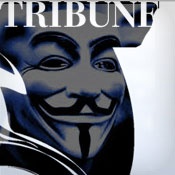 A 26-year-old former web producer charged with helping Anonymous hack into the website of the media giant Tribune Co. provided members of the hacktivist group with log-in credentials for a computer server, according to federal authorities.
See Also: JavaScript and Blockchain: Technologies You Can't Ignore
Matthews Keys, now deputy social media editor at Reuters.com, identified himself on an Internet chat forum as a former employee of Tribune-owned KTXL Fox 40 in Sacramento and provided Anonymous members with a login and password to the Tribune server, the FBI says. After providing log-in credentials, Keys encouraged the Anonymous members to disrupt the website, and according to an indictment, at least one of the computer hackers used the credentials provided by Keys to log into the Tribune server. Ultimately, the FBI says, that hacker made changes to a news item on the website of Tribune-owned Los Angeles Times.
Keys had a conversation with the hacker who claimed credit for the defacement of the Los Angeles Times website, according to the indictment, which adds: The hacker told Keys that Tribune system administrators had thwarted his efforts and locked him out. Keys attempted to regain access for that hacker, and when he learned that the hacker had made changes to a Los Angeles Times page, Keys responded, "nice," the indictment says.
Authorities charged Keys, who the FBI says was fired from the station in 2010, with one count each of conspiracy to transmit information to damage a protected computer, transmitting information to damage a protected computer and attempted transmission of information to damage a protected computer.
Key's current employer, Thomson Reuters, did not comment on his employment status, but an employee at the New York office where Keys worked told the Reuters news service that his workstation had been dismantled and that his security pass had been deactivated.
Several hours after the indictment was handed up, according to a Reuters report, he tweeted: "I found out the same way most of you did: From Twitter. Tonight I'm going to take a break. Tomorrow, business as usual."
Keys of Secaucus, N.J., faces up to 10 years in prison, three years of supervised release and a fine of $250,000 for each count. The indictment also contains a notice of forfeiture provision for property traceable to the offense.