How to Use Threat Intelligence
Jon Ramsey of Dell SecureWorks on Managing Today's Threats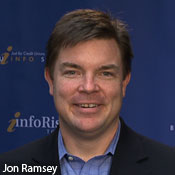 rsa2012_Jon_Ramsey_640x360
"If you talk to CSOs, they don't worry about what they know about; they worry about what they don't know about," says Jon Ramsey, CTO of Dell SecureWorks, discussing threat intelligence.
See Also: New Approaches to Solving the Cybersecurity Talent Shortage
The gathering of threat intelligence is all about learning what the bad guys are doing, Ramsey says - how are they making money, and how are they stealing intellectual property?
But the intelligence is useless if organizations don't act upon it. Use properly, threat intelligence gives organizations the tools to make tactical security decisions and to elevate conversations with senior leaders and board members.
"In most cases, c-suite conversations are about compliance," Ramsey says. "With actionable intelligence and information about what the threats are targeting and doing, it becomes more of a security conversation."
In an exclusive video interview recorded at RSA Conference 2012, Ramsey discusses:
The state of threat intelligence;
How to act on this information.
Ramsey is an information security expert with policy-making responsibility at Dell SecureWorks in Atlanta, Ga. He has 20 years of hands-on experience at every level: system administrator, software engineer, analyst, security penetration specialist and senior engineer.
Please see these additional items from Dell SecureWorks:
White paper:
Six Key Guidelines for Securing Mobile Banking Apps
White Paper:
Staying Ahead of Cyberthreats: Recommendations for Financial Institutions
Webinar:
Fundamental Security: The Power of GLBA and FFIEC Compliance
Additional Summit Insight:
Hear from more industry influencers, earn CPE credits, and network with leaders of technology at our global events. Learn more at our Fraud & Breach Prevention Events site.