Going Private: Transition from Government to Business
Profiles, Tips from IT Security Leaders Who Made the Move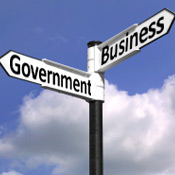 John Lainhart was looking for financial security. For Marc Noble, the lure was achieving a better work/life balance.

There are varied reasons why information security professionals transition from the public to the private sectors. But it is a common path - particularly for those who have earned their government pensions - and it is a move that often proves rewarding for individuals and organizations alike.

"Higher compensation, role flexibility, freedom of ownership, and the idea of trying something new and different seem to be the big motivators driving professionals seeking this transition to adapt to the corporate environment," says Jeff Snyder, President of SecurityRecruiter.com, a Colorado-based information security recruitment firm.

Public professionals with government law enforcement, military, intelligence and leadership backgrounds are in constant demand in the private sector, Snyder says. The advantages they bring to a private sector job:
Advanced knowledge in emerging technologies and software;
Expertise in managing fraud and security, as well as innate knowledge of their own former agencies. Corporate giants prefer to hire former government employees who can target their own agencies for sales and consulting opportunities.
Broad experience with local, state and national law enforcement agencies, as well as federal government agencies and contractors;
A track record of overseeing multi-million dollar budgets.
On the flip side the public-private transition forces former government employees to be flexible as they learn to transform their knowledge, skills and abilities into the marketplace of an entrepreneur, while meeting the needs of a large or global corporation. According to Snyder, the biggest challenge is adapting to the corporate culture: faster pace, greater accountability and working within the team concept. Individuals eyeing such a move need to embrace these realities, Snyder says.
Following are profiles of three senior government individuals who made the transition into the private sector. They share their experiences, surprises and challenges, and they provide tips to other security professionals looking to make the same move.
John Lainhart, ex-GAO
"I Loved My Job, But Had to Put My Kids in College"
John Lainhart, CISA, CISM, CGEIT, CIPP/G, served in the public sector for 30 years, holding varied positions in the U.S. House of Representatives, Office of Inspector General (OIG), U.S. Department of Transportation (DOT) and U.S. Government Accountability Office (GAO).
He was responsible for performing all information systems audits, evaluations and investigations, as well as providing necessary financial management, administrative, human resources and information technology support for various federal programs. Lainhart retired from the government in 1999 and joined IBM. He is currently the Service Area Leader for security, privacy, and wireless & IT Governance with IBM Global Business Services' (GBS) Public Sector.
"I feel good about the contribution and difference I have made for the people and the country and now want to live on my own accord," Lainhart says. The main motivator for him to cross over to the private sector: money. "I loved my job, but had to put my kids in college."
Among the changes he experienced in his transition: greater flexibility and economy. The work ethic is the same in both the public and private sector-- "to get the job done" -- however the rewards and recognition for successes and accomplishments in the private sector are high.
The shift takes a lot out of personal and professional lives, he maintains. Higher responsibility, long working hours, continuous learning and less personal time are all aspects of the private sector that government professionals sometimes find tough to embrace.
But government experience definitely pays off. Moving from different positions and levels within the government helps one develop openness about different cultures, and brings with it a positive work ethic, balance and focus on the needs of the organization -- not simply one's own career. "The key component to transitioning successfully within the private industry," Lainhart says, "comes by finding industry mentors with proven security management, operational know-how and skills that have been honed in the business world."
Marc Noble, ex-FCC
"I ...Wanted to be Part of Relationship Building."
Marc H. Noble, CISSP, ISSAP, CISM, CGEIT, MBCI, NSA-IAM, was in public service for 30 years. He was a senior staff member with the Associate Director, Management & Operations at the U.S. Courts, and Chief Information Security Officer at the Federal Communications Commission. In those roles, his responsibilities ranged from managing and reviewing security testing, policies and risk assessment to evaluating the preparation for certification and accreditation of systems, disaster recovery planning and management of a number of key initiatives.
He retired from the government in 2008 and joined The MITRE Corporation as a principal information systems engineer.
Noble started planning his career transition at age 30 to ensure he had the financial means to pursue the work he wanted to do. "I always liked to be involved with continuous learning and volunteering and wanted to be part of relationship building, training and education efforts," he says.
In his government tenure at the FCC, Noble was on the front lines as the chief person looked upon to initiate projects. It was a challenging role.
Within the private sector, he was looking for a position in terms of role and responsibilities that would enable him to achieve a better work-life balance.
"The transition and culture change from public to private sector is very real," he says. In the private sector one needs to learn to be very flexible and sensitive to ideas and thoughts of peers and other business leaders, and then initiate changes and make decisions based on limited funds and resources. For Noble, taking a private sector position has been a personal challenge.
A key strength that most government employees bring with them to the private sector is commitment to industry best practices through continuous training and education. For example, most employees in Noble's field are professionally certified with credentials such a CISSP (Certified Information Systems Security Professional), CISA (Certified Information Systems Auditor) or GIAC (Global Information Assurance Certification). These credentials help in an overall standardization and performance deliverables of employer expectations within the corporate world.
As advice to professionals contemplating this move he strongly recommends early career and financial planning sooner rather than later, as a strong financial base opens up options. Also, continuous education and training and obtaining a master's degree are good door openers in many corporate offices, Noble says.
Ed Anderson, ex-Peace Corps
'Look Beyond the Paycheck'
Ed Anderson has been primarily with the private sector in leadership positions with companies such as Accenture and Verizon. However, he also has been in and out of public service in his career span of 30 years. Most recently, he was Peace Corps CIO for close to six years under the Bush administration. He is now a senior Vice President and Practice Leader at Anerian, LLC, a management consulting firm providing effective methodologies for enhancing business performance to companies within media, healthcare, retail and government.
After close to 20 years in the private sector, Anderson wanted to make an impact and serve the country, so he joined the Peace Corps. "I wanted to give back and selflessly serve my country by being an ambassador of change and learning," he says. "There is so much prestige and honor in a government position which money can never buy."
In Anderson's experience, moving from a public to a private sector is a big change and a different way of life. One needs to be available 24/7 in the corporate world to ensure work needs are met. There is a certain level of aggression in managing one's career -- "survival of the fittest" is a rule that applies very strongly, Anderson says. For professionals seeking a balance in their work and personal life, this transition may not be a good decision, he indicates, as most corporate positions are very demanding, leaving very little personal time for employees.
As strengths, government employees bring with themselves a history of results-oriented focus and a diversity of experience and combination of IT, policy, leadership and business skills -- all of which are in demand within the private sector.
Anderson advices professionals to look beyond the paycheck in joining the corporate world. Invest time and effort in understanding the real expectations of employers and organizations, mostly by attending transition seminars, reading, networking and participating in relevant discussions and forums.
ASK THE EXPERT: Considering a move between the public and private sectors? Got a question for someone who's made that move already? Submit your questions here. John Lainhart, Marc Noble and Ed Anderson - the sources profiled above - have agreed to entertain your questions. Answers will appear in a separate story to be published at a later date.