The Future of Mobile Payments
Solutions are Here, But Security Remains Top Concern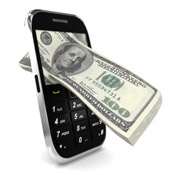 Mobile technology is already having a big impact on financial services, from remote banking to mobile payments. The continued proliferation of smart phones is only going to accelerate that impact. Mobile is already revolutionizing the way consumers interact with their financial institutions, and banks have to stay ahead of the technology and the security concerns.

Randy Vanderhoof, executive director of the Smart Card Alliance, says mobile banking is a given. Payments are now the next frontier, and a number of technologies and services, such as remote deposit capture, are converging to make mobile payments readily accessible to consumers.

"By 2011, we can expect to see more NFC (near-field communications)-enabled devices being rolled out by the handset manufacturers," Vanderhoof says. Once that happens, the connection between the mobile device and contactless payments will be bridged.
Bridge Between Contactless and Mobile
With some 100 million contactless chip cards already in circulation throughout the world, and an estimated 75 million in use in the United Sates, Vanderhoof says it's time for the payments industry to have serious discussions about how it can exploit the link between contactless and mobile.

During the Mobile Financial Services Forum in Arlington, Va., which was hosted by BITS and the Financial Services Technology Consortium, both divisions of The Financial Services Roundtable, Vanderhoof shared his thoughts about contactless payments and the inevitable move the U.S. will make to EMV.

A couple of different mobile-tap-payments methods are already being deployed and/or tested. Bank of America recently launched a trial in New York City that uses SD cards mobile users insert into their mobile devices. Others, such as Bling Nation and Discover Financial Services, are deploying solutions that allow consumers to adhere microchips to their mobile devices.

In Bling Nation's case, the BlingTag microchip sticker, which could be placed on anything the consumer chooses, links to a Bling account that allows instant payments for purchases by simply waving or tapping the sticker at the point of sale. Bling also has partnered with PayPal to allow BlingTag users to pay for in-store purchases using their PayPal accounts.

In Discover's case, a partnership announced in August with mobile-commerce provider Firethorn Holdings LLC, a subsidiary of Qualcomm Inc., is expected to facilitate a similar kind of offering -- a virtual gift card that relies on a chip-embedded sticker or sleeve for the mobile phone. Discover will provide processing services for the payments, with Firethorn's SWAGG service allowing consumers to purchase, personalize and exchange gift cards from their mobile devices. Firethorn expects to have the service fully rolled out to merchants by the end of the year.

Mobile also plays an undeniable roll in peer-to-peer payments, says Lisa Stanton, an executive director for Monitise, a mobile services provider. "In other parts of the world, we are already seeing this technology," she says. "In the U.S., most of what we have been offering revolves around prepaid cards." That is soon expected to change, she says.
The Security Concerns
But there remain some security concerns. Jason Rouse, a mobile security consultant, says NFC communications, by their nature, are less secure than traditional payments. That does not mean, he says, that banks and credit unions should shy away from offering mobile payments. It just means institutions need to be aware of the risks and adequately prepare for potential security gaps and vulnerabilities to transaction interception.

"By itself, radio frequency communication is probably the most vulnerable mode of communication we have ever created," Rouse says. "We need to tread carefully to ensure that we not only select the right protocols, but also implement them correctly. In the past, that has proven hard to accomplish on consumer devices."