From Examiner to Examined: Why Regulators Become Practitioners
Former Examiners Discuss Career Options, Challenges of Transition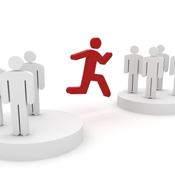 Ron Kranz, CEO and Chairman of First State Bank & Trust, based in Fremont, Nebraska, is a former examiner with the Office of the Comptroller of Currency (OCC). Over a five-year-period as an examiner, he learned a great deal about banking and financial principles, but grew tired of the frequent travel, lack of rewards for extra work, and what seemed like an extraordinary emphasis on negative reporting -- it wasn't considered an examiner's job to compliment a bank's compliance efforts.

But most of all, Kranz wanted to pursue his dream of becoming a true banker, so he left the OCC to become a banking leader. "There is a big adjustment of leaving behind an examiner's role and starting afresh again," he says. His lifestyle changed completely - no more travel and assessing multiple institutions, but now focusing on a single organization with a specialized role involving leadership and management. "I have achieved great success in my role as a banker and have learned how to get things done, interact effectively with customers and to be involved in the banking community," he says.

Kranz is a prime example of banking/security leaders who got their start with the regulatory agencies, then transitioned into roles as banking practitioners. According to those who have made the move, it's a natural and rewarding transition.

"In fact, being an examiner is a great foundation for anyone in the financial industry, with solid financial grounding, a myriad of knowledge and exposure to best practices and financial analysis," says Kris VanBeek, a Senior Vice President of Information Systems at Digital Federal Credit Union (DCU), and a former examiner with the Federal Deposit Insurance Corporation (FDIC) and the Federal Reserve Bank of Boston. He left the examiner's role because he wanted to try something new - so working at a bank or credit union was just a natural next step. Also he had recently become a father, so the frequent travel as a regulator detracted from time with his family.

He mentions that former examiners have a huge advantage and high level of opportunities when seeking a career outside these agencies. These individuals are in great demand within banks and credit unions as they understand in-depth the challenges within the regulatory environment and measures and best practices needed by these institutions for improved performance.

Career Options

Former examiners can seek upper and executive management positions ranging from chief financial officer, risk manager and information security officer to compliance and audit managers at banks, credit unions and large consulting companies such as KPMG, Accenture and Deloitte. They can become independent consultants and act as an advisory role to financial institutions and other related organizations, and also become a board member in these organizations.

"If a bank is looking to hire a candidate for a risk management position and have two short-listed candidates -- one experienced in working for 2-3 banks, while another a former examiner, experienced in strengthening control and policies for varied banks with solid business and regulatory knowledge -- we know who is likely to get selected," says VanBeek.

From an employer's perspective, Donna Russo, Senior Vice President of Human Resources and Training at DCU agrees. Former examiners bring knowledge about banking/credit union regulations -- they understand both sides of the business. They have a clear understanding of how examiners would view the decisions made by management, as well as the impact on the organization. "Regarding the success of our six current and former employees with examiner/auditing backgrounds, our history speaks for itself," Russo says. "In my opinion, it was a good formula for their success at DCU".

On the Plus Side ...

Among the strengths former examiners bring to their new positions:
Extensive Exposure & Knowledge: Examiners are exposed to multiple ways of doing business, of strengthening controls and policies in numerous financial institutions. This helps in creating and implementing new ideas, says Catherine Morrissey, a former examiner with the OCC and currently President of Networks, a unique, non-profit processing organization that offers a full range of electronic funds transfer services for 350 member financial institutions. "Our biggest strength lies in knowing the laws that are applicable within the regulatory environment and how the law speaks to how business is conducted," she says.


Banking Principles: Examiners are trained intensively to know different ways to enhance the safety and soundness program at these institutions. They understand what a bank's balance sheet should look like and what factors play a significant role in this. "I think this understanding of banking principles is one of our greatest strengths," says Kranz.


Grounded Education and Best Practices: Examiners have the grounding in basic banking principles such as the importance of capital, quality of earnings and prudent lending standards. Intensive experience with financial and system analysis and exposure to best practices within the financial industry, including the Federal Financial Institutions Examination Council (FFIEC) guidelines. "All this makes for a very natural fit for former examiners to seek positions within financial institutions or related organizations and this is our strength", states VanBeek.
As for Challenges ...
There are skills gaps and transition issues for examiners, who move into banking, including:
Interpersonal Skills and Business Acumen: A common challenge for examiners when taking up positions outside the agencies is the ability to understand business and properly communicate with management on what needs to be done. "As an examiner you're used to working on your own and having the final authority and say in the matter," VanBeek says. "Once out, you need to develop skills to work in a team, get everyone's opinion and communicate effectively with peers and supervisors, understanding the principles of business."


Hands-On Approach: "Examiners are very process and policy oriented and therefore need appropriate hands-on approach to transition into a less clinical environment", adds Morrissey. Examiners always point out what needs to be fixed in a financial institution and offer recommendations for a particular institute to fix it. However, the transition and filling the gap lies in learning to fix problems, in rolling-up our sleeves to learn the 'How' part of doing it, she says.


Relationship Building Skills: Examiners need to develop the sales and customer relationship skills that are crucial at any organization. They need to know how to present themselves to their peers, supervisors and most importantly their customers. Examiners often fall short of relationship-building skills, says Kranz. "Also, an examiner sees everything as black and white, while as a banker there are areas which are grey that needs subjective thought and skills."
As advice to examiners seeking jobs
A good starting point for former examiners is banks and credit unions and even independent consulting where, depending on their area of expertise, they can fit in and add value. "Know your area of specialty, i.e. commercial credit, compliance, information security and focus in becoming an expert within that," says VanBeek.
Morrissey says to look out for the right fit and culture that will enhance the organization and the individual's performing and learning capacity. Most challenges are overcome on the job. However, specialized training in business, leadership and management is recommended by former regulators who have traversed this path and are successful today.
To prepare themselves for their next move, existing examiners need to make sure they stay current with their industry and profession. Which means attending and participating in security, banking and industry relevant seminars and webinars, reading professional reports, books, etc., subscribing to journals, magazines, newsletters, joining industry groups, and professional associations.
"Careers with regulatory agencies or financial institutions each have pros and cons (the grass isn't always greener on the other side). However, I can say my transition from examiner to my present role at DCU has worked out very well," says VanBeek. "At times, it was somewhat challenging, but at the same time very fun and rewarding. That said the combination of my examiner experience and educations have been critical success factors throughout my career".