Four Romanians Charged for POS Fraud
Indictment Alleges Scheme Affected 80,000 Cardholders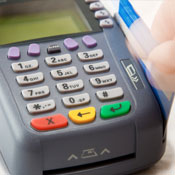 The U.S. Department of Justice has indicted four Romanians for their alleged roles in a multimillion-dollar fraud scheme that is believed to have compromised hundreds of U.S. merchants and more than 80,000 U.S. consumers.

See Also: Delving Deeper: 2023 Fraud Insights Second Edition

According to the charges, between 2008 and May 2011, Adrian-Tiberiu Oprea, 27, Iulian Dolan, 27, Cezar Iulian Butu, 26, and Florin Radu, 23, are believed to have remotely hacked point-of-sale and checkout systems at more than 200 merchants to steal credit, debit and prepaid card data. Affected merchants include more than 150 Subway restaurant franchises throughout the U.S. The compromised card data is believed to be linked to millions of dollars in unauthorized transactions.

Charges against the four men, including conspiracy to commit computer fraud, wire fraud and access-device fraud, were filed in the District of New Hampshire. Oprea was arrested last week in Romania. Dolan and Butu were arrested in August as they re-entered the U.S. Radu remains at large.

The Secret Service is investigating the case.

How the men were able to hack in to the merchants' POS systems was not included in the DOJ's announcement. Whether the merchants were in compliance with the Payment Card Industry Data Security Standard also was not mentioned.