Former Bill Gates' Aide New Federal CIO
President Obama Names Replacement for Vivek Kundra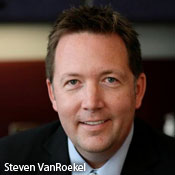 Steven VanRoekel, a onetime speech and strategy assistant to Microsoft founder Bill Gates, is the new federal chief information officer, replacing Vivek Kundra.

President Obama announced Thursday the appointment of VanRoekel, who joined the administration in 2009 as managing director of the Federal Communications Commission. The appointment does not require Senate confirmation.

In a press briefing Thursday, VanRoekel said he has no plans to make any major changes from the agenda Kundra put in place. "What I really saw at the Federal Communications Commission is that this notion of re-imagining government in the context of the pace of innovation of private industry can be done in government," VanRoekel said. "And, it can be done in such a way that can save money, save resources and everything else. We were in lock step with Vivek's team here. ... Now I'm really excited about the ability to take that work and scale it to the broader notion of government and take the momentum and impact things broadly."

The statutory title for the CIO job is administrator of the Office of Electronic Government and Information Technology in the White House Office of Management and Budget, and VanRoekel becomes the fourth person to hold that post. When Obama named Kundra to the job in March 2009, the president created the additional title of federal chief information officer. In the White House of George W. Bush, the e-administrator post was held by Mark Forman and Karen Evans, who often were referred to as the government's de facto CIO.

Securing government computers is a major part of the federal CIO's job, so one of the first people VanRoekel met with was White House Cybersecurity Coordinator Howard Schmidt.

The federal CIO issues IT security directives to agencies and enforces government laws and regulations regarding cybersecurity, such as the Federal Information Security and Management Act, the comprehensive federal law enacted in 2002 that dictates how federal agencies must secure their information assets.

Among Kundra's legacy as federal CIO (see Vivek Kundra Resigning as Federal CIO) was the move by agencies to continuous monitoring of IT systems from the paper compliance rules required by FISMA. "It makes no sense why we wouldn't ask to get the data feeds coming in from these systems so that we could get a real-time dashboard of the U.S. government in terms of how vulnerable or secure we are," Kundra said (see Kundra Previews New FISMA Guidance).

OMB Deputy Director Jeffrey Zients, in an interview with The New York Times, suggests one of VanRoekel's assignments will be to drive government productivity through smarter use of computer technology. Zients said government productivity growth has lagged that of the private sector by one-third. "We believe that the use of information technology is the single biggest reason for the gap between the public and private sector," he said.

Another hallmark of Kundra's tenure was the push toward the adoption of secure cloud computing among federal agencies. In February, Kundra outlined a new policy in which one-quarter of the $80 billion the federal government spends on information technology would employ cloud computing solutions (see Kundra Eyes 25% of Fed IT Spend on Cloud Services).

In a post on his FCC blog last October, VanRoekel addressed the savings the agency should realize by moving its website to the cloud and the security challenges it involves:

"We fully expect this move to pay dividends in the short and long terms. Starting now, we're able to wield highly-flexible sandboxes for our teams to innovate without bounds. And in out years, we save considerable costs - and mitigate impact to the environment - by hosting the new FCC.gov in the cloud instead of potentially inefficient and wasteful datacenters.

"Many critics - across sectors - have voiced concerns about the information security questions that are raised around cloud computing environments. Our team has fully abided by the FISMA standards throughout this process; at relaunch, FCC.gov will have met or exceeded both low and moderate levels of clearance, enabling us to distribute information, power collaboration, and innovate freely."

Sen. Thomas Carper, the Delaware Democrat who chairs a panel with IT and IT security oversight, welcomed VanRoekel's appointment in a statement: "With Vivek Kundra's eminent departure, and the continued importance of managing our nation's over $80 billion federal information technology budget, I'm happy to hear there will be a smooth transition. ... Mr. VanRoekel comes with an impressive resume, but he has big shoes to fill."

Blair Levin, the former FCC official who spearheaded the agency's national broadband plan, had kind words for VanRoekel in an interview with the political publication The Hill: "Steve is one of those guys who does his work away from the cameras, but those of us who have known the institution for decades could see that in a quiet way, he made a big, positive difference. The government needs more folks like him - all of whom could be making much more money and having a much easier life in the private sector - to help our institutions take advantage of the new opportunities the technologies empower."

Since June, VanRoekel had been serving as executive director of Citizen and Organizational engagement at the United States Agency for International Development. At the FCC, VanRoekel oversaw operational, technical, financial and human resources and helped lead the introduction of the use of social media at the FCC.

Beginning in 1994, until he left for government service in 2009, VanRoekel held a variety of midlevel executive and staff jobs at Microsoft, the most recent as senior director for the Windows Server and Tool Division, a post he held for five years. Other Microsoft jobs he held included director of web services and premier support and presales technical adviser. He served as Gates' speech and strategy assistant from 1999 to 2002.

Iowa State University awarded VanRoekel a bachelor of arts degree in management of information systems in 1994.