Business Continuity Management / Disaster Recovery , Cybercrime , Fraud Management & Cybercrime
Florida Public Defender Describes Malware Attack's Impact
As Many as 500,000 Client and Staff Records Possibly Compromised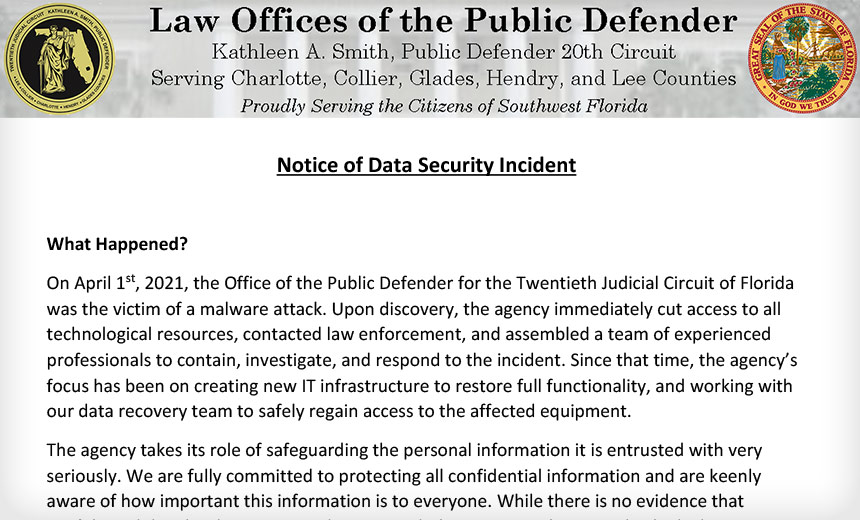 The Office of the Public Defender in southwestern Florida says malware attackers may have compromised the personally identifiable information of its staff and clients.
See Also: OnDemand | Understanding Human Behavior: Tackling Retail's ATO & Fraud Prevention Challenge
But no information relating to criminal cases apparently was exposed, Kathleen Smith, public defender for the 20th Judicial Circuit in Florida, which covers five counties, tells Information Security Media Group.
The office, which was struck on April 1 by an unknown type of attack, maintains a database containing more than 500,000 records of current and former employees and clients. Although the office has no evidence that any content in this database has been accessed or misused, the portion of the network exposed in the malware attack holds records containing staff and client names; Social Security numbers; copies of government-issued document numbers, such as driver's license and identification card numbers; and, in some cases, medical or mental health history.
The Investigation
"Upon discovery, the agency immediately cut access to all technological resources, contacted law enforcement, and assembled a team of experienced professionals to contain, investigate and respond to the incident," according to a statement from the office.
Smith says that the recovery effort has included moving systems off-premises to host them in the cloud.
"We needed to be functional as soon as possible due to the important role our agency performs, so we chose to go cloud-based to accomplish our needs," Smith says. "Our case file recovery efforts are going well, and we expect a full recovery of our files."
Smith told the Port Charlotte Sun newspaper that once the attack had been detected, the IT team severed its connection with the case management system. This system connects with the state attorney's office as well as other court offices.
Illinois AG Office Attacked
In another recent incident affecting legal authorities, the Illinois Office of the Attorney General was struck by a cyber incident. Attorney General Kwame Raoul announced on April 13 that his office's network had been compromised.
Raoul said the office's security team and federal and local law enforcement agencies are still investigating. He said the office would release information on the attack as it becomes available.
The attorney general's office did not respond to a request for additional information.