Financial Crisis 1 Year Later: 4 Lessons We've Learned
'What Regulator Wanted to Stop the Party, Grab the Punch Bowl and Turn Off the Lights?'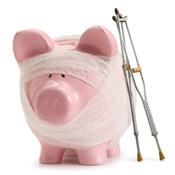 Who could forget September 2008? With the failure of Lehman Brothers and the takeover of Merrill Lynch by Bank of America in one weekend, and then the subsequent failure of Washington Mutual -- the largest bank failure in history -- last September was a seismic month in the banking industry.

A year later, scores of financial institutions have failed, been acquired or merged; a new administration is taking a hard look at how the industry is regulated; and economists are declaring signs of the recession's end.

But from that turmoil and a year of recovery come some resounding lessons learned. Here, industry experts detail four of the biggest lessons.

#1: The Problem Was 'De-Supervision'

Despite being battered from regulators and legislators, as well as facing the anger of consumers because of the $700 billion bailout, the financial services industry as a whole is "vastly better off than one year ago," says Christie Sciacca, a former FDIC regulator, now an executive at consultancy LECG.

When he ponders what happened with Lehman Brothers and other industry giants, he says, "No one thought far enough in advance to what would happen." But the industry is better off, he notes, partly due to the work that the Treasury, Federal Reserve and Obama administration did to quell the crisis of confidence. "The FDIC's deposit insurance increase and the bailout package have worked," Sciacca says.

Not to suggest that there won't be other issues to address, including commercial real estate. But Sciacca believes banking leaders are smarter now about risk and risk management. "I hope the supervisors and regulators learned their lessons too," he says. Many observers argue that the financial crisis was caused by deregulation, but Sciacca says that isn't entirely true. "I do think there was some 'de-supervision,' going on," he says. Consider: subprime loans. "If you look back to 1999, 2000, the regulators issued their expectations on subprime lending. The question is: Was anyone paying attention to that?"

#2: The Bigger They Are, The Harder They Fail

Even the biggest institutions are not infallible, says Fred Becker, president of the National Association of Federal Credit Unions (NAFCU). "Many have admitted mistakes -- Bernanke, Geithner, and others -- in the way the financial meltdown was handled," Becker notes.

One reason for the meltdown in his opinion was that traders and investors came to rely on computer models to diversify risk. "Insurance agents will tell you that those one-in-a-million events can happen together, and sometimes one or more of those one-in-a-million events happen at same time," he says. This is exactly what happened last fall, he says, with results that impacted the global economy.

Going forward, regulators and legislators need to pay closer attention to the "too big to fail" institutions, Becker says. And those entities should pay extra into their respective insurance funds because of their impact on the economy. "Those large, embedded entities should reimburse the government for the added risk they place on the rest of the industry," he says. Going forward, Becker sees the need to focus on what caused the crisis and who was charged with it. There was "collateral damage" on those who were not to blame, he argues. Those institutions should not be penalized, but hedge funds, derivatives, and banks operating as investment companies need to be better regulated.

#3: Regulate the Right Entities

Despite the call for more regulatory oversight by the Obama administration, Doug Johnson, senior policy advisor for the American Bankers Association, says regulators are too focused on the commercial banking industry, which was not the root of the problem.

So many of the institutions that did not have anything to do with the cause of the problem are now facing a broad overlay of regulation, instead of taking the surgical approach to adding regulation to the largely unregulated mortgage industry and other entities, including hedge funds and commodities markets, he says.

"Congress and the agencies are not looking at these gaps," Johnson says. "They should focus on the problems, instead of putting this massive overlay on the entire industry."

#4: We're Not Out of the Woods Yet

The end of the recession does not mean that the banking industry is out of the woods just yet, according to Walter Mix, a former California banking commissioner who is now managing director at LECG. "I'm pleased we've stopping falling, and there are indications of positive economic growth, but we still have a long way to go from here," Mix says.

His concern is of the more than 8,100 banks that still operate in the U.S., many have loan portfolios that include commercial real estate loans -- which are being pointed to as the next speed bump, with more than one trillion in loans coming due over the next 12 months.

As in prior fiscal crises, he says, "We seem to get away from the basics, and when we do, bad things happen. Greenspan called it irrational exuberance."

In California back in the early 1990s, Mix and other banking regulators closed more than 25 banks because of problems in capitalization. "I also closed one bank in 1998 that had liquidity issues," Mix says. When he talked with regulators about what happened in this last subprime mortgage meltdown, "Even in 2005 and 2006, they had a sense that the economy was overheated more than before," he says. "It's hard for bankers to step back and not lend, and hard for regulators to force them to stop lending. What regulator wanted to stop the party, grab the punch bowl and turn off the lights?"

The industry now awaits the Obama administration's next move, says ABA's Johnson. "The rest of this year is going to be very challenging one," he observes. "Once they're done with healthcare, they will refocus on our industry. The stage is being set by all of the hearings going on now."

By December, Johnson says, the industry should know more of what will be happening on the legislative and regulatory front.