Feds Shutter Business Tied to Cyberheist
Did Lax Laws Help Liberty Reserve Launder Cash-Out Funds?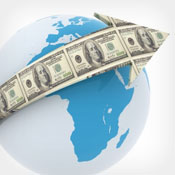 U.S. federal authorities have shut down a digital currency and payments service based in Costa Rica they claim was linked to the international $45 million ATM cash-out scheme that grabbed headlines earlier this month (see Detangling the $45 Million Cyberheist).
See Also: Fireside Chat | Zero Tolerance: Controlling The Landscape Where You'll Meet Your Adversaries
Investigators' quick moves, coupled with heightened international collaboration, had an impact in this case, experts say. But lax and inconsistent laws in some countries related to online digital currencies are making schemes such as this too easy to pull off, they add.
On May 28, the U.S. Attorney for the Southern District of New York unsealed an indictment filed against Liberty Reserve and seven of its principals and employees, including founder Arthur Budovsky, claiming the digital currency provider had laundered funds linked to December 2012 and February 2013 cash-out schemes. The company also has been accused of operating an unlicensed money-transfer business.
Federal authorities allege the business had more than 1 million users worldwide, including more than 200,000 in the U.S. Those users are believed to have run some 55 million transactions - mostly illegal - through Liberty Reserve, laundering more than $6 billion in proceeds that are suspected of having been generated from credit card fraud, identity theft, investment fraud, computer hacking, child pornography, narcotics trafficking and other crimes, according to the indictment.
Authorities on May 24 arrested five of those indicted - Budovsky, co-founder Vladimir Kats, Azzeddine el Amine, Mark Marmilev and Maxim Chukharev. The two others, Ahmed Yassine Abdelghani and Allan Esteban Hidalgo Jimenez, remain at large in Costa Rica.
Sites Used to Launder Cash
Five domain names also were seized during the arrest, according to the indictment. Those domains included the Liberty Reserve name and the names of four related "exchanger" websites that were controlled by one or more of the defendants. Additionally, 45 bank accounts were restrained or seized, and a civil action was filed against 35 other exchanger websites. Authorities are now seeking forfeiture of those exchanger domain names because the websites are believed to have been used to facilitate Liberty Reserve's money-laundering conspiracy.
Authorities allege Liberty Reserve's conspiracy to launder funds was built into its infrastructure. The company blocked users from funding accounts directly through a credit card transfer or other means, and it did not allow users to directly withdraw funds from their accounts, investigators say. Instead, Liberty Reserve's users were required to make deposits and withdrawals through so-called third-party "exchangers," which allowed the company, the indictment alleges, to avoid collecting information about its users through banking transactions or other activity.
Liberty Reserve also did not require users to validate their identities, investigators contend.
"The only liberty that Liberty Reserve gave many of its users was the freedom to commit crimes - the coin of its realm was anonymity, and it became a popular hub for fraudsters, hackers and traffickers," U.S. Attorney Preet Bharara said in a statement about the arrests and the indictment. "The global enforcement action we announce today is an important step towards reining in the 'Wild West' of illicit Internet banking. As crime goes increasingly global, the long arm of the law has to get even longer, and in this case, it encircled the earth."
Unethical Banking Practices to Blame?
Neal O'Farrell, an independent cybercrime and identity-theft expert and consultant, says unethical banking practices have helped feed businesses like Liberty Reserve.
"While these criminals rely on unethical or dishonest bankers to move and hide the loot, those same bankers also rely on countries with lax banking regulations willing to look the other way," O'Farrell says. "When you start targeting the support system the criminals depend on, you might not be able to plug the security gaps they exploit, but you might make the crime a little less appealing."
But O'Farrell says the international collaboration that led to indictments in this case is commendable and proves investigative bodies worldwide are improving their cross-border efforts.
"This case is yet another good reminder that just as important as preventing these crimes is dismantling the criminal infrastructure the criminals depend on," he adds.
Al Pascual, a financial fraud expert and analyst for consultancy Javelin Strategy & Research, says when U.S. interests are at risk, investigators and prosecutors appear to have the flexibility to move more quickly.
"Thankfully, international cooperation in dealing with money laundering has been strong recently, which is why you now see some of Liberty Reserve's competitors avoiding U.S. customers," he says. "Unfortunately, these cases take time for law enforcement to develop. It would seem, though, that the feds can move a bit more quickly when the business has U.S. interests."
The investigation and takedown involved law enforcement action in Costa Rica, the Netherlands, Spain, Morocco, Sweden, Switzerland, Cyprus, Australia, China, Norway, Latvia, Luxembourg, the United Kingdom, Russia, Canada and the U.S.