Feds, Financial Sector in R&D Initiative
Speeding Commercialization of Infosec Innovation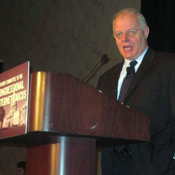 The federal government and financial services industry will collaborate to speed the commercialization of cybersecurity innovations aimed at protecting critical financial services IT networks.

A blog from White House Cybersecurity Office Howard Schmidt and Federal Chief Technology Officer Aneesh Chopra revealed Wednesday a memorandum of understanding, signed by officials from the Department of Homeland Security, National Institute of Standards and Technology and Financial Services Sector Coordinating Council, that calls for:
Coordinating the design, development and delivery of innovative cybersecurity technologies and processes,
Sharing ideas and concepts for better cybersecurity, including improved effectivness and enhanced efficiency,
Engaging in cooperative planning and development of joint test infrastructure activities and
Developing use cases and the supporting test plans to explore the facilitation of high-assurance network infrastructures, advanced identity management technologies and improved usability of security technologies.
In the blog, Schmidt and Chopra wrote that America's competiveness depends on secure IT systems, including online services offered by the financial services industry. "Ensuring these online services are reliable, accurate, safe and secure against threats is a shared responsibility of the public and private sectors alike," they wrote. "Many of the innovations emerging from the partnership will extend beyond financial services to online health services, the smart grid, and the nation's water, transportation and other critical infrastructures."
The agreement, which can be renewed and revised, is to last for five years, and be reviewed annually. It can be terminated by any party with 30 days notice. The memorandum does not obligate any of the parties to a specific investment, and each organization is responsible for its own funding.
In the partnership, DHS will be represented by its Science and Technology Directorate, the department's primary research and development arm. NIST, part of the Department of Commerce, is responsible for developing federal government guidance to secure IT. Financial Services Sector Coordinating Council supports R&D initiatives to safeguard the physical and electronic infrastructure of the financial services and banking industries, including credit unions.