Feds Confirm 9/11 Terrorist Threat
U.S. on Heightened Alert for 9/11 Anniversary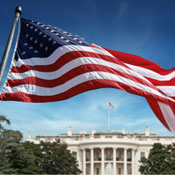 Government officials have confirmed a potential threat by al-Qaida against the United States as the nation approaches the 10th anniversary of the Sept.11, 2001 terrorist attacks that hit the World Trade Center and Pentagon.

The plot is believed to involve three individuals, including a U.S. citizen. Officials also believe the attack could involve a vehicle bomb, although they "cannot rule out other means," an official told CNN.

The nation is on heightened alert for the weekend, as countless ceremonies are scheduled in New York, Washington and Pennsylvania to commemorate the anniversary of the 9/11 events.

While this latest threat is suspected to involve a vehicle bomb, organizations should take precautions to safeguard their employees and critical data. The Department of Defense and Defense Information Systems Agency, when reached for comment about heightened security measures, said, "As a matter of policy, we are not at liberty to discuss security measures established among our networks and datacenters. The DoD and DISA remain vigilant and dedicated to protecting DoD assets around the world."
Insights: 9/11's Lessons
To commemorate the 10th anniversary of 9/11, Information Security Media Group gathered insights from a cross-industry group of thought-leaders from the banking, government and healthcare sectors. These leaders shared their thoughts about the lessons learned from 9/11, as well as areas where we could improve business continuity and disaster recovery planning. [See 9/11 Remembered: What We've Learned.]

ISMG's editors also conducted a series of exclusive interviews with thought-leaders on the legacy of 9/11: