Blockchain & Cryptocurrency , Cryptocurrency Fraud , Fraud Management & Cybercrime
Fed Chair Says Central Bank Evaluating Digital Currency
Jerome Powell Says Discussion Paper Forthcoming as Fed Weighs CBDC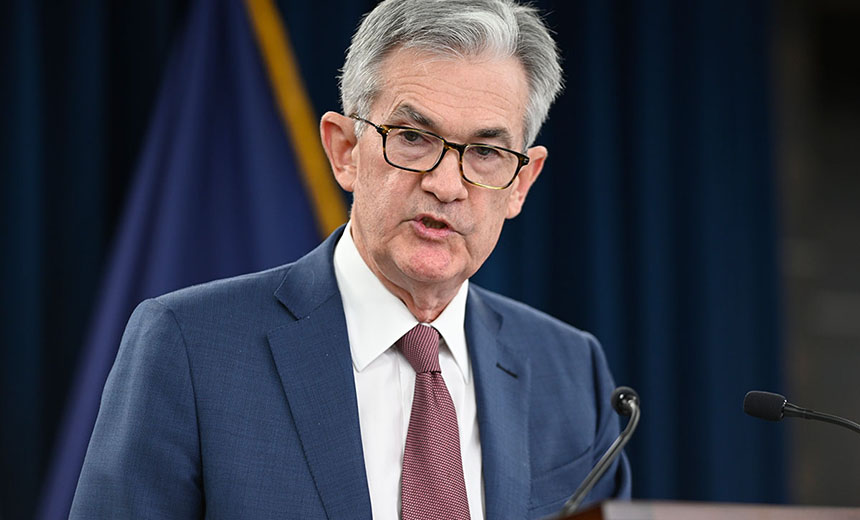 The U.S. Federal Reserve said Wednesday it is continuing to evaluate the creation of a central bank digital currency, or CBDC, and that it intends to publish research on the subject shortly, according to Chair Jerome Powell.
See Also: JavaScript and Blockchain: Technologies You Can't Ignore
In a news conference on monetary and economic policy Wednesday, Powell said, "We think it's really important that the central bank maintain a stable currency and payment system for the public's benefit. … We also live in a time of transformational innovation around digital payments, and we need to make sure that the Fed is able to continue to deliver to the public a stable and trustworthy currency and payment system."
The nation's central bank said in May 2021 it would be conducting a deeper examination into a potential government-backed digital currency - or virtual versions of a nation's fiat currency, in this case the U.S. dollar. A report on the CBDC, stablecoins and cryptocurrencies was expected in September, although Powell did not offer specifics on its delivery Wednesday.
"Bottom line: We haven't made a decision about the CBDC, but we will be issuing [the] discussion paper soon," the Fed chair continued.
Powell indicated that the regulatory structure around digital currencies is still an area of concern - with "a lot of private innovation" now "taking place outside the regulatory perimeter."
"Where the public's money is concerned, we need to make sure that appropriate regulatory protections are in place," Powell said. "And today there really are not, in some cases."
With the creation of myriad private currencies and currency-like products, Powell said the Fed is "working proactively" to evaluate whether to issue a CBDC, and if so, in what form.
Powell said the Fed continues to test whether there are "clear and tangible benefits" to a CBDC "that outweigh any costs and risks."
Taking a question on the nation's pace in evaluating and perhaps adopting a CBDC, Powell said, "I don't think we're behind. I think it's more important to do this right than to do it fast. We're the world's reserve currency."
He indicated any such decision would likely involve a "meeting of the minds" with the Biden administration and Congress, along with public engagement.
The Federal Reserve Bank of Boston is leading the evaluation process, alongside experts at the Massachusetts Institute of Technology.
According to international affairs think tank the Atlantic Council, 81 countries - representing over 90% of global GDP - are now exploring a CBDC. That is up from 35 countries considering a CBDC in May 2020.
Differing Opinions
The concept has previously earned praise from Lael Brainard, a member of the Federal Reserve Board of Governors, while Fed Vice Chair for Supervision Randal Quarles has not been as receptive.
According to a Reuters report, Brainard said in July, "The dollar is very dominant in international payments, and if you have the other major jurisdictions in the world with a digital currency, a CBDC offering, and the U.S. doesn't have one, I just can't wrap my head around that."
Alternatively, she said the rise of stablecoins - cryptocurrencies pegged to the U.S. dollar but lacking government backing - could fragment the U.S. payment system.
Speaking at the Utah Bankers Association Convention in June, Quarles, who has been skeptical of a CBDC, said, "Before we get carried away with the novelty, I think we need to subject the promises of a CBDC to a careful critical analysis.
"The process that Chair Powell recently announced [to examine the viability of a [CBDC] is a genuinely open process without a foregone conclusion, although obviously I think the bar to establishing a U.S. CBDC is a high one."
Quarles has expressed concern over whether government-backed digital currencies will in fact improve financial inclusion or lower banking costs since the U.S. dollar has already been "highly digitized."
Crypto Regulation?
Regulatory concerns around digital currencies are not exclusive to the Federal Reserve. CBDC proponents say a designated legal tender could help avoid risks associated with the otherwise decentralized cryptocurrencies.
To discuss the crypto space at large, Securities and Exchange Commission Chair Gary Gensler testified before the Senate Banking Committee last week and again called for comprehensive regulations. He cited a need to reduce cybersecurity risks, other market risks, and criminal efforts to defraud investors (see: SEC Chair Pushes for Additional Cryptocurrency Regulations).
Gensler defended the SEC's ability to enforce securities laws against cryptocurrency companies, although several Republican lawmakers cited a "lack of clarity" in enforcement efforts.
Appearing before the Exchequer Club, a Washington, D.C.-based group of economic and financial policy professionals, last week, acting Comptroller of the Currency Michael Hsu said all crypto activities taking place within the banking system must be "trustworthy" (see: OCC's Hsu Addresses Need for Cryptocurrency Oversight).
And similar CBDC conversations are occurring elsewhere. For example, last week the U.K.'s House of Lords Economic Affairs Committee launched an inquiry into CBDCs. The committee seeks information on how a CBDC might affect the Bank of England, the nation's central bank, along with wider monetary policy.
Michael Forsyth, chair of the committee, said: "New cryptocurrencies have generated a great deal of excitement, and concern, across the globe. The government and Bank of England must carefully consider the implications of creating a new, state-backed, form of digital cash."