FDIC 'Problem' Banks Decline
But Economic Woes Could Reverse Banks' Gains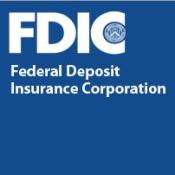 U.S. banks are showing signs of economic improvement and stability, according to the most recent update to the Federal Deposit Insurance Corp.'s list of troubled institutions.

The FDIC says the number of banks on its "Problem List" actually dropped during the second quarter of 2011, reflecting the first quarter-to-quarter decrease in troubled bank totals since Q3 of 2006. The listing dropped from 888 to 865, and total assets of "problem" institutions declined from $397 billion to $372 billion.

A total of 22 FDIC-insured banks failed during Q2, four fewer than in the previous quarter, and the fewest number since Q1 2009. The second quarter of 2011 also is the fourth consecutive quarter to reflect a decline in total bank failures.

So far for the year, 48 insured banks have shuttered, compared with 86 failures at the halfway point in 2010.

"Banks have continued to make gradual but steady progress in recovering from the financial market turmoil and severe recession that unfolded from 2007 through 2009," said FDIC Acting Chairman Martin J. Gruenberg in a statement. "This trend has expanded to include a growing proportion of insured institutions."

FDIC commercial banks and savings institutions during the quarter reported an aggregate profit of $28.8 billion, up $7.9 billion from the $20.9 billion in net income reported for the same period in 2010. That year-over-year net improvement has been consistent for the last eight quarters. Lower provisions for loan losses attributed to most of the year-over-year gains.

Sixty percent of FDIC-insured institutions reported improvements in quarterly net income from a year ago. And the percentage of institutions reporting net losses dropped to 15.2 percent, down from 20.8 percent in 2010. Asset quality also showed improvement as noncurrent loans and leases fell for the fifth consecutive quarter. Insured banks and thrifts charged off $28.8 billion in uncollectible loans in Q2, down 42 percent from a year earlier.
Troubled Waters Ahead?
Though signs of financial improvement on the part of U.S. banks are promising, institutions still have some rough waves to battle.

"Recent events have reminded us that the U.S. economy and U.S. banks still face serious challenges ahead," Gruenberg said. "The FDIC will remain alert to these challenges going forward."

The recent market plunge was one of those challenges. European and domestic stocks have been on roller coaster rides, dipping and sometimes recovering on a daily basis. On Aug. 5, Europe's FTSE 100 Index fell 150 more points, fueling concerns that the global economy was nearing recession.

The losses that day totaled about £40 billion [U.S. $56.6 billion], coming on the heels of the £50 billion loss Britain's top firms reported just one day earlier, when European stocks took their greatest one-day dive in two years. [See Market Collapse Worst Since '08.]

In the U.S., the Dow Jones Industrial Average dropped nearly 513 points that same day - the biggest hit since Sept. 29, 2008, when stocks plummeted 778 points. The S&P also dipped 60 points, and the NASDAQ dropped 137 points.

Tim Ghriskey, chief information officer at Solaris Group LLC, a global wealth strategy and asset-management firm, says the strong trade link between the U.S. and Europe has made Europe's rising debt a point of real concern. But the greater worry is the U.S. market's slow recovery growth. "This is an inexpensive stock market," Ghriskey says. "We're still in a recovery, and stocks are cheap."

The economy hit a mid-cycle slowdown, namely because of dipping consumer confidence.

Bill Isaac, author of "Senseless Panic: How Washington Failed America" and former chairman of the FDIC who now serves as the senior managing director and global head of financial institutions for FTI Consulting, says if the economy continues to struggle, the progress made by U.S. banks won't be long-lasting.

"The U.S. economy is really struggling; we could be on the verge of a double-dip reception," Isaac says. "We've lost confidence in the economy, and the government has done nothing to restore it. ... Banks have strengthened their balance sheets considerably since 2008 and 2009, and the financial system is on a reasonably sound footing," for now.

For now, Isaac says bank failures have "pretty much run the course."

"Generally speaking, banking problems trail the economy by about 18 months," he says. "If you enter a recession, it takes about 18 months for the banks to feel it."

But if the market continues to fluctuate and ultimately dip, the positive financial strides banks have made will be impacted within 18 months. "I'm not expecting to see a lot of bank failures between now and 2012," Isaac says. "I would say, however, that if we have gone back into recession, that respite will be short-lived."