Cyberwarfare / Nation-State Attacks , Endpoint Security , Fraud Management & Cybercrime
FCC Chair's Proposal Targets Chinese Technology Firms
Calls for Ban on Use of Commission Funds for Equipment From Huawei, ZTE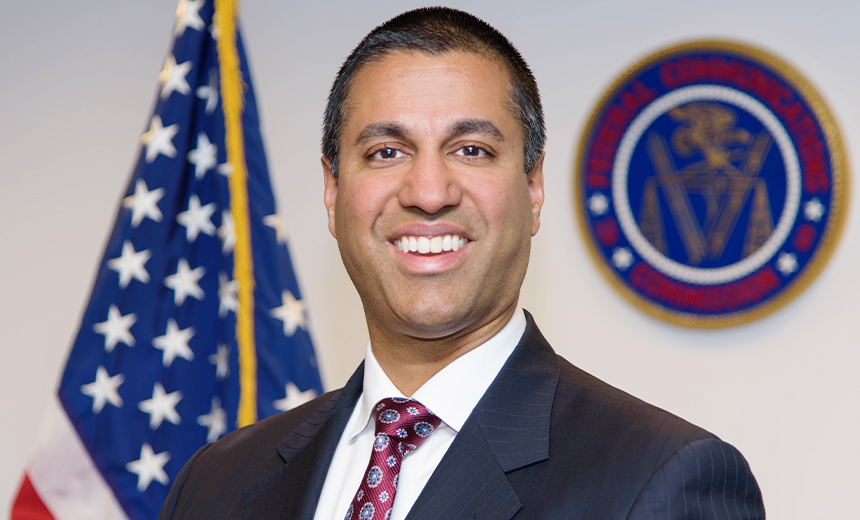 Federal Communications Commission Chairman Ajit Pai is pushing a proposal that would ban U.S. telecommunications firms from using commission funds to buy equipment from companies deemed national security threats. The new rule would first target Chinese telecom companies Huawei and ZTE.
Pai unveiled two new draft rules on Monday, and the five-member commission is expected to vote on the proposals at a Nov. 19 meeting. The proposals come as telecom companies gear up to launch 5G networks.
See Also: JavaScript and Blockchain: Technologies You Can't Ignore
One rule would ban companies from using funds from the FCC's Universal Service Fund to buy equipment from any company that is deemed a national security threat. This $8.5 billion fund is designed to help provide all Americans with access to communication technologies.
The proposal would designate Huawei and ZTE as companies that pose a national security threat to the U.S, but other firms could be added later.
The second proposed rule would incentivize telecom companies to rip and replace Huawei and ZTE gear from their networks. The FCC would provide money and support to have telecommunications firms assess how much of their equipment comes from these two companies and then replace their gear with more "trusted suppliers," according to the proposal. This is primarily designed to help smaller, rural telecom carriers and network providers, according to the draft proposal.
Perceived Security Threat
Huawei's and ZTE's "ties to the Chinese government and military apparatus - together with Chinese laws requiring that such companies assist the Chinese government with intelligence activities - pose a threat to the security of U.S. communications networks and the communications supply chain," according to Pai's proposal.
In an opinion piece published in the Wall Street Journal, Pai notes that the upcoming rollout of 5G networks in the U.S.raises significant security concerns.
"Thanks to recent incidents involving the National Basketball Association, Apple and others, Americans have become more aware of how the Chinese government uses its influence over global commerce to export anti-democratic values," Pai notes in Journal piece. "Imagine what could happen if we let Chinese equipment into tomorrow's 5G wireless networks. It would open the door to censorship, surveillance, espionage and other harms."
The Reactions
Sen. Mark Warner, D-Va., who serves on the Senate Intelligence Committee, told The Hill that he wants the FCC and the White House to work more with Congress to "pass legislation to help rural carriers remove legacy equipment and to harden the U.S. telecommunications supply chain."
Meanwhile, Brendan Carr, a Republican appointee to the FCC, signaled his support for Pai's proposals in a tweet.
USTelecom, a trade organization, also came out in support of Pai's proposals.
"The FCC's announcement that it will bar prospective use of USF funds for equipment from companies that pose an undue risk to our national security is both timely and prudent," says Robert Mayer, USTelecom's senior vice president for cybersecurity. "The FCC's call for a fact-based review on 'rip and replace' for existing equipment will also help inform a global discussion about risk tolerance, especially when it comes to national security considerations."
Securing Communications Networks
Congress already was considering ways to remove and replace Huawei and ZTE gear from telecommunication networks, especially in rural areas.
For example, a House proposal, the Secure and Trusted Communication Network Act, would provide $1 billion to help telecommunications carriers, especially smaller and rural operators, to replace Chinese-built gear with more secure alternatives (see: Support for Expunging Huawei Gear From Carrier Networks Grows).
In July, a U.S. Senate bill called for allocating $700 million for the same type of equipment replacement initiative.
Concerns Over Huawei
While the White House and Congress have raised concerns over Chinese telecommunication firms, especially Huawei, other countries have also expressed security concerns as 5G networks gear up.
A risk assessment released earlier this month by the European Commission and the European Agency for Cybersecurity found that nation-state attackers from outside the European Union pose the greatest threat to the 5G networks (see: Nation-State Hackers Greatest Threat to 5G Networks: Report).
Meanwhile, Australia, New Zealand and Japan have agreed with the U.S. position and barred Chinese telecommunications gear from at least part of their 5G network rollouts (see: Huawei's Role in 5G Networks: A Matter of Trust).
(Managing Editor Scott Ferguson contributed to this report.)