Cyberwarfare / Nation-State Attacks , Fraud Management & Cybercrime
FBI's Wray on China's Counterintelligence Capabilities
At RSA Conference, Director Addresses Nation-State Threats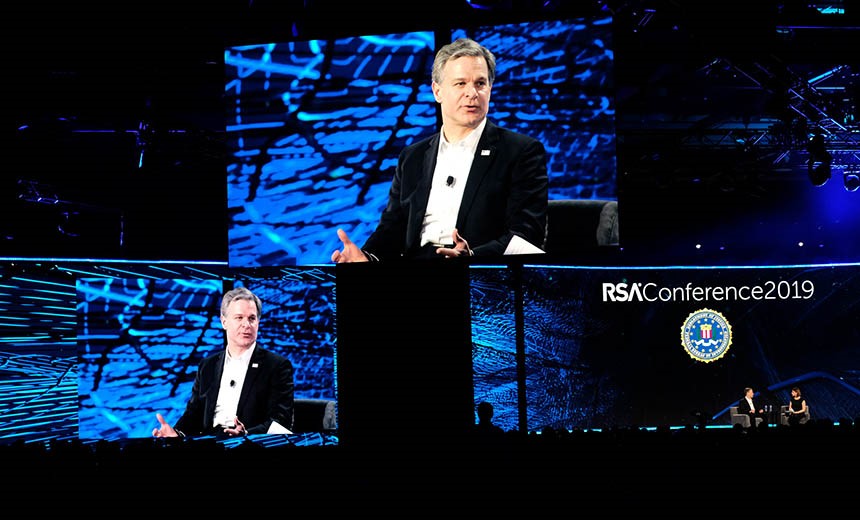 FBI Director Christopher Wray says his biggest shock when taking over as the bureau's director two years ago was the counterintelligence prowess of China.
See Also: Live Webinar | Cyber Resilience: Recovering from a Ransomware Attack
"I would argue that for a long time, this country was under-focused on the counterintelligence threat that China poses," Wray noted in a Tuesday presentation at the RSA Conference 2019 in San Francisco. "There is nothing like it. I am not someone who is prone to hyperbole, but ... the thing that shocked me was the breadth, depth and the scale of the Chinese counterintelligence."
Nearly every FBI branch office is investigating some case involving China, whether it's counterintelligence or a possible cyberattack, Wray told RSA attendees. "It covers every sector of the economy. It covers academia," he said of the investigations.
Indictments
By the end of 2018, the FBI and Justice Department had indicted several Chinese nationals connected to various cyber-spying operations.
In October, a federal grand jury indicted 10 Chinese nationals for participating in an elaborate cyberespionage campaign that included infecting company computers with malware in order to steal plans and other intellectual property.
That case was followed by another indictment unsealed in December that charged two other Chinese nationals with belonging to the APT10 group that is suspected of attacks against businesses and facilities in the United States and Japan.
Denies Retaliation
Wray denied that these and other cases are in retaliation against China as part of the Trump administration's trade initiatives.
"Not at all. This is not about trade. It's not about politics ... and what we are going to do, as long as I have anything to say about it, is we're going to follow the facts, independently, wherever they lead and to whomever they lead," Wary said. "And that means when we find someone who is committing federal crimes, against Americans or American businesses, we're going to go after them."
In addition to discussing nation-state threats posed by China, Russia and others, Wray touched on issues ranging from morale at the agency, which he said is good, to the role that the private sector can play in protecting critical infrastructure.
Wray also touched on the issue of encryption, which he noted was a "provocative subject." He said he doesn't want it used as an "unfettered space that's utterly beyond law enforcement."