Attack Surface Management , Cyberwarfare / Nation-State Attacks , Fraud Management & Cybercrime
New LookingGlass CEO Bryan Ware to Diversify Customer Base
New Attack Surface Management Tool Should Help Reach New Clients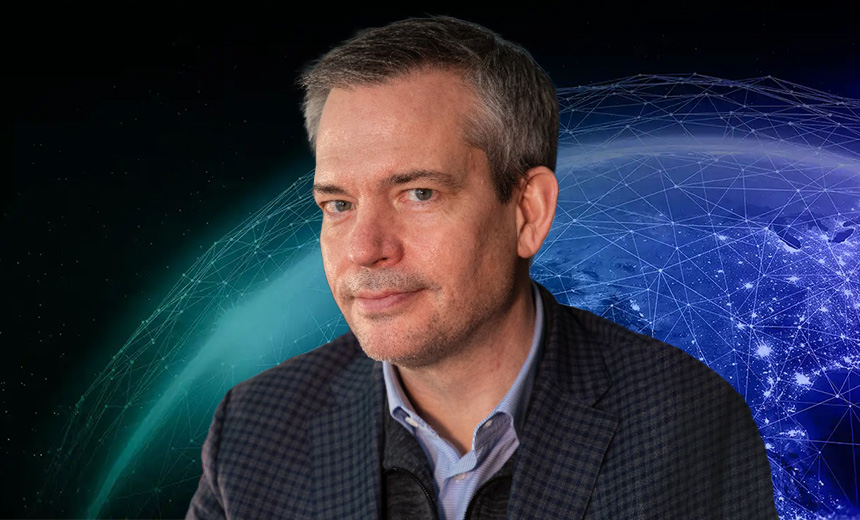 New CEO Bryan Ware plans to leverage LookingGlass' nascent attack surface management capabilities to capture clients in verticals such as pharmaceuticals, manufacturing and utilities.
See Also: JavaScript and Blockchain: Technologies You Can't Ignore
The Reston, Virginia-based threat intelligence vendor tapped former Cybersecurity and Infrastructure Security Agency Assistant Director Ware to serve as LookingGlass' next CEO following the acquisition of business intelligence and strategic advisory firm Next5, which Ware founded in December 2020. Ware replaces Gilman Louie, who had been CEO since October 2020 and will remain LookingGlass' chairman (see: Senior DHS Officials, One in Cybersecurity, Resign).
"I think the company has a really good plan right now and is on a good trajectory," Ware tells Information Security Media Group. "I really like where the product is and where the product is going."
LookingGlass has more than 100 employees and will absorb all six workers from Washington, D.C.-based Next5, Ware says. The company's new products go beyond LookingGlass' legacy and origin in cyberthreat intelligence to provide attack surface management, which helps customers understand what vulnerabilities are present in internet-exposed parts of their business, according to Ware.
Connecting With Commercial Clients
As a pure threat intelligence vendor, Ware says LookingGlass historically sold to the U.S. government and financial services firms with a sophisticated cybersecurity practice. But now that LookingGlass has a broader product offering, Ware says the company is better positioned to get customer meetings in parts of the commercial market where LookingGlass isn't present today.
Nation-state, ransomware and cybercriminal groups have all taken advantage of vulnerabilities found in critical infrastructure, manufacturing and utility systems, Ware says. Firms in these sectors traditionally haven't had large cybersecurity budgets or used threat intelligence products, but the company's new automated scanning tool can help them identify which vulnerabilities are being targeted by adversaries.
"It gives them something very actionable to address," Ware says. "It's easy to use, it's lower-cost, and it's going to give them immediate security insights that they need to make adjustments to their security posture. That's why I'm excited about this new product, because it just should open up a whole different kind of customer for us than we've traditionally had in the past."
LookingGlass got into the attack surface management space by integrating organic capabilities with the technology obtained from the June 2021 acquisition of AlphaWave so clients can scan for vulnerabilities and prioritize patching behavior and upgrades. The new offering provides companies with visibility into the vulnerabilities they have, the exposure associated with that, and whether they're being targeted.
"A big part of my job is going to be trying to translate from these very sophisticated large government agencies into not just the sophisticated large financial services firms, but also the broader sectors of the economy," Ware says. "I'm excited about translating those insights and the backing of the government into our private sector expansion."
Shortening the Sales Cycle
Ware wants to integrate LookingGlass' acquisitions into a suite so that existing customers who are only using the company's threat intelligence technology can more easily begin consuming the vulnerability assessments as well. The company plans to build up its sales and marketing team and put a strategy in place this year in hopes of really executing on that strategy come 2023, according to Ware.
"I expect that we're going to grow our government business significantly over the coming years," Ware says. "With that foundation, it gives us the opportunity to expand much more aggressively into the commercial side. You can't really build them both at the same time. You need to have one or the other before you start trying to get that expansion, and that's because they are quite different."
The government sales cycle is typically long and bureaucratic and requires lots of paper, Ware says, while selling to commercial organizations is a faster process since less paperwork is required. Also, large government agencies typically have access to staff and experts that aren't available for commercial customers, according to Ware.
Commercial organizations will typically sign smaller deals than government agencies since they have fewer users, but these deals normally come at a much higher volume, which provides LookingGlass with more financial stability and predictability. In addition, he says, the shorter sales cycle in the commercial world means that LookingGlass can add new companies to its customer roster on a much faster basis.
From a metrics perspective, Ware says LookingGlass is most focused on accelerating top-line growth so that the company can increase revenue by 50% over the next year.
"We want to see part of that growth coming from new commercial sectors that we're just not in right now," Ware says. "So we want to not only grow revenue in dollar terms, but we also want to expand the markets that we're selling into to build for that sustained growth over the next three to five years."