Disaster Recovery: TN Bank Rebuilds from Tornado
Emergency Preparedness, Customer Communications Key to Surviving Storms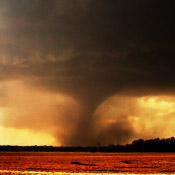 Early in the evening on Tuesday, Feb. 5, a powerful storm system hit the Jackson, TN., area. A total of 79 confirmed tornadoes touched down in 10 states over the course of two days, killing 57 people. Among the local businesses hit hardest was Jackson's Union University branch of BancorpSouth, ($13 billion assets, [BSX: NYSE]), which sustained severe damage and remains closed.

BancorpSouth employs more than 3,900 people in about 290 commercial banking, mortgage, insurance, trust and broker-dealer locations in Alabama, Arkansas, Florida, Louisiana, Mississippi, Missouri, Tennessee and Texas. The bank is no stranger to bad weather, having survived Hurricane Katrina along the gulf coast of Alabama, Mississippi, and Louisiana in the fall of 2005.

This is the story of how, in the midst of disaster, BancorpSouth's incident response and business continuity plan was launched, how customer communication was handled, and what bank leaders are doing now to reopen the branch.

Preparing for Disaster
On the afternoon of February 5, when the powerful storm system began moving through Arkansas and into Tennessee, Randy Burchfield, senior vice president and director of corporate marketing for BancorpSouth, headquartered in Tupelo, MS, said the bank's office of emergency management and response was opened and began tracking the storms. "Throughout the night we were able to know what was happening, and we knew when the storms touched down in Jackson," Burchfield says.

The bank's Jackson-area employees also were prepared for the storm. Earlier in the day, the bank provided all employees with notice about severe weather. The alert explained the circumstances of the impending storm and what each employee should do to prepare their offices for severe weather -- data back-up, document storage and personal preparedness. "The local schools sent students home early in anticipation of the storm, and the bank also reacted accordingly and sent employees home early," Burchfield says.

Assessing the Damage
In the early morning hours of February 6, after the storm had struck, Burchfield contacted Martha Thompson, vice president and regional marketing manager for Tennessee at BancorpSouth. Thompson, who lives nearby Jackson, was at the scene and coordinated the bank's efforts to recover and protect the offices. BancorpSouth has multiple branches in Jackson, but Burchfield notes the University branch is one of the bank's largest, with $377 million in deposits, and an estimated 4,500 customers calling the branch their main bank. BancorpSouth is the second largest bank in Jackson (behind Regions Bank), with more than 26 percent of market share.

The bank branch sustained severe damage, Thompson says, and bank officials won't know until later this month if the building -- a stand-alone structure built 11 years ago -- will be able to be gutted and restored, or if the entire building will have to come down and the bank rebuilt. If a complete rebuild is required, the bank owns enough property to build on the same site. For now, the University branch's 28 employees are assigned to other branches in the area.

Spreading the Word
Among the first tasks tackled in the recovery process: Customer communications.

"We were on the ground immediately, and as the early evening turned into morning, we recognized the need for media coverage to tell our customers affected in the area where they could go for banking services," Thompson says.

The team contacted local media and got updates on air that morning. "By that afternoon, we were on radio commercials letting our customers know where they could go because the local University branch was closed," she adds. The immediacy for communications was a must, as the bank branch -- one of the largest in the area -- houses premier product lines including wealth management, individual investments and trusts, as well as commercial accounts. "There is a broad spectrum of customers who needed to know what [happened] and where to go for their banking services," Burchfield says.

Included in the communications to the 4,500 customers directly affected were special communications to deposit box holders, who were informed in a letter sent out Thursday morning, February 7, where their boxes had been relocated for safe keeping.

"We informed them in the letter if they needed to get to their valuables, the safe deposit boxes were moved to a nearby branch," he notes. The boxes were removed intact, not opened, and "We assured them that their valuables were safe."

The premier product lines were also relocated to other area branches, and the communications to customers informed them of their new temporary locations. So far, Burchfield says, "No bumps have occurred, and communications have been smooth."

Rebuilding Begins
For now, signs direct customers to the other bank branches in the Jackson area, including the main branch in downtown Jackson. Over the next 30 to 45 days, concrete will be poured and pavement put down for a temporary five-lane modular unit that will offer drive-through banking services and an ATM.

The lessons learned from BancorpSouth's quick reaction and handling of this catastrophic event are summed up simply by Burchfield: Have a plan.

"Our emergency operations team is well prepared and right on target with their response. But there is nothing that can substitute having a plan," Burchfield says. "Have a plan, and within it have information readily available that is up-to-date and at your fingertips because time is of the essence."

The bank developed business continuity plans that have testing and updates scheduled on a regular basis.

"If you think about it, we have branches on the gulf coast, that are subject to hurricanes; we have branches that can be hit with tornadoes; and even north in Springfield, Missouri, our branch up there was hit in recent ice storm," he explains.

"We're always ready during hurricane season, like when we survived through Katrina. Having been through all of that and now with these tornadoes, we've learned that you have to be flexible and have a plan in place with the ability for a quick response."