Disaster Recovery Case Study: Surviving Rita
Louisiana Credit Union Relocated, Rebuilt After Devastating Hurricane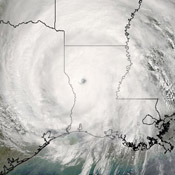 The hurricanes that devastated the Gulf Coast regions in the summer and fall of 2005 are nothing new to most people. The personal tragedies, loss of life and property were well documented by the national media.

But what about the story of one financial institution that weathered the storms and emerged intact - its survival the result of solid business continuity/disaster recovery planning?

This is the story of Calcasieu Teachers & Employees Credit Union of Lake Charles, LA.

Tracking the Storm
Calcasieu is Louisiana's 11th largest credit union, with $32 million serving 5,500 members. If you think that this is a misprint, it's not. Louisiana credit unions tend to be on the smaller side, and pride themselves with community values and focus on families, says Bruce Thomas, CEO.

Thomas attributes the credit union's survival to the foresight of its board of directors, which back in 1997 signed a contract with SunGard, a business continuity firm, for a mobile data unit. "Our board had the leadership and vision to prepare for the unexpected. Because without that, you're pretty much doomed," Thomas says.

Southern Louisiana is located in "Hurricane Alley," and planning and preparation for hurricanes are part of the life of all residents. A severe hurricane (Level 4 or 5 or higher) that hit landfall would affect multiple parishes. "We knew we would be evacuated and devastated all in one swoop," Thomas says.

In August 2005, Katrina hit and devastated most of the New Orleans area. Many of the institutions there made the assumption that a hurricane comes in, and they're out for a day or two, and then would be allowed back into their offices. "If you look at the history of hurricanes, that is the typical scenario that usually plays out," Thomas says. "But in the back of everyone's minds, we all know that there is that one percent chance it will be a big one."

Less than a month after Katrina, the Gulf Coast faced Hurricane Rita. When living in a hurricane area, there is more warning than when in a tornado area or earthquake zone. "So we all had been watching the weather, and on Sunday night, I started seeing Rita coming into the Gulf of Mexico, and then it went over the top of Cuba, very similar to the path that Katrina had taken," Thomas explains.

On Monday morning, Thomas immediately told his staff to begin reviewing plans, gets on top of things, and to be in a normal alert type mode.
As the week progressed, by Wednesday, Thomas told his staff, "Y'all I have a feeling that this one's going to be the real one."

Eye of the Storm
Hurricane preparations kicked in -- each staff member has a hurricane box and checklist to fill out. Thomas recalls the humor from that day, "One of my staff, (a lady) kept saying to everyone 'this man [Thomas] has lost it, he is crazy, I don't know why we're all listening to him and doing all this.'" Thomas quips, "I was a complete enigma to her at that time."

On Thursday at 10 a.m., the parish emergency management informed Thomas the parish was to be evacuated immediately and everyone began packing to head to Northern Louisiana. "We closed the main office down by noon, after taking the computer systems down and made back up tapes and loaded everything into cars," he says. What normally would be a 2 1/2 hour drive took 12 hours.

To complicate the evacuation across five parishes' three million residents, the original track of the hurricane by forecasters estimated that it would hit the Galveston, TX coast. "People from the Galveston area were driving east to Louisiana to avoid it, instead the hurricane made a turn and headed straight for the Louisiana coast," Thomas recalls.

All of those fleeing Galveston added to the traffic jam heading north, adding vehicles to the mess, and often traffic was at a standstill. One thing Thomas recollects was the kindness and generosity of the people of Louisiana. He saw complete strangers handing a stranded driver who had run out of gas their own extra can of gas.

Hurricane Rita hit on Friday night. "We knew the parish had taken a hit, we just couldn't get any information, even from the local police station on how severe the damage was. It was going in at a level 5, but dropped to a level 4 just before it hit," Thomas says. Electricity was out even up where the credit union's staff was located in Natichotches, LA. After 12 hours on the road, everyone's cell phones batteries were dead. "So I had to declare the disaster to SunGard, and ended up using the OnStar in my wife's car to make contact."

The credit union's mobile data center came from Chicago and the equipment was transported overnight from Scottsdale AZ. Electricity connections were ready, making it easy to just plug in equipment. Phone technicians were also on hand ready to connect phone lines.

Aftermath
The credit union operated its mobile data unit in Natichotches for six weeks after the hurricane. The credit union initially anticipated they would be manning phones and answering member calls. Thomas adds, "You plan for one thing, and something else happens. We found out very quickly that our members, many of who were relocated in the same area, came to the mobile data center in person."

Thomas, a man of deep religious faith, led his staff in prayer to begin each day in the mobile data unit. "The first couple of days, there was a lot of crying and not much praying. But as the days went on, we found strength in each other, a lot more praying and less crying." The staff leaned on each other for emotional support during the first weeks after the hurricane.

While the mobile data center deployment did cost money, "It may sound like a lot of cost to do this, but on our bond we have a business interruption insurance policy, which covered 98% of costs," Thomas says. "You have to manage your risk no matter where you're located."

Once the all-clear was given by authorities, people began the trip back to the Lake Charles parish to see what awaited them. The credit union actually came out fairly unscathed, with only part of the canopy in front torn off by the hurricane's winds and some water damage to furniture and equipment in the office.

At the next board meeting after the credit union reopened, Thomas recalls an unprecedented chain of events that occurred. The board called for an open meeting with all employees. The original plan was the meeting was to evaluate the successes of the evacuation and where improvements could be made.

"What actually ended up happening was true, deep appreciation and understanding by the staff of the concern of the board for their well-being and an appreciation by the board of the level of dedication of the staff to their jobs," Thomas says. "That meeting really helped begin the healing."

Lessons Learned
Thomas shares what his credit union learned from Hurricane Rita:
Always prepare, and plan that you'll come back and nothing is left. "Not even a slab of concrete. Always prepare for that, and you'll be pretty well covered, it is part of the due diligence of the CEO and board to manage risk."
Expect a disaster to happen. "Hurricane Rita just happens to be one we took the bite on. Someone else could be hit with a fire, a tornado, or an earthquake. Name the risk or disaster and it can hit your institution."
Throw your HR Policies out the window during a disaster. "When you're faced with a disaster, every single one of your personnel policies and procedures can be wadded up and thrown out the window -- that is, if you still have one."
Be a flexible leader. "We had a lot of our staff who didn't know if they still had a home, or what they would be going back to when it was over. They had to bring whatever they thought was of value with them to the recovery unit. One employee brought her two children into the mobile data unit. Another brought her two small dogs with her to work. You have to meet the individual where they are and help them to get where they can work and feel comfortable."
Don't mandate to your team, and get to know them before a disaster. "We had one lady whose father was very ill, and she also had elderly mother to look after. She took a few days to find the proper care facilities for them before she was able to report to work at the mobile unit."
Lake Charles Still Healing
Disasters take a toll on people, both emotionally and physically. There are homes that aren't repaired yet in the Lake Charles area, as homeowners are still fighting for insurance to pay for repairs. Government assistance checks are just now arriving for some residents. "Almost 2 1/2 years after Rita in our community, there are almost 500 families still living in trailers in a trailer park that FEMA created here in the southern part of the town," Thomas says
The hurricane's only death was a person who died from a heart attack. "But the number of people who have died in our area after the hurricane has increased, due to the physical and emotional stress of dealing with the aftermath," he believes.
The healing process goes on for years after storms, hurricanes or tornadoes happen, Thomas notes. The emotional scars are deep, and for some it is hard to get past it. "You can see the mud line on the outside of buildings here, but you don't see the scars inside of people."
He advises other institutions that when a disaster strikes, "You have to realize that the government is not the one that will get you through it. Rather it's the people around you in the community will help you get through it, your staff and customers."