Governance & Risk Management , IT Risk Management , Next-Generation Technologies & Secure Development
DigiCert Snags Longtime Zscaler Executive Amit Sinha as CEO
Zscaler President Sinha Replaces John Merrill, Who Led DigiCert From 2016 to 2022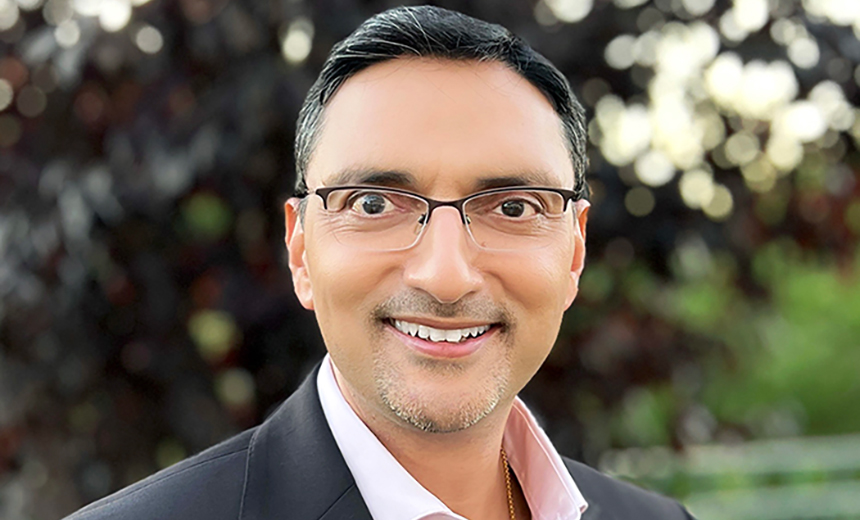 Certificate heavyweight DigiCert has landed Zscaler second-in-command Amit Sinha as its new leader and tasked him with boosting trust around connected device and user authentication.
See Also: JavaScript and Blockchain: Technologies You Can't Ignore
The Salt Lake City-area digital trust vendor brought in Sinha following his 12-year stint at Zscaler, where he rose through the ranks to become company president and a board member and oversaw the cloud security behemoth's R&D, cloud operations and customer support functions. Sinha replaces longtime leader John Merrill, who served as DigiCert's CEO from August 2016 until his retirement in April 2022 (see: 2019 IoT Security Outlook).
"Amit is a seasoned industry leader with deep security domain expertise and business acumen," Greg Clark, Crosspoint Capital managing partner and DigiCert board chair, said in a statement. "With Amit at the helm, we believe we can drive increasing market adoption of our core platform and deliver innovative new products and services to strengthen DigiCert's position as the dominant provider of digital trust."
'Great Companies Produce the Next Generation of CEOs'
Sinha, 46, joined Zscaler in December 2010 as chief technology officer; started overseeing engineering and cloud operations in November 2013; began spearheading R&D, operations and customer service in July 2019; and become president of the entire company in January 2022. Sinha received $6.2 million in compensation for the fiscal year ended July 31, 2021. His exit from Zscaler was announced Oct. 10.
"Amit has been a dear friend and collaborator of mine for over 17 years," Zscaler founder, chairman and CEO Jay Chaudhry wrote on LinkedIn earlier this month. "While I am sad to see him move on, it is a fact that great companies produce the next generation of CEOs who go on to change the world."
At DigiCert, Sinha will look to accelerate the company's digital trust leadership in the areas of connected device and user authentication, secure software, documents, digital content and data integrity, he said in a statement. A DigiCert spokesperson told Information Security Media Group that Sinha wasn't immediately available for additional comment.
"[At Zscaler], we defied the gravitational pull of legacy security, obtained escape velocity with our customers on board, and have a beautifully architected ship and crew to transform new worlds," Sinha wrote on LinkedIn earlier this month. "It's time for me to get back to the launchpad and to apply the booster rockets to another opportunity as CEO."
An Appetite for Big Acquisitions
Sinha's appointment as CEO comes 10 months after Crosspoint joined DigiCert's ownership group, which has included Clearlake Capital since July 2019 and TA Associates since December 2012. Merrill, the retiring CEO, was last quoted in a DigiCert news release a month after Crosspoint's investment, with Clark speaking on behalf of the company in DigiCert corporate press announcements since March of this year.
"Amit has a track record of delivering technology innovation, operational excellence and customer value," Clearlake Managing Partner Behdad Eghbali and Managing Director Prashant Mehrotra said in a statement. "We look forward to partnering with Amit and the DigiCert leadership team as the company embarks on its next phase of accelerated growth and expansion."
DigiCert grew dramatically during Merrill's tenure. He joined as COO in July 2013, and the company bought Verizon's Enterprise SSL business in 2015 and Symantec's web security and public key infrastructure practice for $950 million in 2017. The Symantec deal boosted DigiCert's workforce from 300 to 1,600 employees and top-line revenue from $100 million to $500 million, according to Merrill.
"We're going to do a much quicker job of satisfying our customers' needs and bringing new security innovations to the marketplace," Merrill told CRN in October 2017. "We're going to be focused, we're going to be big, and we're going to be strong."
Since then, the company launched DigiCert Automation Gateway to boost the adoption of automated certificate issuance, renewal, reissuance and revocation by tackling some of the common concerns with existing offerings. DigiCert also debuted IoT Device Manager to help manufacturers embed certificates on chips prior to manufacturing and generate certificate requests directly from an edge device.
Earlier this year, DigiCert bought Mocana to provide manufacturers and operators with a comprehensive platform for managing security across the full IoT device life cycle. The deal has provided customers with a means to manage device identity, secure connections, prevent device tampering, and update firmware and settings remotely and securely once in the field.