Cybercrime , Fraud Management & Cybercrime , Fraud Risk Management
DeepDotWeb Portal Administrator Pleads Guilty
Faces Up to 20 Years in Prison for Money Laundering Conspiracy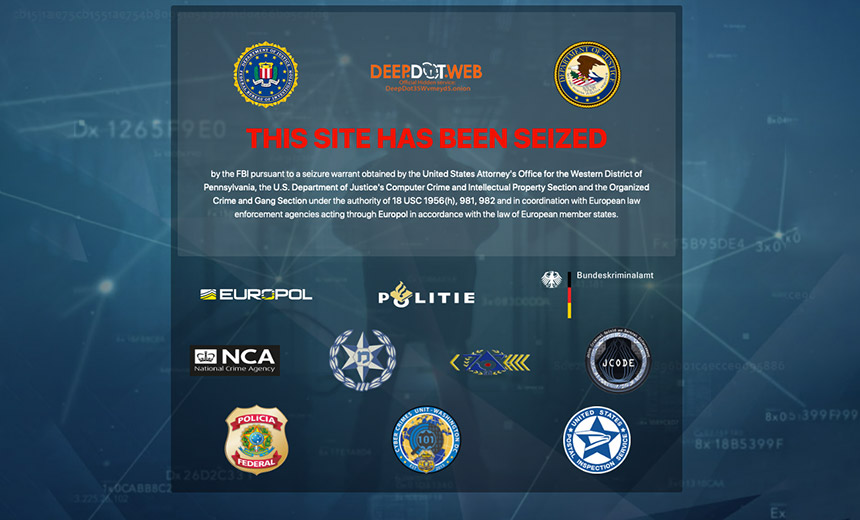 An Israeli citizen who served as the administrator of the now-shuttered DeepDotWeb portal that connected internet users with darknet marketplaces has pleaded guilty to a money laundering conspiracy charge, according to the U.S. Justice Department.
See Also: Live Webinar | Education Cybersecurity Best Practices: Devices, Ransomware, Budgets and Resources
DeepDotWeb helped its users' to find sites where they could purchase illegal firearms, malware and hacking tools, stolen financial data, heroin and fentanyl, and other contraband, prosecutors say.
Tal Prihar, 37, who resided in Brazil, owned and operated the portal along with co-defendant Michael Phan, 34, of Israel, who took care of the day-to-day operations.
Prihar was arrested by French police at Charles de Gaulle Airport in Paris in May 2019, according to police in Brazil. Phan was arrested in Israel on May 6, 2019, where his case is ongoing.
Prihar pleaded guilty to conspiracy to commit money laundering and is facing up to 20 years in prison when sentenced on Aug. 2. At the time of Prihar's arrest, authorities in Brazil had said that they executed a search warrant at Prihar's home in Lago Sul, Brazil, where they recovered cryptocurrency as well as $50,000 in cash.
Prihar is also suspected of crimes related to child pornography and was the subject of a search and seizure warrant in that case in October 2018, when police seized $1 million in cash as well as smartphones and physical documents.
DeepDotWeb Operations
"For six years, DeepDotWeb was a gateway to facilitate the illegal purchase of items to include dangerous drugs, weapons, and malicious software," says Carlton Peeples, acting special agent in charge of the FBI's Pittsburgh Field Office. "Prihar profited as a byproduct from other people's dangerous transactions, and today's guilty plea sends a message to other cyber actors across the globe who think the dark web is a safe haven. The FBI works with our local, state, federal and international partners regularly to dismantle illicit websites and go after those responsible for them."
DeepDotWeb collected fees for providing its users with direct links to illegal darknet marketplaces, which are only accessible via the Tor specialized web browser. Earlier, police said that the referral fees came from at least 15,000 users.
"For providing these links, Prihar and Phan received kickback payments from the marketplaces in the form of virtual currency, including approximately 8,155 bitcoins (worth approximately $8.4 million based on the bitcoin trading value at the time of the transactions)," according to the U.S. Department of Justice.
To conceal the nature and source of these illegal kickback payments, Prihar transferred the payments from his DeepDotWeb bitcoin wallet to other bitcoin accounts and to bank accounts he controlled in the names of shell companies, prosecutors say.
In April 2019, the FBI shut down DeepDotWeb portal, and Prihar agreed to forfeit $8.4 million.
The portal takedown and arrests followed an international law enforcement operation that disrupted two of the world's most notorious darknet markets - Wall Street Market, the world's second largest darknet market, and the Silkkitie, aka Valhalla Marketplace (see: Darknet Disruption: 'Wall Street Market' Closed for Business).
Other Law Enforcement Actions
In January, a global law enforcement operation took down DarkMarket, which Europol described as the world's largest underground marketplace of illegal goods on the dark web (see: Massive DarkMarket Underground Marketplace Taken Down).
Europol estimates DarkMarket had more than 500,000 users, including 2,400 actively selling content, resulting in more than 320,000 transactions. These generated more than $170 million in revenue.
"The vendors on the marketplace mainly traded all kinds of drugs and sold counterfeit money, stolen or counterfeit credit card details, anonymous SIM cards and malware," Europol says.
In another joint law enforcement operation in December 2020, the FBI and Europol took down three domains associated with the VPN known as Safe-Inet, which served as a bulletproof hosting service that enabled cybercriminals to conduct illegal operations, including ransomware attacks, while remaining hidden from police (see: Police Dismantle Cybercrime 'Bulletproof Hosting Service').
In September 2020, 179 arrests were made using information gleaned from earlier law enforcement actions against the Wall Street and AlphaBay darknet marketplaces (see: 179 Arrested in Darknet Market Crackdown).