Legislation & Litigation , Standards, Regulations & Compliance
Cybersecurity Enhancement Act Redux
Senator: Faith in U.S. Economy Depends on Cyber Protection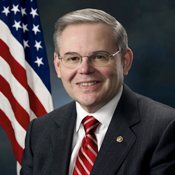 Cybersecurity legislation similar to a bill that passed the House but never came up for a Senate vote last year will be introduced in the Senate.

Sen. Robert Menendez, D-N.J., said Thursday that he will introduce the Cybersecurity Enhancement Act, a bill aimed at helping the government and key private industries such as banking and finance proactively defend against cyberattacks.

"We cannot allow security breaches to undermine our trust in the U.S. economy," Menendez said in a statement, referencing attacks made on NASDAQ and oil companies. "We must step forward and curb these attacks without delay."

Menendez, who serves on the banking, finance and foreign relations committees, says the legislation would:
Require the agencies that fund cybersecurity research to cooperate in developing a long-term, proactive research and development plan.
Improve the transfer of cybersecurity technologies to the marketplace.
Reauthorize National Science Foundation R&D programs to safeguard computer and network privacy and to develop cybersecurity degree programs at colleges.
Require the National Institute of Standards and Technology to develop and implement a public cybersecurity awareness and education program to encourage the more widespread adoption of best practices.
A year ago, the House passed the Cybersecurity Enhancement Act (see House Passes Cybersecurity Enhancement Act) by an overwhelmingly 422-to-5 vote. That bill, according to a Congressional Budget Office estimate, had an initial price tag of $639 million through fiscal year 2014 and $320 million thereafter if it had been enacted. The House measure would have helped the federal government develop a skilled cybersecurity workforce, coordinate and prioritize federal cybersecurity research and development, improve the transfer of cybersecurity technologies to the marketplace and promote cybersecurity education and awareness for the public.
The new legislation comes at a time when oil industry and NASDAQ officials have confirmed that hackers have repeatedly attacked their systems, admitting that "suspicious files" had been found on their computers after the security breaches, the senator said. "Cyberthreats are not on the horizon, they are upon us," he said. "Businesses and investors must trust that their investments are secure."