Blockchain & Cryptocurrency , Cybercrime , Fraud Management & Cybercrime
Cryptocurrency Shakedown: Old Tactics, New Twist
Two Men Charged With Extorting Startup After Promising ICO 'Accelerator' Services
More proof that when it comes to crime, there's nothing new under the sun: Federal prosecutors have charged two men with attempting to extort cryptocurrency worth more than $12 million from a startup firm planning to undertake an initial coin offering, in part via physical intimidation.
See Also: Webinar | Prevent, Detect & Restore: Data Security Backup Systems Made Easy
Steven Nerayoff, of Great Neck, New York, and Michael Hlady of East Greenwich, Rhode Island, were arrested by the FBI on Sept. 18 and charged with extortion.
The men allegedly demanded millions of dollars' worth of ether cryptocurrency for the promise of not destroying the startup company's initial coin launch process. But officials say that while the alleged extortion involved virtual currency, it relied on age-old psychological shakedown strategies - including threats and physical intimidation - in pursuit of many criminals' ultimate goal: maximizing their illicit gains.
"When you peel back the layers of this case, an age-old extortion scheme is revealed with a modern-day twist," says William F. Sweeney Jr., the assistant director-in-charge for the FBI's New York Field Office. "Imposing forceful demands on a company for personal gain is risky business, whether one's preference is to be paid off with cryptocurrency or cold, hard cash."
Nerayoff has been released pending trial on a $750,000 bond. "He vigorously denies all of the allegations against him, which are based on the false claims by former business associates who owed Mr. Nerayoff a lot of money and did not want to pay him," his defense counsel, Avraham C. Moskowitz, tells Information Security Media Group. "He is confident that he will be vindicated at trial and looks forward to the opportunity to prove that he has been wrongfully accused."
Hlady has been released pending trial on a $100,000 bond. His defense attorney could not be immediately reached for comment.
Pitch: Cryptocurrency Tokens as Loyalty Rewards
The victim company, which is based in Seattle, has not been named by prosecutors, although they have noted that it "is a startup mobile-based business that specializes in generating user traffic to clients' products by issuing its own cryptocurrency tokens as loyalty rewards."
Prosecutors say that Nerayoff, 48, was an attorney as well as CEO of Alchemist, "a company that purported to be a leading consultancy, accelerator and investment firm for high-potential blockchain companies." He also allegedly controlled an organization called Maple Ventures LLC - aka MV - as well as another bearing the initials of his name, SDN Ltd.
The victim company, prosecutors say, was looking for an accelerator to help it undertake a successful initial coin offering, aka crowdsale. Such ICOs typically involve fundraising, via which participants are invited to exchange money or more often virtual currency for a to-be-issued cryptocurrency coin or token, as well as sometimes a share of an organization. Typically, ICOs also involve issuing a whitepaper describing the project as well as the terms of the ICO (see: SEC Reportedly Launches Cryptocurrency Probe).
Cryptocurrency tokens are typically backed a cryptographic ledger, or blockchain, and can also be traded on exchange sites.
In July 2017, according to the complaint, the CEO and chief operating officer of the unnamed, victim company signed an agreement with MV to provide accelerator services, including:
"Revise Company 1's whitepaper;
Add advisors and strategic partnerships for Company 1 to ensure a 'successful crowdsale';
Source and curate pre-seed funding from "strategic partners in the blockchain community";
Assist Company 1 with its sale method and network connection;
Complete Company 1's 'crowdsale in a successful/compliant manner.'"
"In exchange for MV's services, Company 1 was required to provide MV with 22.5 percent of all the cryptocurrency tokens sold by Company 1 and 22.5 percent of all the funds raised by Company 1, including in the form of cryptocurrency and cash, 'regardless of the method and manner in which [the funds] are raised,'" according to a federal complaint against the two suspects.
Prosecutors say that Nerayoff then brought in Hlady - aka "Michael Peters" - who he billed as being his operations lead. But prosecutors say that Hlady misrepresented his past. "At various times, he also falsely claimed to be a former member of the United States military and a former government agent who had worked for the National Security Agency, the Federal Bureau of Investigation and the Central Intelligence Agency," and also claimed to have "taken down" a head of state, according to the complaint.
Alleged Shakedown Begins
After signing the deal, however, the two men allegedly wanted more.
"Just days before the ICO was to occur, Nerayoff told executives of the company that his compensation would have to be increased by approximately 17,000 ETH to 30,000 ETH - worth approximately $8.8 million at the time - or he would sabotage the ICO and destroy the company," prosecutors say. "The company paid Nerayoff as demanded, despite not receiving any additional services."
In March 2018, Nerayoff also allegedly demanded a loan of 10,000 ETH, at the time worth about $4.5 million, texting one of the victim company's executives a message that read "I promise I will destroy your community" unless the loan happened. Authorities say the loan was made but never repaid.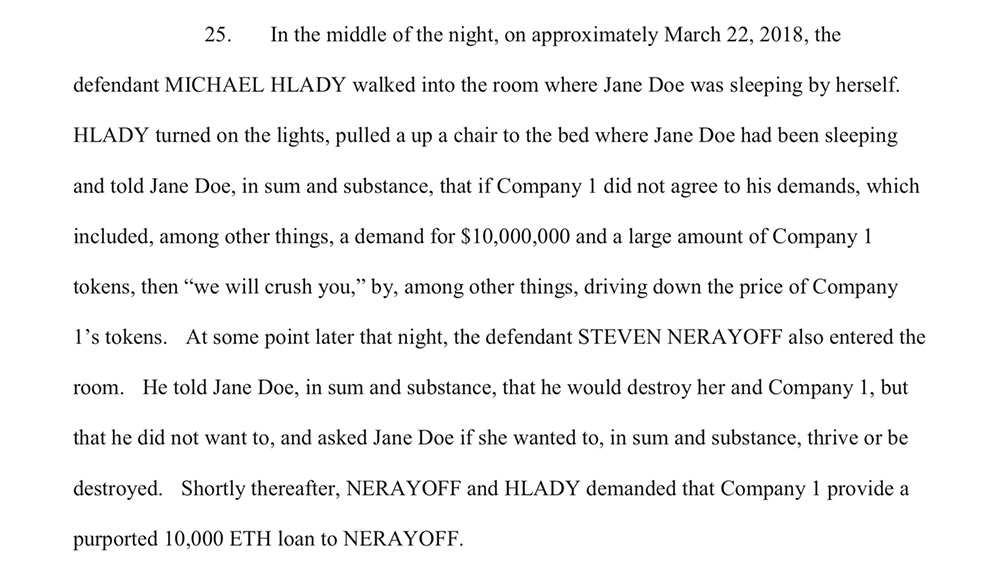 According to the complaint, "Jane Doe" - the victim company's COO - met with Neyaroff and Hlady at Neyaroff's home on March 21, 2018, but was stranded and stayed overnight when her flight was canceled due to a snowstorm.
Nerayoff and Hlady each face up to 20 years in prison if convicted of all the charges filed against them. According to court documents, both defendants are currently attempting to negotiate a plea deal with prosecutors.
Potential Victim's Identity: StormX
While federal authorities have not named the victim firm, news site CryptoSlate reports that only one company matches the particulars of this case: StormX, which offers the Storm token. It raised 75,700 Ethereum during its pre-sale and crowdsale periods.
StormX didn't immediately respond to a request for comment.
If StormX, indeed, is the victim, that would make the victim company CEO "John Doe" and COO "Jane Doe" the current StormX CEO Simon You, and former COO Arry Yu - no relation - who departed the company last September over what she told CryptoSlate were "disagreements" with the CEO.
Nerayoff has also appeared in public with StormX executives, including in a Twitter photo posted on March 20, 2018, showing Arry Yu second from left, Simon Yu third from right, and Steven Nerayoff second from right.
Great friends in blockchain are immutable! @certainassets @steemit @SimonYuSEA @ArryinSeattle @Storm_Token @carlo_veriblock @alchemist_group @DanielJSchwa pic.twitter.com/uBcYfeNMUT

— Steven Nerayoff (@stevennerayoff) March 20, 2018
The Psychology of the Shakedown
While the defendants allegedly sought cryptocurrency, the charges against them reflect age-old tactics.
"As alleged, Nerayoff and Hlady carried out an old-fashioned shakedown, to be paid off with 21st century cryptocurrency," says Richard P. Donoghue, the U.S. attorney for the Eastern District of New York. "This office and our partners at the FBI are committed to protecting businesses from extortion, whether the demands are for U.S. dollars or cryptocurrency."
Many types of crime attempt to use one of six "influencing levers," which are techniques for influencing the subconscious defined by psychologist Robert Cialdini, an expert on the "principles of persuasion."
McAfee researchers Raj Samani and Charles McFarland write in a research report that "these influencing levers are used for many purposes - including sales, cons (trying to extract money from people) and social engineering."
One lever is scarcity, referring to victims believing something is in short supply, and fearing that if they don't act, they'll miss out.
Another potential lever is consistency, as demonstrated when victims of scams not only transfer money to their attacker, but continue to do so. "Once targets have promised to do something, they will usually stick to their promises because they do not wish to appear untrustworthy," the researchers write (see: Roses Are Red, Romance Scammers Make You Blue).
Based on the charges filed against Nerayoff and Hlady, the men allegedly attempted to use these and other tactics to extort the startup company into giving them more money.