Anti-Money Laundering (AML) , Blockchain & Cryptocurrency , Cryptocurrency Fraud
Crypto Advocates Decry Bill That Could Ban Transactions
'Special Measure' in COMPETES Act Would Further Empower FinCEN
Democratic lawmakers on the House Committee on Financial Services this week outlined nine provisions of the proposed America COMPETES Act of 2022 - one of which has been criticized by the cryptocurrency community for potential privacy and due process concerns.
See Also: OnDemand | Understanding Human Behavior: Tackling Retail's ATO & Fraud Prevention Challenge
Committee Chairwoman Maxine Waters, D-Calif., says the America Creating Opportunities for Manufacturing Pre-Eminence in Technology and Economic Strength - or COMPETES - Act will "strengthen the competitiveness of the U.S. economy and U.S. businesses and counter anti-competitive actions taken by China."
But the nonprofit crypto policy advocate group Coin Center warns that one provision, proposed by Rep. Jim Himes, D-Conn., would give U.S. Secretary of the Treasury Janet Yellen "unchecked and unilateral power" to ban financial institutions, including regulated exchanges, from engaging in transactions.
Himes' provision, the committee said in a statement this week, "streamlines the process by which special measures may be introduced, and modernizes the authorities granted to the Financial Crimes Enforcement Network by allowing the agency to pursue bad actors like those laundering the proceeds of Chinese ransomware and/or declared a primary money laundering concern due to support to North Korea's sanctions evasion."
Himes initially introduced the same provision to the National Defense Authorization Act for Fiscal Year 2022. It would allow the Treasury secretary to utilize the Bank Secrecy Act - which requires U.S. financial institutions to assist government agencies in money laundering investigations - to require such parties to report transaction details and potentially freeze accounts.
Coin Center Executive Director Jerry Brito initially flagged the provision on Twitter this week, saying it "would be disastrous not just for cryptocurrency but for privacy and due process generally." He claims it would also eliminate all public notice and comment requirements under the BSA.
"It empowers the secretary to prohibit any (or indeed all) cryptocurrency transactions (or any other kind of transaction) without any process, rulemaking, or limitation on the duration of the prohibition," Brito says on Twitter.
He continues: "It's time to call your members of Congress and ask that they take action to make sure that notice and comment and duration limitations are not removed."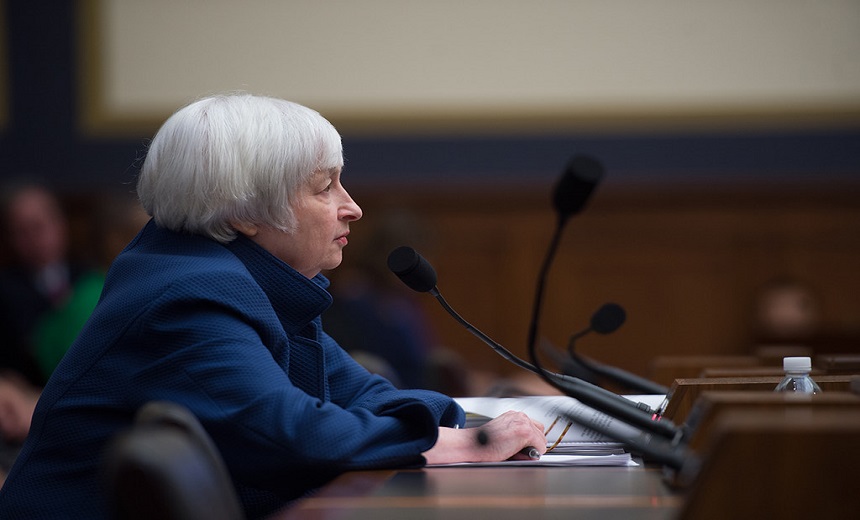 U.S. Secretary of the Treasury Janet Yellen (Photo: Federalreserve via Flickr)
'Deeply Consequential'
In a full posting on its site, Coin Center Research Director Peter Van Valkenburgh and Brito elaborate on their concerns: "Like the unnecessary redefinition of 'broker' in the infrastructure bill last summer, the parts of this language aimed at cryptocurrencies are entirely unnecessary while the removal of procedures and the creation of unlimited administrative discretion is deeply consequential.
"In other words, it is an attempt (deliberate or not) to use the moral panic surrounding criminal usage of cryptocurrencies … to strip our surveillance laws of all public processes. Even if you don't particularly care about cryptocurrencies, this encroachment on basic privacy rights must be opposed."
Ted Budd, a GOP congressman from North Carolina, also took to Twitter, claiming that the "unilateral" powers of the provision would do away with all public input and that he has offered an amendment to remove the language.
Other blockchain security experts agree that lawmakers could be overreaching with the special measure.
"The bill would undoubtedly give Secretary Yellen unilateral ability to ban digital assets transactions, provided she and her team at Treasury deem them a 'primary money laundering concern,'" says Michael Fasanello, who has served in various roles within the U.S. Justice and Treasury departments, including for Treasury's Financial Crimes Enforcement Network.
Fasanello, who is currently the director of training and regulatory affairs for the firm Blockchain Intelligence Group, says, "This doesn't just apply to crypto. It applies to any financial institution regulated under the BSA and any transactions they facilitate for customers."
A Partisan Issue?
Regulation in the space has proven particularly challenging, given certain interagency jurisdictional boundaries. This week, it was reported that the White House is expected to issue an executive order outlining key priorities to rein in cryptocurrencies. The space was also the topic of several congressional hearings in 2021 - when for the first time, crypto executives testified on the upside of digital currencies and their associated risks, or the existing regulatory void. SEC Chair Gary Gensler has been an advocate of comprehensive cryptocurrency regulation - calling the assets "rife with fraud, scams and abuse."
The sentiment around crypto regulation has largely been split down party lines, with Republicans in favor of less-stringent measures so as not to curtail innovation. Some Democrats, on the other hand, including Sen. Elizabeth Warren, D-Mass., have been outspoken critics of crypto's volatility and its state of cybersecurity, particularly in decentralized finance, or DeFi.
Last week, Singaporean crypto exchange Crypto.com confirmed that its platform had fallen victim to a multimillion-dollar cyberattack. In a postmortem entry on its website, Crypto.com confirmed that unauthorized withdrawals targeted the Ethereum and Bitcoin of 483 users - with associated losses near $34 million, which the company says has been reimbursed (see: Crypto.com Confirms Breach, Nearly $34 Million in Losses).
Also last week, the Federal Reserve published its long-awaited discussion paper on a central bank digital currency, or CBDC, for the U.S. In it, the Fed pointed to the innovative qualities of digital currencies, but stressed potential risks to the nation's financial system, including heightened cyberthreats and privacy concerns (see: US Federal Reserve Issues Report on Digital Dollar).
The Fed said any CBDC design must consider privacy and ensure strong identification verification controls to stem money laundering and the financing of terrorism. It's currently open for public comment.