Clinton Warns Foes Against Cyber Attacks
Diplomacy is Key Weapon in U.S. Arsenal to Secure Global Networks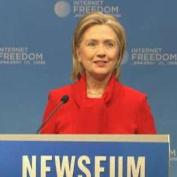 In a speech extending American foreign policy to Internet freedoms, Secretary of State Hillary Clinton called on the nations of the world to ban together against those who use communications networks as tools of disruption and fear.

"Governments and citizens must have confidence that the networks at the core of their national security and economic prosperity are safe and resilient. This is about more than petty hackers who deface websites," said Clinton in a major foreign policy address on Internet freedom delivered at The Newseum in Washington, D.C. on Thursday. "Our ability to bank online, use electronic commerce and safeguard billions of dollars in intellectual property are all at stake if we cannot rely on the security of information networks."

The bulk of the address focused on the need for international and corporate cooperation to ensure unfettered access worldwide to the Internet; indeed, she harkened back to President Franklin Roosevelt's Four Freedoms, with Freedom from Fear touching on cybersecurity.

The secretary issued a warning to those who would tamper with information networks here and abroad. "States, terrorists and those who would act as their proxies must know that the United States will protect our networks," Clinton said. "Those who disrupt the free flow of information in our society, or any other, pose a threat to our economy, our government and our civil society. Countries or individuals that engage in cyber attacks should face consequences and international condemnation.

"In an interconnected world, an attack on one nation's networks can be an attack on all. By reinforcing that message, we can create norms of behavior among states and encourage respect for the global networked commons."

Clinton said the United States government seeks to find diplomatic solutions to strengthen global cybersecurity, pointing out that two years ago the State Department created an office to coordinate foreign policy in cyberspace and that American diplomats have worked to address these challenges at the United Nations and other multilateral forums.

Clinton also referenced last month's assault from China on Google's IT infrastructure, including the hacking of the Gmail e-mail accounts of several human rights activists, that resulted in Google reviewing whether to continue operating in China.

"We look to Chinese authorities to conduct a thorough investigation of the cyber intrusions that led Google to make this announcement," Clinton said. "We also look for that investigation and its results to be transparent.

"The Internet has already been a source of tremendous progress in China, and it's great that so many people there are now online. But countries that restrict free access to information or violate the basic rights of Internet users risk walling themselves off from the progress of the next century. The United States and China have different views on this issue. And we intend to address those differences candidly and consistently."