Governance & Risk Management , Standards, Regulations & Compliance
Chris Inglis Steps Down as White House Cybersecurity Adviser
Biden Administration Set to Release National Cyberspace Strategy in Coming Weeks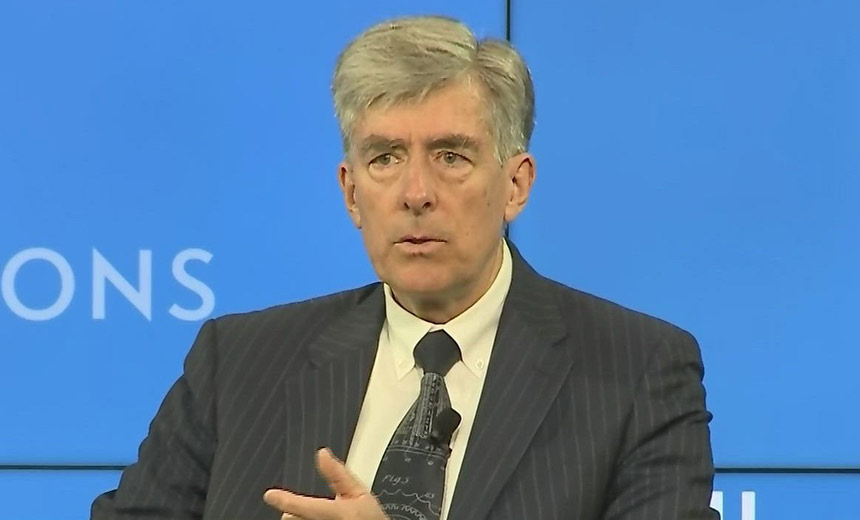 Chris Inglis, the White House's principal adviser on cybersecurity policy and the first person to fill the role of national cyber director, stepped down from his position Wednesday.
See Also: 57 Tips to Secure Your Organization
The widely anticipated move comes about 19 months since the Senate unanimously confirmed Inglis in June 2021 to head the Office of the National Cyber Director inside the White House.
"Mr. President, thank you for placing your trust in me and for placing such a high priority on providing a safe, equitable, and resilient cyberspace for all," Inglis tweeted Wednesday afternoon.
Second-in-command Kemba Eneas Walden is set to serve as acting director until President Joe Biden nominates a replacement and the Senate confirms the pick.
Inglis advertised that he intended to resign about midway through Biden's four-year term, close White House observers have said (see: White House Cyber Director Chris Inglis to Step Down).
Many expected Inglis' departure to time with the release of the administration's national cyberspace strategy. The strategy is widely expected to call for more regulation of critical infrastructure cybersecurity and to authorize the U.S. government to actively disrupt the operations of malicious actors. The strategy is still set to be released within the next week or two, Information Security Media Group learned.
Inglis has been a vocal proponent of a more regulatory approach to cybersecurity. He told a Washington think tank audience in October that critics of regulation should focus less on the burdens and more on the benefits.
Inglis has spent decades in government service, including 31 years in the U.S. Air Force, where he rose to the rank of brigadier general. He spent nine years as deputy director of the National Security Agency during the George W. Bush and Barack Obama administrations.
Before joining the Biden administration, Inglis served on the congressionally mandated Cyberspace Solarium Commission.
"Chris has done a fantastic job - growing the office from a staff of one to more than 100" that integrates well with other White House agencies, said Mark Montgomery, executive director of the commission. "No one could have done a better job as the inaugural director."