Check Point Buys Startup Atmosec to Secure SaaS Applications
Integration on Tap With Perimeter 81, Harmony Connect to Deliver Single-Vendor SASE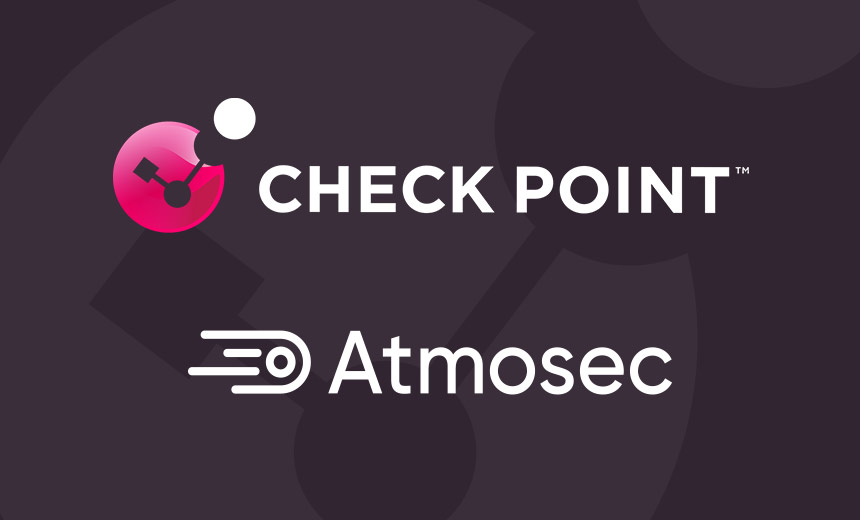 Check Point Software plans to purchase an early-stage SaaS security startup founded by former Armis leaders to anticipate and block threats from malicious applications.
See Also: OnDemand | The State of Securing Applications in the Cloud
The Silicon Valley-based platform security vendor said its proposed acquisition of Tel Aviv, Israel-based Atmosec will give clients a better understanding on what's going on with the SaaS platforms - such as Office 365, Salesforce and GitHub - that power their business, said Vice President of Product Management Eyal Manor. Each of these platforms has thousands of apps behind the scenes, and some of them are malicious.
"We really loved their technology," Manor told Information Security Media Group. "We loved the demo. This is exactly the share of mind that our customers are looking for. This is the share of mind that is basically part of our DNA. We saw that, and we really liked it."
Check Point's stock was up $0.01 - or 0.01% - to $133.86 per share in trading Wednesday. Terms of the acquisition - which is expected to close by mid-September - weren't disclosed. The deal comes less than a month after Check Point agreed to buy New York-based zero trust network access and secure web gateway firm Perimeter 81 for $490 million (see: Check Point to Buy SSE, ZTNA Startup Perimeter 81 for $490M).
What Makes Atmosec Different From SSPM
Atmosec, founded in January 2021, employs 17 people and raised $6 million in December 2021 seed funding led by Glilot Capital Partners and Battery Ventures. The company's three co-founders - CEO Aner Gelman, CTO Misha Seltzer and Vice President of R&D Shaked Gitelman - all worked at Armis before starting Atmosec. Gelman and Gitelman served as senior directors and Seltzer worked as chief solutions architect.
"Atmosec is going to bring us capabilities that others don't have."
– Eyal Manor, vice president of product management, Check Point Software
Manor said Atmosec's capabilities go beyond SaaS security posture management, which focuses on the configuration surface and can prevent users from connecting without multifactor authentication. But Atmosec addresses apps that access SaaS platforms and can immediately, automatically and autonomously fix any issues with bad, rogue or untrusted applications, according to Manor.
Atmosec can plug into office productivity tools, CRM environments, dev environments and HR platforms to provide customers with a picture of what's happening and take down threat activity, according to Manor. He said bringing Perimeter 81's ZTNA and SWG assets together with Atmosec's SaaS security tool and Check Point's native SD-WAN tool will allow the firm to deliver consolidated, single-vendor SASE (see: CEO Amit Bareket on Perimeter 81's Push to Unify ZTNA & SWG).
How Atmosec, Perimeter 81, Harmony Connect Come Together
Check Point has also built out organic security service edge capabilities as part of its Harmony Connect tool focused on detecting, stopping and understanding known, unknown and zero-day vulnerabilities, according to Manor. But Manor said Check Point hadn't invested enough in network infrastructure, leaving clients without network-as-a-service capabilities or a private network cloud assets.
Manor said many companies have struggled with usability when it comes to deploying and maintaining SASE platforms given the latency associated with routing traffic through faraway places. As a result, he said, some organizations have opted to enforce fewer security controls to not hinder usability. When configured properly, SASE both prevents threats and delivers an excellent experience, Manor said.
Going forward, Manor said, Perimeter 81 will bring a native, private virtual network to Check Point's customers through a variety of providers, while Atmosec will provide the SaaS platform and Harmony Connect will deliver the security layer. Manor plans to track the breadth of SaaS security services adoption by existing Check Point customers and the level of engagement with the company's SASE tool.
"Atmosec is going to bring us capabilities that others don't have," Manor said. "This is an area of differentiation for big, complex SASE solutions."