Career Transitions: Making Big Moves
How Two Financial Security Experts Made Career Shifts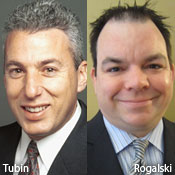 IT security professionals considering a major career change, such as moving from a role at a bank to working at a technology vendor, face many challenges, including acquiring new skills and adjusting to a different culture.
See Also: Avoid The Top 10 Excuses of Third-Parties: Refine Your Security Program
But two security professionals - Joe Rogalski and George Tubin - who left banking security jobs for roles at security vendors say such a transition can prove to be rewarding. And they say their extensive experience in financial services proves helpful in their new roles.
Rogalski's Story
Nearly a year ago, Rogalski left his job as the information security officer at First Niagara Bank, a $35.9 billion institution based in the Northeast U.S., to become a principal security strategist at Symantec, a software company that provides security applications, such as Norton AntiVirus.
Rogalski says his financial experience, coupled with a technical background that's been sprinkled with some engineering, helped prepare him for his new role. His diverse education also proved helpful as he changed careers. He earned bachelor's and master's degrees in business administration. But then he continued his education by achieving certification as an information systems security professional and an information security manager. He also is certified in risk and information systems control.
At Symantec, he provides business-goal leadership and direction for the company's security business practice unit. He helps to oversee security strategy and direction, as well as governance and compliance. He's also responsible for monitoring industry security trends to stay ahead of evolving threats. And he provides best practices and advice to security executives, business leaders, IT executives and management at the companies Symantec serves.
Experience Proves Helpful
For Rogalski, the 10 years he spent at financial institutions, working with numerous vendors while implementing their products, gave him perspective that Symantec customers appreciate - especially security officers at banks and credit unions. "I know the issues my customers face," he says.
While at First Niagara, Rogalski helped to build a team of security and risk professionals - experience that helped him land his new job at Symantec. The team focused on policies and standards, risk assessments, access control, incident response and data loss prevention.
So why did Rogalski decide to move from bank to vendor? Simple, he says: career advancement.
"I always envied the strategist's position," Rogalski says. "Having the ability to work with multiple clients across many different industries was very appealing - plus the ability to influence products."
But this kind of move is not for everyone, he cautions. Transitioning from the buyer of security products to a seller is not always easy.
"You will meet all types of people, and you will be challenged," Rogalski says. "You are no longer the boss, and some people will view you just as a guy pushing product."
But when security officers join the staff of a technology vendor, they bring a lot to the table because they have been in the shoes of the end-users, he says. Having the ability to understand risk and the business challenges financial institutions face has been proven helpful in his new role.
"You need to believe in the company and solutions that you represent," Rogalski says. "That was easy for me. I believe in Symantec and think I can make a big difference helping our customers reduce their risk."
Tubin's Story
Tubin also started his career at banks, holding several positions with BayBank, BankBoston and Fleet Bank, which is now part of Bank of America. He worked in a number of areas, including IT, security, operations, e-commerce planning and consumer and small business.
Tubin says he left banking for consulting, in part, because the companies he was working for just got too large.
"I like working for smaller companies," he says. "When I started with Bay Bank, it was small. Then it was acquired by Bank of Boston, so it got larger. Then Bank of Boston was acquired by Fleet, and it got much, much larger. And that's when I decided to move on to a smaller organization and try something different."
He left Fleet for a short stint with ADS Financial Services Solutions, where he worked as a consultant offering IT strategy advice to U.S. banks. Then he joined the financial consultancy TowerGroup as research director. That firm later was acquired by The Corporate Executive Board Company, better known as CEB TowerGroup.
At TowerGroup, Tubin advised financial institutions, technology providers and consultancies about business strategies, technologies and market trends. His areas of focus included consumer online and mobile banking, online fraud and identity theft prevention and enterprise fraud management strategies.
Diverse Education
Like Rogalski, Tubin's diverse education proved helpful in his career transition. After earning a bachelor's degree in industrial engineering and operations research, Tubin went on to earn a master's degree in business administration. "I get the technology and the challenges many institutions face," he says.
In May 2012, Tubin made yet another career transition, becoming senior security strategist for Trusteer, a privately held computer security firm that specializes in malware protection and security software.
At Trusteer, Tubin oversees the company's thought-leadership program, offering direction on how to address security while adopting online and mobile banking. He also serves as an adviser for Trusteer's clients, helping them to apply best practices to mitigating risks posed by malware.
Tubin says his career transitions have been sequential. "I look at the banking industry as having three key symbiotic players - putting aside the government and regulators - the institutions, the vendors and the consultant/analyst community," he says. "Having experience in any one brings tremendous value when moving to another."
A banker with consulting experience brings a completely different world view than one who has only industry experience, he adds.
"I bring industry experience and the holistic industry view, both of which are highly complementary and necessary for the company [Trusteer] at this stage of growth," Tubin says. "To be successful selling into financial services, you really have to understand financial services, the regulatory challenges, how decisions are made and how financial services executives think about problems and opportunities."
Shifting Career Gears
Rogalski and Tubin encourage security professionals who are interested in expanding their job experience to pursue opportunities at companies they know well.
"Many of us look back and think that we should have done something different," Tubin says. "We should have moved to something new, but didn't, and now we regret that decision. If you make a move and don't like it, [you can always] move somewhere else, either back to what you were doing or into a different role."
Rogalski and Tubin point out that before initiating any career move, job seekers must fully assess their options, understand the direction they want their careers to take and determine that their goals align well with the goals of their potential new employer.
They acknowledge that making the switch to working for a vendor presents huge challenges. "The biggest challenge is being on the sales side, you don't necessarily have that instant credibility you had before," Rogalski says. "To other bankers, you're now just another salesperson. You're not one of them anymore."
Career Change Tips
Here are tips from Tubin and Rogalski for banking/security professionals considering a major career change:
Believe in the company. Before making the decision to join a technology vendor, Rogalski says, "First and foremost, you need to know the company and believe in its products and services."
Get advice. Discuss your career move with a mentor or trusted adviser. "Decide whether this is the right move for you," Rogalski says.
Bring diverse talents. Making a move to a software vendor requires a well-rounded educational and work experience background, Tubin says.
Find the right fit. Not every company or position is for everyone, Tubin stresses. If you know you're more of a corporate type, for instance, then a small start-up might not be the right fit.