Career Opportunities for Service Vets
Military Veterans Highly Sought by Schools, Employers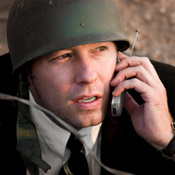 Robert W. Baxley was a counter-intelligence officer for five years in the Army. He was involved with information security procedures and practices, administering sensitive IT networks to determine threats and vulnerabilities. Today, he is a business graduate from Georgia State University, holding a security leadership position with a federal agency.

"I wanted to be a grounded leader focusing not just on technology and technical risks, but understanding the business aspect of security with ability to communicate and build the corporate culture around security," Baxley says.

He is one of many military veterans now turning to business schools to help prepare for significant leadership roles both in the public and private sectors. At the same time, business schools and businesses are actively seeking these veterans for their experience and discipline.
Increased Opportunities for Vets
An increase in funding and scholarship programs for veteran education has helped former military members seek business programs. Gil Williams, a former MBA graduate from University of Illinois at Urbana-Champaign College of Business, got a full university scholarship worth approximately $90,000 toward his executive, two-year MBA program. "I would have never been able to obtain a degree and change my career focus without this scholarship opportunity."
"Supporting the veterans has always been a meaningful initiative at the University of Illinois," says David L. Ikenberry, associate dean, executive programs at the College of Business. The State of Illinois provides significant educational resources and grants for veterans. In addition, business schools have joined the Yellow Ribbon GI Education Enhancement Program, which allows them to voluntarily enter into an agreement with the Department of Veteran Affairs to fund tuition expenses of qualified students. The institution can contribute up to 50% of those expenses, and Veteran Affairs will match the same amount.
"The Yellow Ribbon Program, coupled with the other robust benefits of the Post-9/11 GI Bill, provides veterans the opportunity to pursue their dreams at any school in the country, public or private," says Keith Wilson, director, Department of Veteran Affairs, education service. "No longer are veterans' opportunities restricted by the cost of education."
Why the Demand?
"Military candidates are taken right out of college and put to active duty in real leadership roles," says Alexander Horniman, professor at University of Virginia's Darden School of Business. "Their life experiences in combat are so rich that these young people bring an alternate perspective to the classroom, which is invaluable."
At the University of Virginia's Darden School of Business, veterans currently make up 8-to-10 percent of a class of 320 students. "The job offer rate for former military students in 2009 was 100 percent at the time of graduation," says Jack Oakes, director of career development center, Darden School of Business. Their natural leadership skills with sound decision-making, ability to handle stress and exposure to different situations make them very desirable to employers, he says. At Danaher Corporation, a diversified manufacturing and technology company "Military hiring is an important part of our total MBA candidate hiring pool," says Kelly Lester, director of university relations. She taps into the top business schools, including Harvard, Stanford, Darden and Kellogg to hire the best 15-to-20 candidates for general management positions within her company annually. "A good percentage of them happen to be ex-military personnel," she says.
Lester finds ex-military personnel to be mature and focused, with an ingrained ability to get things done. "They are seasoned and thoughtful individuals with huge life-changing experiences shaping them into who they are."
Transitional Challenges
The transition from the battlefield to the classroom is sometimes hard for veterans who have had no background in financial or quantitative skills and suddenly are required to take up courses in accounting and financial management.
With little or no private sector experience, some veterans also face challenges in the hiring process. "The biggest challenge is translating how our military skills are applicable for the business community," says Jenifer Guimond, a former navy pilot now pursuing a master's in business administration. "Explaining to the recruiters how an infantry officer can be a successful asset manager is hard."
Based on her experience, Guimond's advice to military candidates is to let go of the military jargon in their resumes and relate clearly how their skills can be useful in a business situation. Another challenge faced in the recruiting process is that "We are so used to the command and control style of operation that our communication at times can be very abrupt and sharp," says Baxley. Also, it is hard to make recruiters understand that being in the military does not just mean taking orders. "We are in a position of increased responsibility and take decisions impacting real lives," Baxley says. "I really believe that my business degree has redefined my career and given me a leadership focus and potential toward significant career advancement."