Governance & Risk Management , Incident & Breach Response , Managed Detection & Response (MDR)
British Judge Denies US Extradition of Assange
Judge Cites WikiLeaks Founder's Health as Reason for Denying Extradition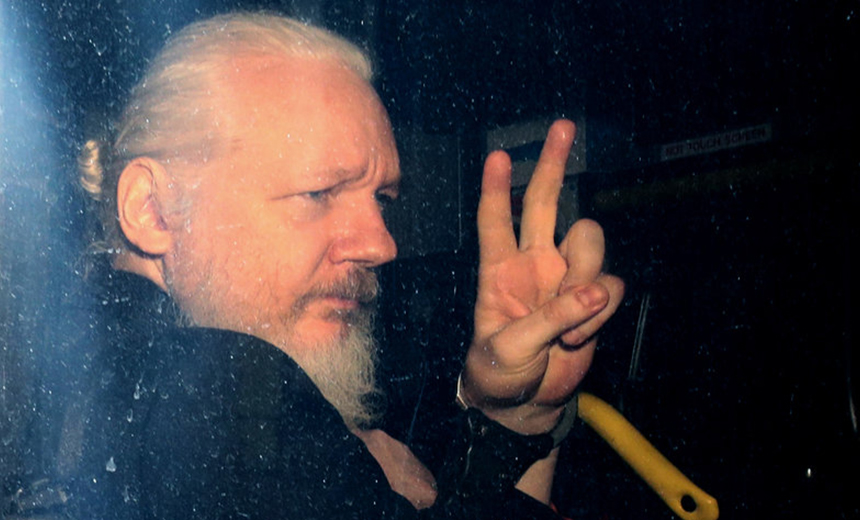 A British judge Monday denied a U.S. Justice Department request to extradite WikiLeaks founder Julian Assange to America to face criminal charges related to hacking government computers and then publishing classified information.
See Also: LIVE Webinar | Stop, Drop (a Table) & Roll: An SQL Highlight Discussion
A few hours after the ruling, the U.S. Department of Justice announced it would appeal the decision, according to The Associated Press. In the meantime, Assange's attorneys plan to request that the court release him on bail because the appeal could take months or even years.
Assange, 49, is accused of violating the U.S. Espionage Act and Computer Fraud and Abuse Act by obtaining and then publishing a series of classified documents taken from several American government agencies, including the Department of Defense. The Australia native faces 18 criminal counts, according to the Justice Department (see: US Now Accuses Assange of Conspiring With Hacking Groups).
Mental Health Concerns
In ruling against the Justice Department's extradition request, District Judge Vanessa Baraitser found that Assange's health would suffer if he was transferred to the U.S. to face criminal charges. The judge said that Assange would likely commit suicide if he was sent to America.
"I find that the mental condition of Mr. Assange is such that it would be oppressive to extradite him to the United States of America," Baraitser wrote in a 130-page ruling released Monday.
In her ruling, however, Baraitser notes that U.S. prosecutors pursued their case in "good faith" and that political pressure from both the Obama and Trump administrations did not affect decisions made by the Justice Department to press forward with the criminal case against Assange.
"I do not find the nature of the charges to be indicative of improper motives by prosecutors, and I consider it pure conjecture to draw inferences from the timing of these charges or the amendment of the indictment," Baraitser writes in her decision.
Reacting to the judge's decision, Assange's U.S. attorney, Barry Pollack, said: "The effort by the United States to prosecute Julian Assange and seek his extradition was ill-advised from the start," according to AP. "We hope that after consideration of the U.K. court's ruling, the United States will decide not to pursue the case further."
Press Freedom Arguments
The extradition hearing against Assange started in February 2020 and continued for almost a year, following several delays due to the COVID-19 pandemic.
Assange remained in U.K. custody after serving a 50-week prison sentence for violating the conditions of his bail in a separate Swedish sexual assault case. For years, Assange remained in the Ecuadorian embassy in London before officials from that country withdrew his asylum protection in April 2019 and British police dragged him out (see: Assange Sentenced for Bail Jumping; US Extradition Looms).
The charges in Sweden have since been dropped, The New York Times reports.
Assange and his attorneys have argued that he is a journalist who published documents in the public interest and that WikiLeaks' activities are protected under the First Amendment. Assange has denied hacking into government computers (see: WikiLeaks' Assange: A Nexus of Media, Hacking and Activism).
During the extradition hearing, Assange's attorneys presented several witnesses who testified that the publication of documents helped expose U.S. conduct during the wars in Iraq and Afghanistan. Daniel Ellsberg, who leaked the Pentagon Papers about the Vietnam War, testified that Assange had acted in the public interest, according to The Guardian.
Human rights organizations also praised the judge's decision to deny the extradition request.
We welcome the fact that Julian Assange will not be sent to the USA, but this does not absolve the UK from having engaged in this politically-motivated process at the behest of the USA and putting media freedom and freedom of expression on trial.

— Amnesty International (@amnesty) January 4, 2021
Hacking Charges
U.S. prosecutors painted a much different picture of Assange and his activities.
The 18-count indictment against Julian Assange
The federal indictment alleged Assange conspired with former Army intelligence analyst Chelsea Manning to crack a password hash for a classified U.S. Department of Defense computer to access classified documents.
Manning then uploaded thousands of classified documents to WikiLeaks' cloud storage in early 2010, the indictment states. They included information on the Afghanistan and Iraq wars, details on Guantanamo Bay detainees and over 250,000 U.S. Department of State cables, according to previous Justice Department statements.
Manning was sentenced to 35 years in federal prison in 2013 for leaking the classified documents, but her sentence was commuted by former President Barack Obama in early 2017.
In a superseding indictment unsealed in June, U.S. prosecutors charged that Assange also conspired with hacking groups such as Anonymous and LulzSec in 2012 to obtain classified information to publish.
If a jury ever finds Assange guilty of violating the Espionage Act, he could face a maximum penalty of 10 years in prison on each count as well as another five years for conspiracy to commit computer intrusion, according to the Justice Department.
Assange has also been accused of helping interfere during the 2016 U.S. presidential election by publishing emails allegedly stolen from the Democratic National Committee by Russian hackers that ultimately damaged the campaign of Hillary Clinton (see: Cohen: Trump Was Aware of WikiLeaks Planning Email Dump).
Possible Pardon?
Over the last several weeks, Bloomberg and other publications have reported that President Donald Trump is considering a pardon for Assange, as well as dozens of others.
Over the last several weeks, Trump has pardoned several former political aides, including Paul Manafort, his former campaign manager, and adviser Roger Stone, who was found guilty of lying to Congress.