Legislation & Litigation , Network Firewalls, Network Access Control , Network Performance Monitoring & Diagnostics
Star Witness in Case Against Cisco: Its Own Documents
Judge Lauds Plaintiffs' Use of 'Cisco's Technical Documents in an Unaltered Form'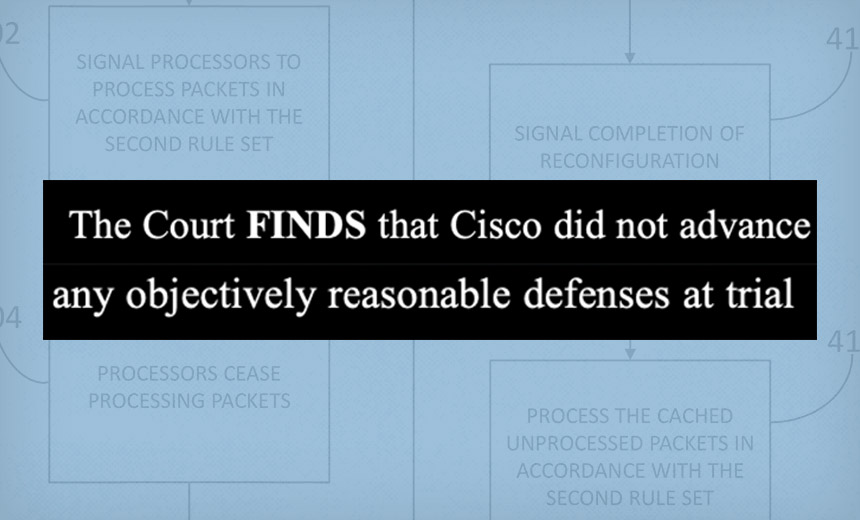 Plaintiffs in the patent infringement case Centripetal Networks v. Cisco Networks won the day on two fronts: Their key evidence was Cisco's own technical documents, while their testimony proved to be a model of clarity, despite the highly technical subject matter.
See Also: Live Webinar | Navigating the Difficulties of Patching OT
To recap, Cisco lost the case to the tune of at least $2.6 billion in damages in what Centripetal attorney Paul Andre called "a significant win for all small, innovative companies" that compete with large corporations, such as Cisco - one of the world's biggest technology manufacturers.
"Cisco's own documents from this time frame, and the evidence in general, strongly supported Centripetal's infringement case as to four of the five asserted patents."
U.S. District Judge Henry Morgan Jr. last week, in his 178-page opinion, found that Cisco had violated four U.S. patents held by Centripetal, used in technology that the small network security firm had demonstrated to Cisco, after Cisco signed a nondisclosure agreement. One year later, Cisco released products that incorporated Centripetal's ideas, Centripetal alleged in a 2018 lawsuit.
Another remarkable aspect of this case is the judge's facility with highly technical subjects, as revealed by the excerpts of expert testimony - touching on ingress, egress, the nuances of packet inspection and much more - cited in his opinion.
"This patent trial concerns five U.S. patents involving complex issues in cybersecurity technology heard by the court without a jury," the judge writes in his opinion.
But the testimony he heard was delivered by top network security experts.
"In the presentation of its infringement case, Centripetal called its top-level employees in person, Cisco employees by video deposition and two expert witnesses," the judge writes. "Centripetal presented numerous Cisco technical documents and other Cisco publications which postdated the alleged initial infringement date of June 20, 2017. Cisco's own documents from this time frame, and the evidence in general, strongly supported Centripetal's infringement case as to four of the five asserted patents."
Bad Move: Backstopping
During the trial, Cisco made a number of missteps, some involving trying to have its cake and eat it, too.
For starters, Cisco argued that there was no infringement, but then made a move to backstop that defense by arguing that, if the court found that infringement had occurred, then the patents were invalid.
The judge was not amused because Cisco's tactics looked like bait-and-switch.
Notably, while the alleged infringement began in June 2017, "virtually all of Cisco's exhibits, technical documents and demonstratives presented in its infringement and invalidity defense focused on its old technology, not on the current accused products," the judge writes.
"Their demonstratives of the functionality of Cisco's accused products were not based upon their own current technical documents, but rather upon inaccurate animations produced post facto for use in the litigation which served to confuse the issues, rather than inform the court," he writes. "By contrast, Centripetal utilized Cisco's own technical documents as exhibits and demonstratives to illustrate the functionality of Cisco's post-June 20, 2017 technology and how it infringed the asserted claims."
Cisco's Witnesses Contradicted Each Other
Compounding the defendant's problems, the judge said that "Cisco's retained expert witnesses often contradicted Cisco's own documents as well as Cisco's own engineers."
In court documents concerning a discussion about U.S. patent 9,203,806, for example, the judge noted that Peter Jones, a distinguished engineer in the Enterprise Network Hardware Group at Cisco who testified for the defense, said that, for switches and routers, a rule was applied to packets both on ingress and egress and cited a Cisco technical document.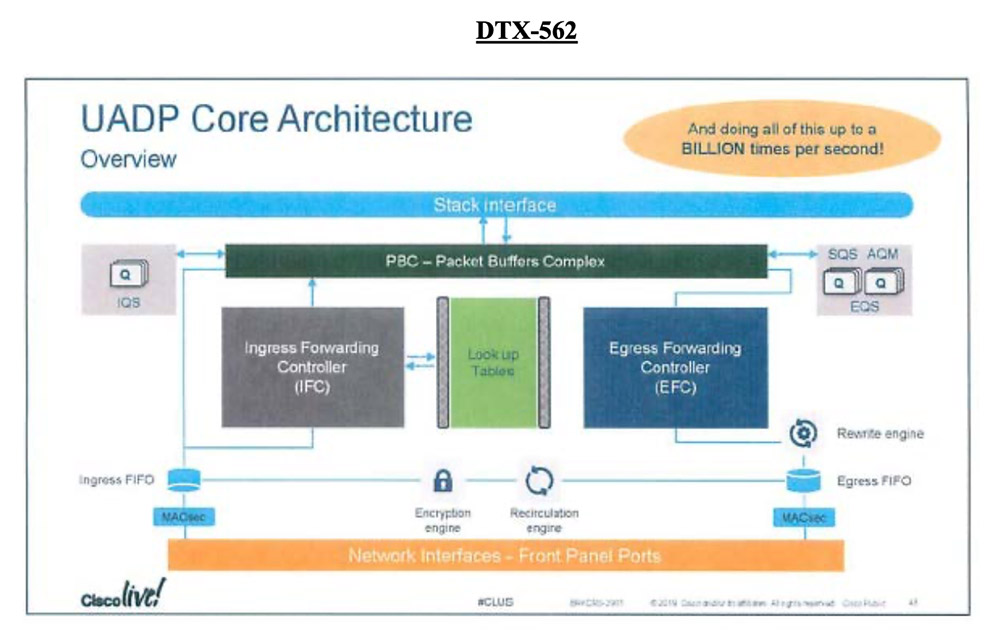 Document from Peter Jones' testimony (Source: Judge's opinion)
But an independent expert who testified for Cisco, Narasimha Reddy, claimed the rule only applied to ingress and had prepared an "animation produced solely for litigation" that showed it only applying to ingress.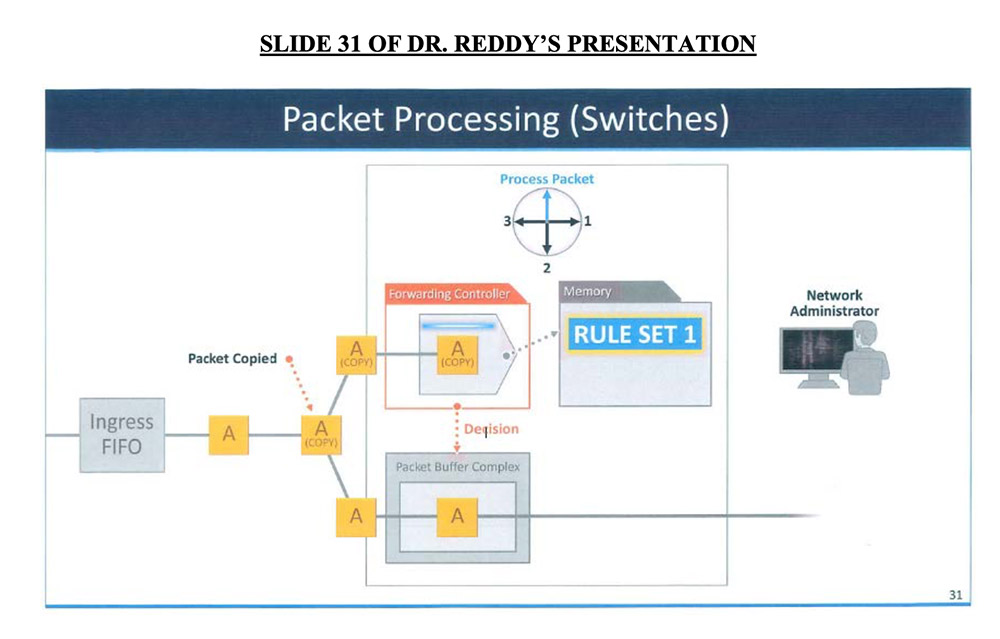 Document from Narasimha Reddy's testimony (Source: Judge's opinion)
The judge noted that Jones was in fact the "distinguished Cisco engineer responsible for building the switching, routing and enterprise network," in comparison to the differing testimony offered by Reddy, who appeared as one of Cisco's independent, expert witnesses.
"Reddy's testimony is just one example of how Cisco's experts used their own, modified exhibits and ex post facto animations while Centripetal's experts and Cisco's own employees relied on Cisco's technical documents in an unaltered form," the judge writes.
Simply put, Centripetal was able to use internal Cisco communications - talking about how great Centripetal's technology was - as well as documentation for similar Cisco products that were later released to show that Cisco infringed on four of Centripetal's patents.
In his closing statement, Cisco lawyer Dabney Carr of Troutman Sanders said: "Cisco is proud of the network security it provides; it just doesn't infringe these patents" and that there was a "cavernous gap" between what the patents cover and the specifics of the infringement claim, Bloomberg reported.
The judge disagreed. "Cisco did not advance any objectively reasonable defenses at trial," Morgan writes.
Case closed? Not yet: Cisco has vowed to appeal.