Governance & Risk Management , Legislation & Litigation , Privacy
Scalia's Heir Could Sway Privacy Protections
Making It Harder for Government to Surveil Citizens, Seize Their Records on Cloud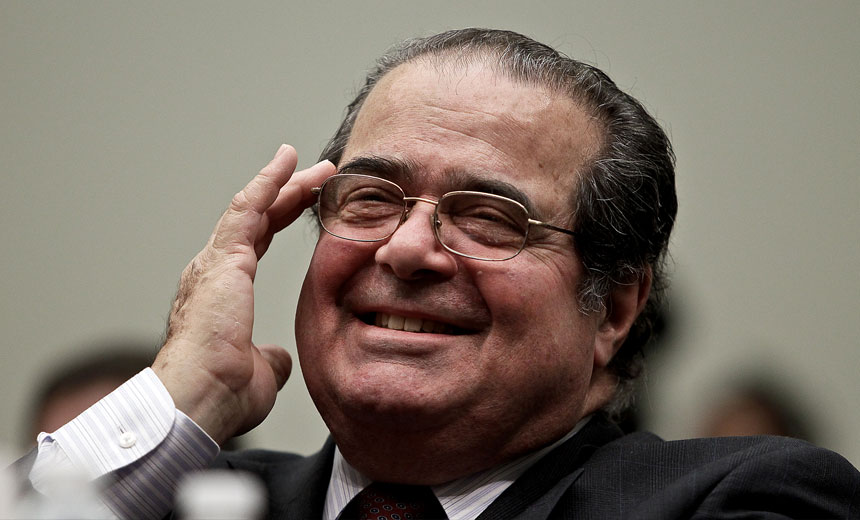 The jurist who will replace Antonin Scalia on the United States Supreme Court could help push the high court to reinterpret the Fourth Amendment to the U.S. Constitution to make it harder for the government to surveil citizens online and seize their records stored on servers maintained by cloud service providers.
See Also: Building a Secure IoT Deployment Using 5G Wireless WAN
The Fourth Amendment prohibits unreasonable searches and seizures without a warrant:
"The right of the people to be secure in their persons, houses, papers, and effects, against unreasonable searches and seizures, shall not be violated, and no warrants shall issue, but upon probable cause, supported by oath or affirmation, and particularly describing the place to be searched, and the persons or things to be seized."
Scalia, who died over the past weekend, is credited with protecting citizens' privacy rights from intrusive searchers in several decisions he wrote, including a 2001 decision known as Kyllo vs. United States, which held the Fourth Amendment to the U.S. Constitution required a warrant to use thermal sensors to detect heat patterns emanating from inside a home. In another majority opinion in 2012, United States vs. Jones, Scalia wrote that the police failed to acquire a warrant to attach a GPS surveillance device to a car.
But Scalia's opinions were very narrowly framed, based on the original intent of the Constitution's authors.
Narrow Interpretation
"Kyllo turned heavily on the fact that the thermal sensor was used on a home - the quintessential private place to the framers of the Constitution," George Washington University Law Professor Daniel Solove writes in a blog. "Scalia's opinion in Jones turned on the placement of the GPS device on a car - a trespass to a person's property. Hearkening back to a very old test for when a search falls under the scope of the Fourth Amendment, Justice Scalia focused on the fact that putting the device on the car was a physical trespass. This led to a very narrow holding."
Scalia and the court's majority have been reluctant to apply the Fourth Amendment to searches involving digital content under the so-called third-party doctrine. The doctrine holds that people who voluntarily give information to third parties such as banks, phone companies and Internet service providers have no reasonable expectation of privacy, as protected by the Fourth Amendment. That could include private information individuals store themselves on cloud services they use.
Peter Swire discusses how a new Supreme Court justice could help weaken the Fourth Amendment's third-party doctrine.
In the Jones case, Scalia's majority opinion argued that physical intrusion - the placing of the GPS device on car - violated the suspect's constitutionally protected property; in effect, the government trespassed to install the GPS device without a court order.
But GWU's Solove points out that Scalia missed a key fact: "People's locations also can be tracked from their phones. It's not the device that matters; it's the data."
That's a point raised in separate concurring opinions by Justices Sonia Sotomayor and Samuel Alito, who wrote that tracking an individuals' movement through GPS - or, for that matter, using data collected by third parties such as a wireless service provider or a factory-installed GPS device - could reveal information that should remain private. As Sotomayor in her concurrence wrote:
"People disclose the phone numbers that they dial or text to their cellular providers, the URLs that they visit and the e-mail addresses with which they correspond to their Internet service providers, and the books, groceries and medications they purchase to online retailers . . . I would not assume that all information voluntarily disclosed to some member of the public for a limited purpose is, for that reason alone, disentitled to Fourth Amendment protection."
The associate justice who'll replace Scalia could be more in tune with Sotomayor and Alito than Scalia in how to apply Fourth Amendment protections by weakening the third-party doctrine.
Georgia Tech Law Professor Peter Swire, a former White House chief counselor for privacy, sees the new associate justice as a younger person who used computers more extensively than did Scalia and would appreciate Sotomayor's and Alito's view that massive accumulation of data by the government could threaten individuals' privacy rights. "That data-focused approach, rather than common-law-focused approach, quite possibly would be the view of a new justice," Swire says.
Broader View of Standing
In surveillance cases, a new justice might take a broader approach in deciding whether plaintiffs have standing - that they would suffer harm - in order to sue the government. In 2013, in Clapper vs. Amnesty International, Scalia voted with the court's majority that the plaintiff - Amnesty International - lacked standing to challenge surveillance by the National Security Agency because they didn't know for sure they were subjected to it. "The fact of whether they were under surveillance was classified, so the government had quite the chutzpah to argue that the plaintiffs' case should be dismissed because they couldn't prove they were under surveillance," says Solove, who also serves as chief executive of the privacy and security training company TeachPrivacy.
Later, in response to a question, Solove says a change in standing would allow people to fight for their constitutional rights. "What is interesting about Clapper is that the Court did not opine on whether the NSA was actually violating the Constitution or the law; it just said that the plaintiffs couldn't show enough to have the court even look into the issue of the constitutionality of what the NSA was doing - largely because the NSA kept it secret," he says. "So as long as the government keeps the surveillance secret, it can engage in illegal surveillance or surveillance that violates the Constitution and people lack much recourse to challenge it. A new justice could tip the Court to taking a different view and permitting challenges."
Common-Sense Approach
That future justice, especially one nominated by President Obama or his successor, should he or she be a Democrat (and confirmed by the Senate), would likely side with the four other justices - all Democratic nominees - who dissented, and maintained that common sense and ordinary knowledge of human nature infer that the plaintiff were subject to surveillance and should have had standing.
But because of political dysfunction, Scalia's replacement might not be confirmed until after the next president is inaugurated next January, if even then. The fate of citizens Fourth Amendment rights as they relate to 1's and 0's will just have to wait.